"#CinderellaForPresident2020"
While we've covered revisionist versions of fairy stories before, e.g. Maleficent, this is likely the closest to a "straight" retelling yet covered on the site. Cinderella (Šafránková) is condemned to a life of drudgery at the hands of her stepmother (Braunbock), until she gets a magical chance to attend a ball given by the local monarch. There, she meets the handsome prince (Trávníček) who falls for her, only for the couple to be separated at the end of the night. He seeks her out, with the help of a lost slipper, and they live happily ever after. So all the standard elements of the well-beloved story are present in this 1973 co-production between East Germany and Czechoslovakia. So what is it doing here?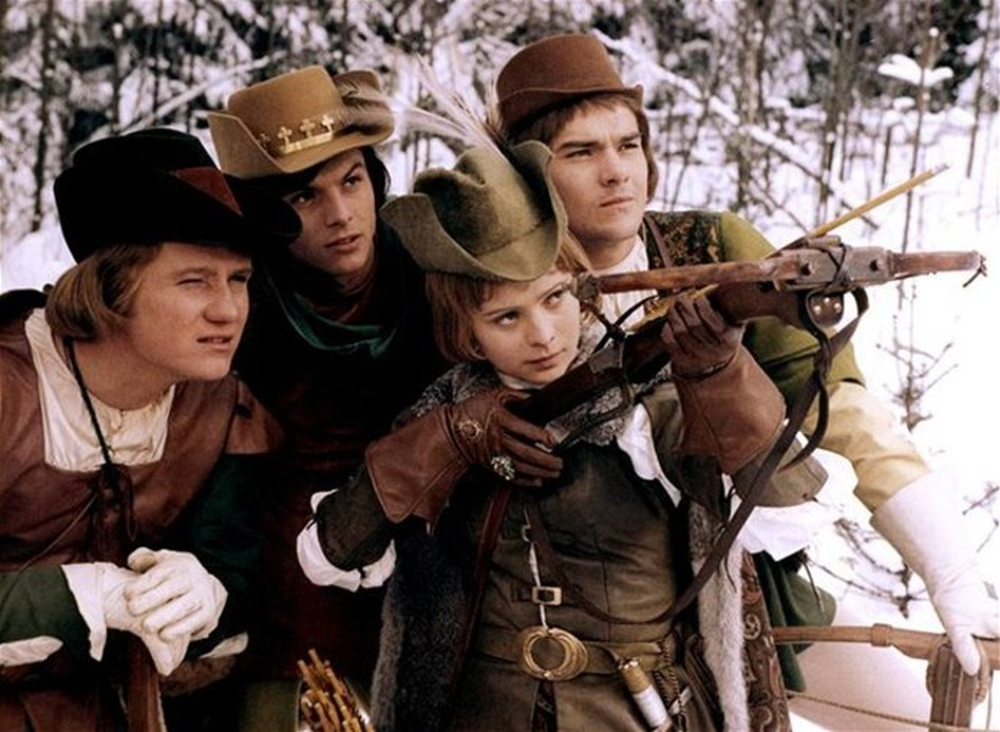 Well, as the picture above suggests, this Cinderella is quite the bad-ass. She initially has no interest at all in the Prince; while the rest of the town is getting in a tizzy over his passing through, she sneaks out to ride off on her horse. That's where she first encounters him, since he has snuck off similarly – and it turns out, she's a better rider than him. Their second encounter comes when he is out hunting with his pals. This time, Cinderella is dressed as a boy (above – raise your hand if you're unconvinced!), and proves herself to have better aim than him as well, shooting into a crossbow bolt being held in his hand. She also demonstrates a talent for tree-climbing: this is all apparently a result of the upbringing through her late father, who can only be commended. When she shows u[p at the ball, she's not exactly throwing herself at the prince, chiding him after he says he has chosen her as his bride, for not asking her opinion [To be honest, he seems a bit of a dim bulb. Like father, like son maybe, for the Queen is the smart one of the family as well.]
There isn't even a fairy Godmother to be seen here, and one isn't needed. For this Cinderella isn't pining out a window, waiting for her prince to come. She gets things done herself, more or less. She does get help from the local fauna when stepmom inflicts particularly tedious chores on her, and there's also the "three wishes" of the title – though they're less wishes, than sets of clothes that appear out of hazelnuts, because fairy tale. But overall, this is a remarkably self-reliant, smart and confident young woman, who will likely make an excellent ruler. Indeed, it would have been perfectly fine if, at the end, she had politely listened to the prince, and said, "No, thanks – although, if you can get my stepmother off my back, I'd appreciate it." I do understand, it would likely have been a step too far, even for a heroine several decades ahead of her time.
This has become something of a staple of Christmas viewing on the European continent, broadcast on TV across a number of countries. In Britain, it was one of the East European films imported by the BBC's children's department in the sixties and semi-translated (the original dialogue is retained; a voice-over translates the dialogue and narrates, as if by a storyteller). However, it has now largely been forgotten in the English-speaking world, overshadowed by the terrors of The Singing Ringing Tree. That's a shame, since this is worth equally as much attention, and offers a considerably more robust heroine than anything Disney was producing at the time, or would produce this side of Mulan.
Dir: Václav Vorlíček
Star: Libuše Šafránková, Pavel Trávníček, Carola Braunbock, Rolf Hoppe
a.k.a. Drei Haselnüsse für Aschenbrödel, Tři oříšky pro Popelku, Three Gifts for Cinderella