"Ms. 12-inch 45"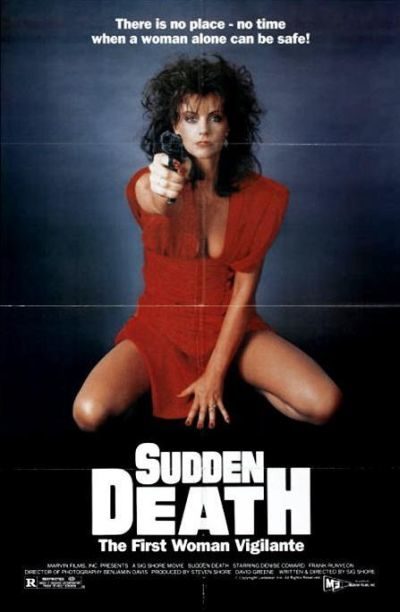 The star of this rape-revenge film, Denise Coward is a former beauty-queen, who was the second runner-up at Miss World in 1978, representing Australia. She didn't exactly have a long movie career – this and sci-fi flick Galaxy representing roughly the sum total of it. Watching this, it's easy to understand why, though it would require a significantly better actor than her to make a silk purse from the sow's ear of a script and direction she is given here. Coward plays Valerie Wells, a career woman in New York who gets into the wrong taxi one night. For it has been stolen by a pair of low-lifes, who rape their passenger before dumping her unconscious body on the street. The cops, in particular Detective Marty Lowery (Runyeon) are sympathetic but over-worked, and Coward's fiancé is about as much help as a chocolate teapot. What's a girl to do?
Obviously, this being an eighties video flick, the answer is: pick up a handgun on a trip to Hilton Head with a friend, then start stalking the mean streets of the Big Apple, acting as a human honey-pot. And woe betide anyone who tries to take advantage of her, as they'll find themselves being shot by what the press soon terms "The Dum-dum Killer", named after Valerie's ammunition of choice. Her ongoing relationship with Det. Lowery, however, poses something of a problem, not least when he comes across a box of those bullets in her night-stand. Meanwhile, it turns out – what are the odds – that the very same scumballs responsible for kicking off Valerie's vendetta, are planning to rob a courier of bearer bonds, and their intent comes to Lowery's attention.
In the right hands, this would have worked a great deal better – and, the truth is, that was exactly what was done a few years previously, in Abel Ferrara's classic, Ms. 45. Coward certainly is not Zoe Tamerlis/Lund, and Shore, a producer on Super Fly, isn't Ferrara either, with the New York he portrays being invested with nowhere near the same sense of perpetual menace. Instead, this never seems to get out of second gear, and is happy to endorse her vigilante murder, except for one sequence where Valerie ends up showing mercy for one of her targets, despite having just delivered the immortal line at him, "You're gonna get what you deserve, you rapist!" It's the only scene which comes even close to approaching the depth of 45.
The rest is more ludicrous than discomforting, probably peaking with Valerie wandering round what has to be the gayest-looking non-gay bar in the city. Otherwise, the highlight has nothing to do with the main plot, being the final foot-chase which is more of a marathon, running through Manhattan (look, kids! Th World Trade Center!), and over a bridge to Queens (I'm guessing), unfolding to the strains of classic 80's pop tun, I.O.U by Freeez. For somehow, the producers here got hip-hop legend Arthur Baker to produce the music – yeah, I finally explained my choice of tag-line! – and this means you'll also hear a lot of New Order's Confusion. But this really only works as a musical time-capsule of the mid-eighties.
Dir: Sig Shore
Star: Denise Coward, Frank Runyeon, Jaime Tirelli, Robert Trumbull
a.k.a. Dirty Harriet