"Soft gun-porn with hidden depths. Probably too hidden."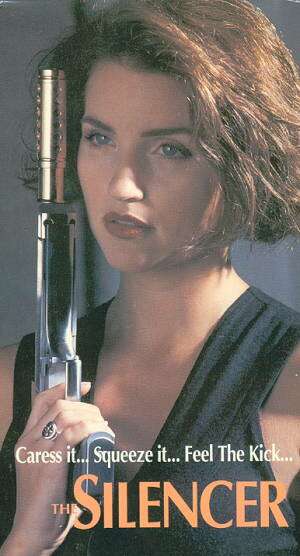 This is an odd little film; heroine Angel (Walden – by some reports now a ski-lift attendant) is an assassin, ordered to take out the leaders of a white slavery ring. After the first killing, she finds solace in the arms of a random guy, and you think you know where this is going: a killing, then a sex scene, for the rest of the movie. Yet this first is also about the last, from then on, the erotic thriller angle is largely ignored, in favour of her former partner George (Mulkey), who takes out any man with whom Angel forms a relationship. It's almost like she's working for SD-6.
The film may be all the better for this avoidance of the obvious, and certainly improves as it goes on – though after an opening credit sequence that appears to have been shot directly from the screen of a ZX Spectrum, it could hardly be otherwise. [It's also the distinctly cheapskate method by which Angel gets her orders] Morton Downey Jr. makes a cameo, and the movie even brushes against self-reference, when one of Angel's hits takes place on the set of a girls-with-guns movie.
Walden certainly looks the part, and there was one major surprise at the end. But the surreal, dreamy approach for which Goldstein appears to be aiming, comes off more as if the whole cast were dosed up on ketamine. Is there any reason why George is able to follow Angel's entire life on the screen of an arcade game? It's a rare genre entry, in that it was directed by a woman; however, it did take her eight years to make another movie. Read into that what you like…
Dir: Amy Goldstein
Star: Lynette Walden, Chris Mulkey, Paul Ganus, Jaime Gomez