"…don't make the ending right."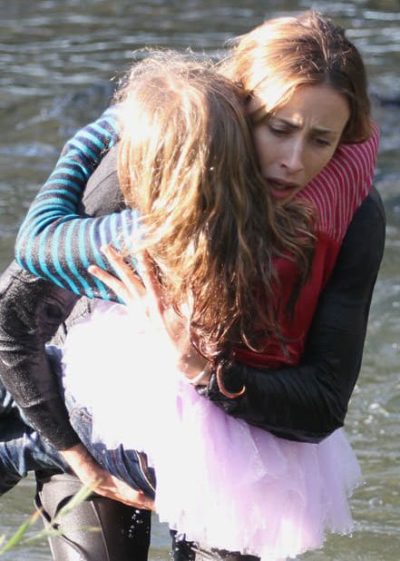 The first half of this is actually well-written, asking some difficult moral questions that left me intrigued, and wondering how they would be resolved. The answer, unfortunately, is by an escalating series of plot twists, culminating in one of the more ridiculous climaxes I've ever seen. I could go on to say, "even in a Lifetime TVM", but that would be unkind, since I've seen both good and bad examples from there over the past year. Though as an aside, I note Netflix being increasingly quiet about the ties of films to Lifetime, which is interesting; but given the severe inaccuracy of their synopsis (No, the heroine does not get "sucked into a dangerous underworld"), that's more likely a Netflix issue.
Sarah (Zinser) is a single mom, devoted to her daughter, who also works as a nurse. It's clear from the get-go that someone is stalking her, and eventually the daughter is abducted on her way home from school. Sarah is called by the kidnapper, but his demands are not anything like you'd expected. For it turns out, one of Sarah's patients is trying to escape his own past, where he was accused of kidnapping a young girl himself, who allegedly died while in the trunk of his car. Acquitted on a technicality, he moved away, but the father of his victim – whose mother also suffered a complete psychological breakdown as a result – has tracked the perp down, and is now intent on using Sarah as a vehicle for his revenge.  How far will she go, in order to save her own daughter?
Like I said: it's a difficult moral question, not least in the early going, when the film maintains a nice sense of ambiguity as to whether or not the target of her second-hand wrath is guilty. If so, then the entire situation becomes a cascading series of wrongness, potentially culminating in the death of at least one other innocent. While a fascinatingly dark scenario, it's not exactly Lifetime fodder, and things start to go off the rails when Sarah's mother [from whom she clearly gets her style of "helicopter parenting"] shows up, extracting a confession that removes any ambiguity. He's guilty as charged, m'lud – and probably guilty of a lot of other things, too. Hanging's too good for him. From then on, the script staggers from one ill-conceived mis-step to the next, through everyone going on a road-trip and an amazingly coincidental meeting at a gas-station, to an ending that literally drips everywhere. There is, apparently, no loose end which can't be tied up by someone drowning randomly and floating off downstream, resolving all those tricky moral dilemmas. Though Zinser is solid enough as a mom prepared to do anything to get her daughter back, she could have been Meryl Streep here, and still wouldn't be capable of papering over the glaring flaws in the later portion of the script.
Dir: Tristan Dubois
Star: Gillian Zinser, Ryan Blakely, Aidan Devine