"…courage is not the absence of fear, but rather the judgement that something else is more important than fear."

Debut author Justin W. M. Roberts and I became acquainted recently in the Action Heroine Fans group that I help moderate on Goodreads. I noticed his mentions of this novel there, and was interested enough to accept his generous offer of a hardcover review copy; but no guarantee of a good review (or a review at all) was asked or expected. This book had no trouble earning its stars on its merits! For much of the time while I was reading it, I expected to give it four and a half stars, but after the impact of the ending, there's no way I could give it any less than five.
"Write about what you know" is an axiom Roberts clearly takes seriously. British born (and a graduate of Hull Univ.), his father was an army general, and the future author seems to have been what's sometimes called in U.S. slang an "army brat," who grew up in close proximity to military bases and traveling around the world to different postings. For the past 25 years, he's made his home in Indonesia; this book is set partly there and in the British Isles, and like the author, his titular heroine straddles the two cultures.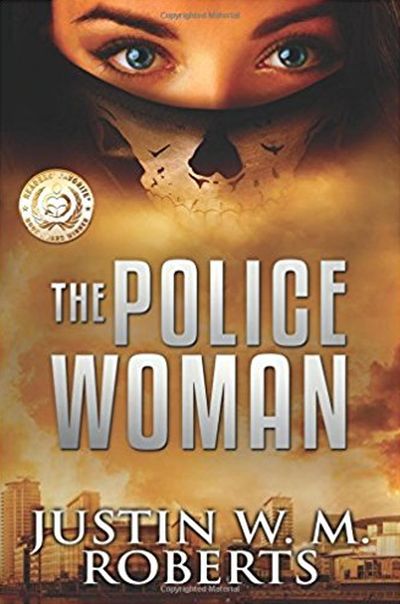 He also appears to have a background in police and/or military counter-terrorist services. His knowledge of S.W.A.T. (special weapons and tactics) terms and procedures, firearms specs, and both British and Indonesian police and military organization and organizational culture and traditions is extensive, to put it mildly, and he puts this to use in spades throughout the book. It's noted at the beginning of the book that almost all of these tactics are "intentionally disguised" to protect police and military officers (so that baddies can't use the book as a text to learn what to expect!), but it still has a very realistic feel. We're in the hands of a writer who knows his stuff here; readers who need and want technical accuracy won't be disappointed. For other readers like me, who don't know one brand of firearm from another and have little technical knowledge of covert operations, much of this information will go over our heads, but it will still give a feeling of verisimilitude, and maybe impart some knowledge that will stick! (Seven and a half pages of glossaries of organizational "alphabet soup" and British, Indonesian and Irish military/police slang and terms and Gaelic –here spelled "Gaeilge"– phrases are provided; and if you're anything like me, you'll refer to them frequently.)
To write a gripping tale of action adventure, of course, one needs more than technical knowledge. Such a story requires a fundamental, high-stakes conflict with moral issues that matter, involving believable characters that the reader can actually care about. Roberts delivers that here, too. His story is set in 2026, in order to allow for the full effects of planned downsizing of the British army, scheduled to be fully effected in 2020, and for the related rise of a new player in international drug trafficking, the Irish Drug Cartel. The book opens with a grisly and highly attention-grabbing torture scene that (once the reader interprets it in the light of the information that follows in the first chapters) establishes the moral polarities very clearly.
Heroine Sarah –half Indonesian, half European, from a military family, and raised partly in England– still in her 20s, is a high-ranking and very capable officer in the paramilitary wing of the Indonesian National Police. She's seconded early on to Interpol and sent to England to join the task force battling the Cartel. It's no exaggeration to say she's one of the best, and best-drawn, action heroines I've encountered in fiction. The other important characters are also vividly realized –Niall, the Cartel's pet psychopath and torturer, is as radically evil a figure as you'll ever encounter in a book. (There are so many secondary ones that some of their names and sometimes organizational affiliations are hard to keep track of, but you don't actually have to –in those cases, I just sort of went with the flow. :-) )
There's a lot of action, but significant character development and interaction as well. (Some readers found the first four chapters slow-paced or even boring, because of the introductions and setting up of the situation, but I honestly did not; I thought Roberts did a good job of holding interest there.) While I've classified this as action-adventure rather than mystery, the author effectively uses some techniques of mystery fiction in places to hide clues in plain sight. Some parts of this book are profoundly moving, and it packs a very real emotional wallop. The narration is in third-person, present tense mode; this took some getting used to, but I actually adjusted to it pretty quickly. A quibble might be that some Cartel members are more loose-lipped and careless than would probably be the case in real life, but that is a minor quibble.
Roberts' online author profile notes that he's "an active promoter of secular humanism." This particular book, however, doesn't grind any sort of philosophical ax. If it has any messages, they would be recognition that drug use and drug trafficking is a pestilent scourge on the world, and high admiration and respect for the often-maligned work of the brave men and women of the police and military who put their lives on the line to stand against it. (Interestingly, Sarah is a professed Catholic, and that aspect of her character is treated respectfully. Granted, it's clear that her religious beliefs, as far as they go, are more a matter of birthright church membership than a life-transforming personal spiritual commitment –but she does tangibly demonstrate that they go further than just empty words.)
Some content warnings are needed here. I mentioned an opening torture scene. There are some other torture scenes here as well, all of them graphic, and the violence is grim and bloody, with a lot of messy deaths. The author would say the violent content isn't any more graphic than it has to be, and (unlike Niall), he clearly doesn't take pleasure in it; but this isn't a read for the squeamish. While there's not much bad language in the first three or so chapters, there gets to be a lot of it later, with quite a bit of use of the f-word. This does reflect English-speaking cop and military sub-culture, as well as the speech of low-life thugs, and also, to a degree, contemporary secular British speech (which apparently has coarsened even more than American speech in recent decades). While there's some unmarried sex here, the sex between the good characters is loving and not really explicit; but there's a lot of locker-room–style sexual banter that's R (or X)-rated. Some female readers might also feel that the book suffers some from the "male gaze" syndrome, especially in the references to a photo of Sarah in a bikini.
In summary, I'd recommend this novel for action fans generally, not just for those who particularly like action heroines (though many of the latter will agree that Sarah's "the ultimate action heroine!"). The content issues, IMO, don't detract from its very real merits (and might not bother many readers at all); and the author deserves particular credit for bringing to life an admirable heroine of mixed race, a demographic that gets way too little representation in English-language action fiction.
Author: Justin W. M. Roberts
Publisher: Self-published, available through Amazon, both for Kindle and as a printed book.
A version of this review previously appeared on Goodreads.