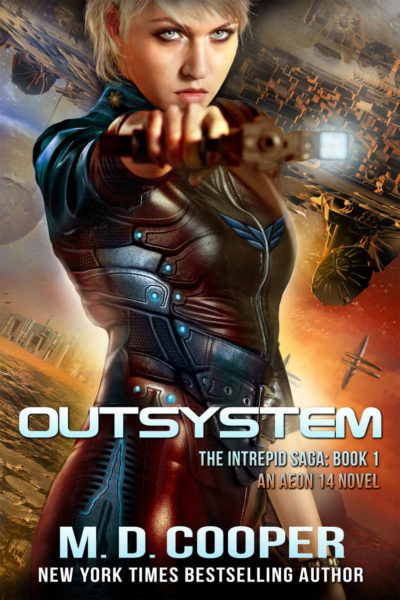 This is certainly "hard" SF, by which I mean a story driven by (and to a large extent, more interested in) scientific advancements. In tits 42nd-century future, humanity has expanded to fill the entire solar system, and is now reaching out with colony ships to nearby stars. One such ship, the Intrepid, is being assembled at the Mars Outer Shipyards, one of the massive ring-like complexes which surround the planet. But not everyone wants the project to succeed. Major Tanis Richards, who will be one of the colonists, is first tasked with ensuring the project's security. The scope of her job becomes apparent quickly, as immediately on arrival, she has to fend off a terrorist attack, trying to set off a nuke on the Intrepid. It's just the first of a number of sabotage attempts.
There is a lot of tech here, to the extent that the book includes multiple appendices, devoted to explanations of it. Everyone is interfaced to networks, each other and their own AIs – Tanis's is called Angela – and medical advances mean age is now little more than a number. I found it a bit much, as if technology had become a gigantic, all-encompassing "Mary Sue" of unstoppable power. Whatever the problem… Well, there's an app for that. The reality, as we've seen, is that new technology tends to create as many new problems as it solves: you don't get much sense of that here. The issues are more old fashioned than that: terrorism is now corporate-sponsored, rather than state-sponsored.
The storyline also tends to get bogged down at times, in an alphabet soup of organizational structure. It seems as if the Major spends as much time in meetings, as actively hunting down the bad guys: it almost turns her into the world's first bureaucratic action heroine. There are frustratingly incomplete hints at her past, with an incident which caused her to be tagged "The Butcher of Toro". Though it's suggested this is an unfair sobriquet, the incident – whatever it was – appears to have played a significant role in her decision to apply to become a colonist. Such an important piece of character motivation likely should not be swathed in such mystery, though it's possible the details are revealed in one of the later volumes in this three-book arc.
Re-reading the above, this all seems highly negative, more so than it deserves – though I note Cooper recently released an expanded version of this and its sequel, which does suggest he was perhaps not satisfied with the first version. Still, despite flaws, such as a supporting cast who could have used more fleshing out (particularly Joe, the uninteresting romantic interest), I found the pages turned at a a solid rate, and the action sequences generally hit the spot. The version I read included the first couple of chapters of part two, A Path in the Darkness, and it possesses a good enough premise to make me consider going forward. Less is likely more, and the smaller-scale setting of the Intrepid is perhaps a better fit for Cooper's voice, which isn't strong enough to populate the entire solar system here.
Author: M.D. Cooper
Publisher: The Wooden Pen Press, available through Amazon, in both printed and e-book versions.