"Doesn't live up to the blurb on the back. Then again, how
could

it?"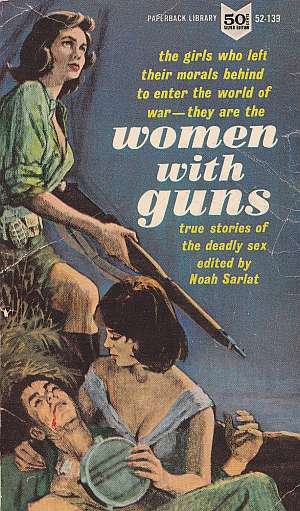 The tender sex – and the terrible things they can do. Violence, savagery, sudden death on the battle field, torture and butchery behind enemy lines – these are the facts of war. It is a man's world… but what of the women trapped in it? What of women such as:
Minerva, the sexton's sexy daughter, who loaned her secret weapon to the Danish underground…
Repon Sirik, young leader of Indochina's feared Hoa Hoa, women warriors who've made life a living hell for their enemies…
Tuli, the Laotian lady with a yen for vengeance and a wild way with jungle warfare…
Frau Kastanie, the not-so-merry widow and her party-girl panzers of Bremen…
Katina, her four Greek girl friends, and their crazy, blood-spattered flight to Istanbul…
These are the women with guns, stripped of morals, fighting and loving in the savagery of war. You'll meet them (and others) in these strange but true accounts.
That's the lurid copy on the back of this fifty-cent 1962 pulp collection of stories, originally published in magazines with names like For Men Only or Male. The reality is rather different: without exception, the characters mentioned are supporting at best, and nearer cameos in a couple of cases. The stories are very much male-oriented: for example, the head of the Danish underground, and the man who leads Katina et al out of Nazi territory. It's through their eyes that events unfold, and they're responsible for most of the action. There are occasional moments otherwise – but in that area, I note it's the "foreign" i.e. non-white women, who are easily the most pro-active. Civilized girls just don't do that sort of thing.
This doesn't mean that the stories are bad: the majority are solid, two-fisted pieces of entertainment, obviously products of their era (sex is fairly frequent, yet largely happens off-page, after a knowing ellipsis), yet rarely dull. The sole exception is Hitler's Hustlers of Bremen, a muddled, confusing and, frankly, dull piece about black-market shenanigans in Germany just after the war. My favorite, on the other hand, was Five Greek Girls to Istanbul – basically, the title is close to the plot there, with the hero leading his mini-harem through occupied territory, with a sojourn as members of the resistance on the way. Still, I can't hide a sense of disappointment, even if such mis-direction is a concept with which I'm certainly familiar: many are the 21st century DVDs with equally lurid cover and blurb, that similarly fail to deliver.
Editor: Noah Sarlat
Written by: Richard Gallagher, Emile C. Schurmache, George Mandel, James Collier, Burton Shean