"Brains
and

brawn."

Much more a reboot, complete with a redesigned lead, than any kind of sequel, this four-part series of hour-long episodes received a theatrical release in Japan, before being released on DVD. In a typically confusing GitS universe approach, it was then broadcast on TV in 10 episodes, with extra material added. I mention this only because it's the four-part version which will be reviewed here. It starts before Major Kusanagi (Maxwell) joins up with her boss, Aramaki (Swasey): initially, she's part of the 501st, a counter-cyberterrorism group which owns her cyborg body. However, Aramaki offers her the opportunity to go freelance under him, doing similar work, and assemble a team who will largely be free from bureaucratic oversight.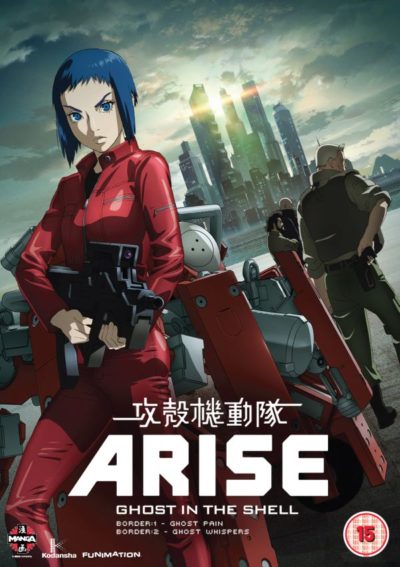 Over the course of the four episodes, she recruits others whose names will be familiar. For example, ex-Ranger Batou (Sabat), comes aboard after initially being part of a team working against Kusanagi, who are trying to prove government complicity in war crimes. This is an interesting change, compared to the previous versions, which always seemed to join Section 9 "in progress," and provides some intriguing insight into what makes – literally, to some extent – the Major the way she is. For, in this incarnation, we discover that she has been in her prosthetic body since birth, and has never known any other way of life.
The other main focus is the dangers of a society which is totally reliant on technology, because of the horrible opportunities for exploitation it presents to terrorists. Even the heroine is not immune to being hacked, and one of the themes is the implications of a world in which you can't trust your own memories, when these could be false implants. This makes police work incredibly hard, because as is pointed out, even if someone admits to committing a crime, they could actually be entirely innocent. This illustrates the nicely cynical streak here, concentrating heavily on the potential downsides of scientific advancement.
I found the main strength to be the much better balance struck between the intellectual and action elements. If you've read the previous reviews, you'll know I've rolled my eyes at the uber-dense lumps of philosophy, shoehorned in for no reason more necessary than, apparently, to prove how well-read the script-writer was at college. Here, those are refreshingly absent, although you still need to be paying damn good attention to the plot: I made the mistake of drifting away in episode 2 for a bit, and finally had to admit defeat, cranking things back to re-watch what I'd missed.
The battle sequences are awesome. Whether it's the Major going up against another enhanced human, or taking on a massive battle-tank which has been hijacked by a pair of "ghosts," these are slickly animated and edited with precision, in a way from which many live-action films could learn. They're also incredibly violent, both on a personal level and in terms of the material carnage caused by them. But such is the joy of cyborgs, they can take a lickin' and keep right on tickin'… The result is a rare combination of action and intelligence, that offers something for both the lizard portions of the brain, and the more highly-developed parts.
Dir: Kazuchika Kise
Star (voice): Elizabeth Maxwell, John Swasey, John Swasey, Jason Douglas