"In the jungle, the Lee-on sleeps tonight…"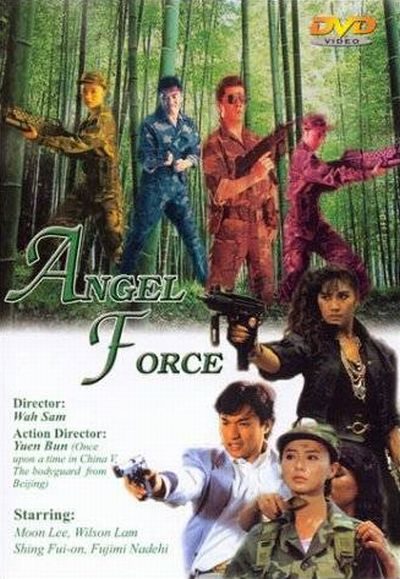 This is confusing. For the IMDb lists a completely different film by the same title – also made in 1991 and starring Moon Lee. That one stars Simon Yam: this one doesn't. Meanwhile, Amazon has Yukari Oshima in the cast – I may have blinked and missed her, but more likely she was in the other one. It is also, despite the title, entirely unrelated to the Angel series, though did remind me I've not yet got round to reviewing parts two and three of that. If you see it referred to as Mission Kill and Mission of Condor too, I think that's the "other" Angel Force as well; one site even refers to this movie as Lethal Blood 2, although it bears no relation to the first movie there either. I hope this helps…
Regardless, I wondered early on if this would even qualify, as May (Lee) takes a back seat, playing second banana to her boss, Peter (Lam). He has been tasked with rescuing kidnapped Westerner Harrison, stashed away after his capture, deep in the Burmese jungle by local drug lord, Khun Sa [who appears to have been a real person]. After putting together a team, on virtually the eve of the recovery mission, Peter is gunned down in an attempted hit, and it's up to May to lead things. There are problems both outside and inside the team. A mole is leaking information on the mission to the people they are after, and the first guy Peter recruits, Benny (Ng), turns out to be a borderline psycho, who gets a bit rapey with a captured enemy. It's up to May to complete the mission, get out alive, and then figure out who is the informant.
Right from the start here, there's no shortage of action. Though a bit too much of it consists of two group spraying automatic gunfire at each other, through thick jungle foliage and with all the accuracy of Imperial Stormtroopers. While I am never averse to seeing a guard-tower explode in a good, giant fireball, there is a limit to the appeal of such things, and it is certainly reached here, well before the arrival of what may be the first deus ex helicopter in cinema history. I was also amused by the painfully early nineties approach to both mobile phones the size of bricks, and high-tech searches represented by a computer screen where the text largely consists of word-processor installation instructions. No wonder the team ended up with Psycho Benny.
Fortunately, the guns here jam or run out of ammo with regularity which could be concerning if I were a weapons manufacturer. As a viewer though, the film is on far more solid ground when dealing with the hand-to-hand action. Lee leads from the front with some fights that showcase her speed and agility to good effect. The most notable of these is a battle against Fujimi Nadeki after the near-assassination of Peter, in which May chases the killer through the streets on a motorcycle, to a half-demolished building. A savage gun-battle follows, notable not least for May's point-blank execution of one man, ending with her going up against Nadeki. While it forms the high point, more or less any time Lee puts the gun down is a good indication you should start paying greater attention here.
Dir: Shan Hua
Star: Moon Lee, Wilson Lam, Hugo Ng, Fong Lung
a.k.a. Tian shi te jing