"I knew I shoulda taken that left turn at Albuquerque!"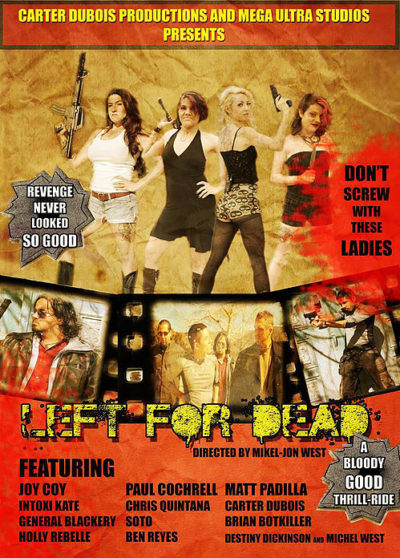 Coming out of the micro-budget scene in New Mexico, this is a straightforward tale of vengeful "hell kittens", to quote the official synopsis. Bella Meurta (Kate) is a hooker, who kills one of her clients after he gets rough with her. In revenge, her little sister is savagely beaten and left dead [note: not left for dead…] in the street. Bella gathers together her posse to take out the mobsters responsible: stripper Fageeda Cunt (Blackery), dominatrix Silky Gun (Coi), and jailbird turned home healthcare professional Harley Hellcat (Rebelle). [Look, I'm just reporting these character names, I didn't create them. Particularly Fageeda's] But as the saying goes, "Before you embark on a journey of revenge, dig two graves." Or perhaps more, in this case.
The aim is clear here, with West looking to create (yet another) throwback to the days of grindhouse and straight-to-rental action flicks. Which explains the faux artifacts like film scratches, I guess – though since it's clearly shot on video, you kinda wonder why they bothered. Unfortunately, the execution falls a bit short as well. Cheap, I can easily forgive; it's the occasional sloppiness here that's annoying. For instance, when we see little sis lying dead in the road, her corpse is in pristine condition. Then, when Bella shows up in the next shot, the body is suddenly blood-spattered and badly bruised. Having a low-budget is no excuse for glaring continuity gaffes such as that.
Even at barely an hour long, there feels like there are significant chunks of padding, such as scenes of Fageeda and Silky at "work", which bring plot development grinding to a complete halt. Particularly in the second half, the plot seems herky-jerky, with scenes in utterly different locations next to each other, lacking any explanation of how or why the characters went from Point A to Point B. There's also a weird, almost complete lack of anyone over the age of about 30, which makes this seems like a revenge-based remake of Logan's Run. And it appears most of the lead actresses are local burlesque dancers. The Venn diagram of the skills needed for those professions is not two superimposed circles, shall we say.
Yet I can't say I hated this. We've been involved with enough low-budget film-making to be able to appreciate what's involved, and much of the same vibe is present here. There are enough moments of quirky eccentricity, such as the Russian mobster confused by an ignition interlock device, which kept me adequately entertained through the film's slacker moments. The fight scenes – something we always found a nightmare to try and make look even half way to good – didn't entirely suck. You certainly will need a high degree of tolerance for ultra-cheap independent cinema to get through this, and I wouldn't recommend it for beginners in that genre. Yet, I've seen worse [much worse, trust me on that], and despite the flaws, have to acknowledge the obvious effort involved.
Dir: Mikel-Jon West
Star: Intoxi Kate, Joy Coy, General Blackery, Holly Rebelle