"Fails to make the grade."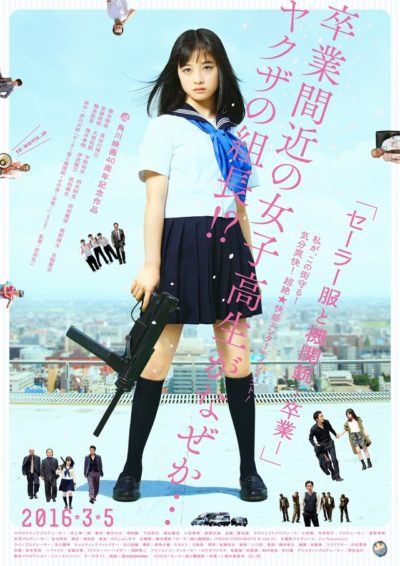 The 1981 original movie of which this is a part-remake, part-sequel, made an impression with some solid performances, lurking behind an obviously exploitative title. This? Not so much, despite sharing many of the same elements. For example, both films cast a pop idol singer in the lead role, and the central concept is similar – a schoolgirl finds herself suddenly thrust into the mantle of a Yakuza boss. Here, however, we initially find Izumi Hoshi (Hashimoto) already having gone through the situation she inherited after her uncle was assassinated. She took revenge on his killer's after which her gang, the Medakas, was disbanded. Now a high-school senior, her sole retained asset is a small coffee-shop, though Izumi has trouble getting the employees, her former minions, to call her "Manager" rather than "Boss."
She is dragged back into the underworld when a classmate begs for help in her problem with a sleazy "model" agency. It turns out that behind the agency were the gang who were once her enemy, the Hamaguchis, who are also selling drug-laced cookies on her turf. When one of these disco biscuits leads to the death of a schoolmate, Izumi decides to come out of retirement and take up arms once again. Unfortunately, she takes her time about it. Indeed, after the flashback which opens the film, you'll have to wait 100+ minutes for the next machine-gun moment; in between, it's entirely sailor-suit. There's also an extended subplot involving Yasui (Ando), a corporate raider with plans to redevelop the entirety of Izumi's neighbourhood, whether the inhabitants want it or not.
At virtually two hours long, it has huge pacing problems: that running time isn't much more than the original, yet here, it drags terribly, and desperately needs to be at least thirty minutes shorter. It doesn't help that Hashimoto is almost entirely bland, with nothing here to distinguish her from the millions of other idols. [The Hello Kitty tie-in marketing shows more personality, even if they replaced the machine-gun with a pop-gun!] This generic portrayal might make more sense if she was initially still an innocent schoolgirl, as in the original. Here, we're supposed to believe she's someone who has been the head of a Yakuza gang and come out the other side? I'm not buying that in the slightest.
In the film's defense, I've read reviews suggesting elements of social satire which are likely not apparent or meaningful to a Western audience, such as the property shenanigans. That doesn't do much to excuse the main issues, however, and even local critics were largely unimpressed by a largely forgettable feature, that only occasionally reaches the level of moderately interesting. Managing to waste such a cool concept, and in particular the iconic moment where the heroine sprays her automatic weapon while yelling "Kaikan!" – roughly translatable as "Feels so good!" – should be a jailable offense. I guess it's nice to realize that pointless remakes are not purely a Hollywood problem.
Dir: Kôji Maeda
Star: Kanna Hashimoto, Hiroki Hasegawa, Masanobu Ando, Takurō Ōno