"Battle of the sexes."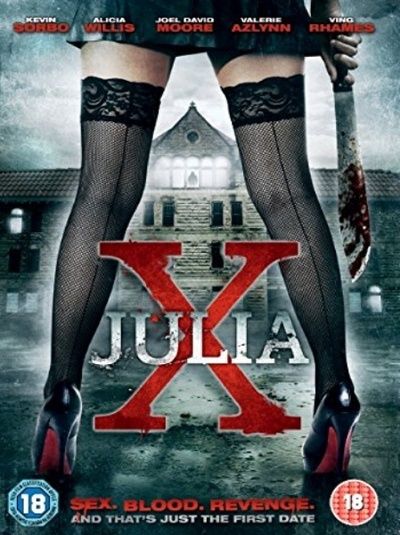 A date appears to go badly wrong for Julia (Azlynn), when her companion (Sorbo) turns out to be a serial-killer who has been using Internet dating sites to find the young women he targets. However, it turns out the tables are eventually turned, for Julia and her sister Jessica (Willis) are every bit as monstrous, who have been luring in and killing men, as a result of the abuse they both suffered at the hands of their father. But Jessica is a bit fed up of taking a back seat to her big sis, and wanders across the street to kidnap a victim of her own (Moore). But Julia's captive is not exactly prepared to give up his liberty without a fight.
Nice bit of casting against type for Sorbo, whom we're used to seeing in more heroic roles. He's quite effective in a Patrick Bateman-esque way (American Psycho, if you'd forgotten), and this is certainly an equal opportunity film, in terms of the copious violence inflicted both on and by women. The last third is not much more than the two leads battering each other forcefully through the entire house, with extreme and escalating aggression. It's the kind of thing which I should love. So why does it all feel relatively unaffecting and forced?
It may be because the scenario unfolding requires almost industrial strength idiocy from the main characters. Sorbo's killer, for example, is so sloppily incompetent, it's a wonder he managed to pull off his first murder without accidentally killing himself. The sisters aren't much better, and we're not given much of a reason to root for Julia and Jessica either. I get the feeling the reveal of them being psychos as well is supposed to "matter", but it has next to no impact at all. The backstory offered for the sisters is pretty trite and cliched too; maybe it would have been better off if they'd begun with that, and we'd been brought along with the siblings on their journey, to the point where murder apparently started to make sense.
What does work, fortunately, is the action, which is well-staged and crunchy. The film doesn't linger on the pain with sadistic glee, as it could; this is wise, since if the makers did, some scenes would likely be hard to watch. Instead, there's an almost Looney Tunes element to the mayhem, particularly in the way the protagonists are able to take a pounding, and bounce back with an even more enhanced vengeance, like a human version of an Itchy & Scratchy cartoon. On the whole, I'd not have minded at all to see this deliberately outrageous aspect played up, highlighted particularly by a beautifully ironic use of The Carpenters' soft-pop anthem, Close To You. For the film arguably doesn't do enough with its script or characters to make the viewer interested in taking them seriously.
Dir: P.J. Pettiette
Star: Valerie Azlynn, Kevin Sorbo, Alicia Leigh Willis, Joel David Moore