"Fake pearls."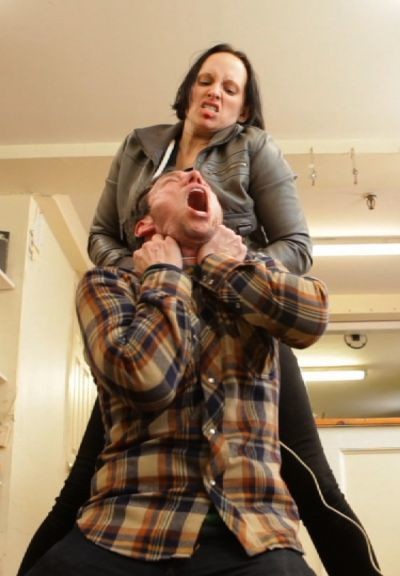 I think perhaps the most memorable thing here was that, while doing my usual pre-review Googling, the search results returned with the warning that, "In response to multiple complaints we received under the US Digital Millennium Copyright Act, we have removed 35 results from this page." I'm not sure whether I'm surprised or concerned that 35 sites apparently deemed this worth their while to rip and upload a bootleg copy of this, because it probably doesn't deserve it. I may be particularly disgruntled due to the presence on the sleeve both of helicopters that don't exist, and someone totally different from the heroine; half a star was docked from the grade for this. In reality, the star  (Patton, the director's wife – he plays the florist she's garotting in the picture, right!) looks more like Marilyn Manson, with a high forehead and close to no eyebrows.
Not that this is necessarily a bad thing – indeed, there's something to be said for a heroine who challenges conventional notions of beauty, and Pearl does that, even if the distributor chooses to hide this behind a leggy, long-haired model type. She looks like a pissed-off killer, out for vengeance – not any longer on the people who killed her parents, for they were taken care of years ago, as others of that same type. Which would be criminals, drug-dealers, pimps, etc. She kidnaps meth scientist Erik (Morales), using his inside knowledge to work up the chain toward top boss Tre (Brown), while Detective Wyatt (Morafetis) follows the trail of bodies left behind Pearl, from the other end.
Even given my tolerance for independent, low-budget cinema, the action here was particularly poor, barely choreographed and possessing absolutely zero impact. Surprisingly, what worked better than expected were the characters, particularly Erik, who actually possesses something of an arc, going from a meth-head with few redeeming features into something of a tragic hero. By comparison, Pearl doesn't move the needle very much: she starts off the film as a stone-faced killer, and more or less ends it as a stone-faced killer. You do get to see some of her backstory, but it seems more perfunctory, and it's also simplistic in the extreme: someone killed her family, now everyone must pay. That might have worked for Charles Bronson forty years ago; now, audiences expect rather more nuance. Still, there was one genuinely shocking moment, demonstrating Tre's utter ruthlessness, and I actually laughed at one of Erik's lines. Overall, it's a case of being able to see where the film-makers are aiming; unfortunately, the results fall significantly short of that target, and you're probably better off sticking with the obvious sources of inspiration here, instead of this attempt to imitate them.
Dir: Guy Patton
Star: Dana Patton, Scott Michael Morales, Justin Brown, George Morafetis