"Secondary staged carnage."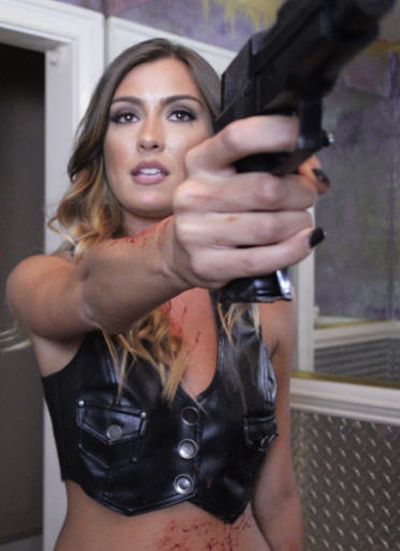 After Megan (Watson) loses her job, boyfriend and the roof over her head in the same day, she decides to head off to Atlanta, where friend Amanda (Riggs) puts her up for a bit. Amanda's boyfriend (Rollins) is manager at a strip club, and gives Megan a job as a cocktail waitress. But after realizing the gap in earnings between those employees who keep their clothes on, and those who don't, Megan decides to make the jump into strip-tease. This rapidly brings her into conflict with Jazz (Brown), another stripper who rules the club through terror and intimidation, along with the help of her cronies. She takes it upon herself to make Megan's life hell. However, she can only be pushed so far, before Megan and Amanda, push back.
A classic grindhouse title, which somewhat delivers on its premise: nearer to the "massacre" than the "stripclub" side, I'd say. Indeed, it's rather more restrained in terms of nudity than I'd have expected. The gore, on the other hand, is plentiful in volume, if not necessarily quality: some of the special effects count as "special" in roughly the same way as "special education". The story is basic to the point of simplistic: Megan is somewhat sympathetic, yet you're never brought along on her descent into psychotic violence. It's more like a switch is suddently flipped: I can imagine the film-makers thinking, "Right, 15 minutes to go, enough of this characterization nonsense, time for the rampage sequence." It's still about 20 minutes too much, and this perhaps needed a better outside hand, to cut down on what often feels self-indulgent fan fiction.
The most interesting character in all this is probably Jazz. If Brown looks familiar, you should probably be somewhat ashamed of yourself. That's because she was previously known as Misty Mundae, and starred in a large number of films with titles like Gladiator Eroticus, Lord of the G-Strings and Spiderbabe. About which, I know absolutely nothing. :) She has now moved on from such things, and clearly knows her way around a script in a way that Watson (understandably, this being her feature debut) doesn't. Jazz thus becomes hateable, in the same way Megan should have been likeable. She's a vicious, coke-snorting bitch, who treats the club as if it were high school, and Jazz head cheerleader. A great villain, they should have made the film around her.
As a result, Jazz's death is about the only one which packs any kind of emotional impact – it's not too dissimilar to one I saw in La Esquina del Diablo, actually. The rest are mostly exercises in sloppy gore – as noted, some of which work, others which don't. For instance, the (male) death by crowbar rape is perhaps more likely to put you off tacos than anything. [They could at least have used a fireplace implement, and had Megan cheerily quip, "How's that for strip poker?"] And why does Amanda enthusiastically join in the mayhem? No credible explanation is ever offered. It's all very clearly a small-budget effort, made with more passion than anything else. Unfortunately, outside of Brown, it does little to escape the obvious limitations imposed by its resources.
Dir: Bob Clark
Star: Alicia Watson, Erin Brown. Courtney Riggs, Stefan Rollins
a.k.a. Night Club Massacre