"I guess Golden Cane Training Montage wouldn't be as marketable."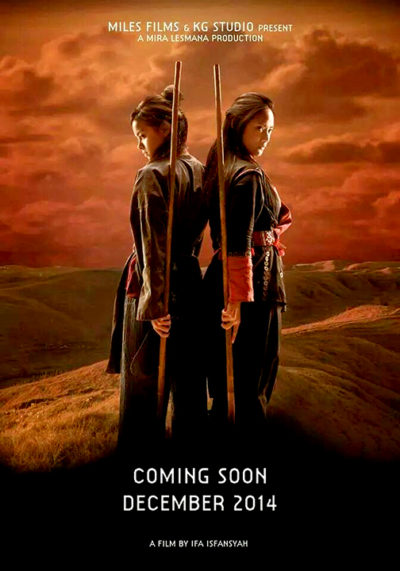 Veteran martial arts guru Cempaka has been training her four students, the children of other gurus she defeated, for years. It's time to pass on the ultimate move, and the titular artifact which goes with it. She selects Dara (Celia) as her heir, but before Cempaka can bestow the necessary knowledge, she is attacked by Biru (Rahadian) and Gerhana (Basro), two of the students passed over for Dara. In the ensuing fight, Cempaka is killed and the cane stolen by Biru. The injured Dara is found and nursed back to health by the mysterious Elang (Saputra), a man with a murky past and no shortage of his own skills. Biru and Gerhana frame Dara for the death of their mistress, and use the cane's power to take over the local area. Can Dara track down the last living practitioner of the Golden Cane style, and learn the skills necessary to defeat her fellow students?
Indonesia seems to be an increasing source of action films of late, though this is both different in style from, and not as good as, The Raid. It trades contemporary grit for a more classic and historical approach. Not that there's anything wrong with this approach, intrinsically. It's just that if you aren't bringing much new to the table, then to make an impression, you have to do what you do well enough to make an impression. This only succeeds sporadically, and is bogged down by a middle section that's positively glacial in pace. From when Dara falls off a cliff at the end of her first duel with Biru and Gerhana, the action takes a back seat until the final rematch. Cue instead, the training montages and drama that falls well short of being… well, dramatic.
Fortunately, the action which bookends this troublesome section is not bad at all. Though, unfortunately, the editing style is a little less than traditional, and appears more informed by MTV than classical kung-fu. This makes it hard to tell exactly how skilled Celia and her friends are; at least it never descends into incoherence, and you can tell who's doing what to whom. The fight between Dara and Gerhana is likely the highlight, the two women battling both outside and inside, throwing everything they can at each other.
Of course, you wonder why Dara doesn't break out the Golden Cane move quicker. Logically, it's a bit like having a machine gun in your back pocket, yet still deciding to fight your opponent with a stick first. Dramatically, it's both essential, and in line with the tropes of the genre. To be fair, you will need to accept that this is a film content to follow well-trodden paths, rather than breaking any new ground of its own. Even allowing for this, while delivering a couple of memorable moments, it certainly does not come anywhere near justifying its 112-minute running-time.
Dir: Ifa Isfansyah
Star: Eva Celia, Nicholas Saputra, Reza Rahadian, Tara Basro