"Leaves you yearning for the high quality of Asylum mockbusters."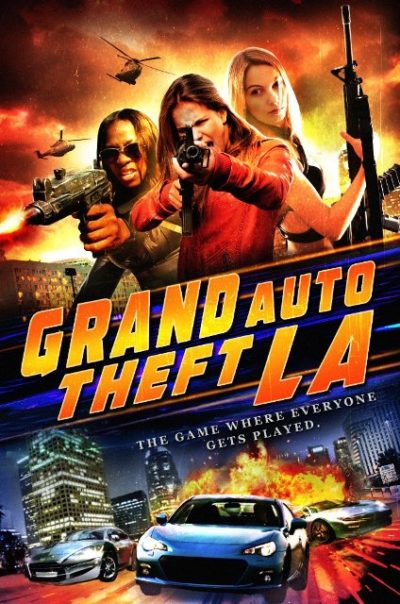 Vixen (Zachary) and her girl pals Sarita (Almonte), Kandy (Kodding), Electra and Katie are ambitious young dope-dealers on the streets of Los Angeles. After discovering that someone is pushing lethal drugs, Vixen's moral streak kicks in, and she cuts off the head of the snake responsible, Kane. Unfortunately, this opens the door for the even more dangerous Andre, who is completely insane and willing to stop at nothing to prevent Vixen and her gang from interfering with him. After he kidnaps, rapes and kills one of her crew, it's clear this war won't end until one of them is dead. Then there's "The Shadow," a mysterious and unknown figure, lurking behind Andre.
This is clearly designed to look like a Grand Theft Auto film, complete with animated cut scenes. I'm somewhat surprised there wasn't a cease-and-desist from Rockstar Games. However, the execution is so painfully poor and unconvincing, viewers would likely be more entertained if the makers had video-taped someone playing the game for 85 minutes and released that instead. Virtually no-one here is at all convincing in their roles as dangerous gangsters: Kodding, in particular, appears to be visiting the mean streets of Los Angeles on day-release from a Beverly Hills spa, and Dolinar resembles Neil Patrick Harris trying to play a thug. Both are as ineffective as that would suggest. Almonte did manage to sell her character in one monologue; otherwise, the best actor here is porn star Ron Jeremy. He gets his penis yanked off after it's caught in a car door.
I've enjoyed some of Leroy's low-budget work in the past; Hell's Highway hit the spot, and The Witch's Sabbath had the awesome line, "Where y'going? You crazy-ass witch with titties." Those both managed to, if not conceal their limited resources, at least make them relatively unimportant to the entertainment provided. Here, there's just not enough effort invested. While the film is hyper-violent in the same way as GTA, it's all digital effects – which might be the point, I suppose, yet feels more like a choice made to save money than out of any stylistic consideration. It seems rather ambivalent towards its female characters as well, wanting to depict them as strong and independent, yet also degrade them with sexual violence. On the other hand, anyone watching B-movies for a moral education is in about as much trouble as anyone who plays video games for that reason.
I look forward (for some very loose definition of "look forward") to seeing whether Leroy continues down this road. Perhaps we may soon be seeing Alive or Dead, Evil Resident or, perhaps, Raider of Tombs? I'm not sure which is sadder: the possibility of those, or the fact I'd almost certainly end up watching them…
Dir: Jeff Leroy
Star: Mahogany Zachary, Alexis Kodding, Tim Dolinar, Jessica Almonte