"Not so basic instincts."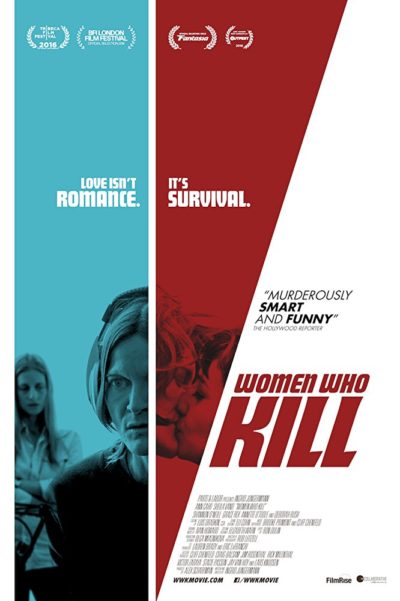 When I told Chris the title of this one, I swear you could hear her eyes rolling at the mere thought of it. But by the end, even she had to admit to having been won over by its dark charms. Most obviously is the sense of black humour which isn't just dry, it's as arid as the Atacama Desert. Morgan (Jungermann) and Jean (Carr) are fascinated by female serial killers, running a podcast on the topic which has acquired its own, unique fanbase. Morgan falls for Simone (Vand), a colleague at the food co-operative where she works. But Jean – who is also Morgan's ex – can't help thinking there is something seriously off with Simone.
At first, this seems like petty jealousy. But what exactly is Simone keeping in that lock-box of hers? Could she be a candidate for the podcast, more than Morgan's new soul-mate? As things progress – a mysterious death at the co-operative, the realization that "Simone" may be just the latest in a series of identities, circling back towards one of their podcast subjects – the crunch eventually comes. Jungermann seems to be stressing the difference between chatting vapidly about which serial killer was the most "stylish", or interviewing one in captivity (O'Toole provides a deliciously twisted cameo as the incarcerated Lila, voted second-most stylish by the podcast's listeners – she is not at all impressed by the winner), and having to deal with one in the wild. When there's someone who might or might not present a direct threat to you and your friends, it's no longer a vicarious thrill.
This is set almost exclusively in the lesbian community – there are very few speaking male roles. But it's still enormously accessible, and avoids the frequent pitfall of gay cinema, making its characters human first, rather than defined predominately by their sexuality. Morgan's insecurities, such as the belief Simone is too attractive possibly to be attracted to her, are universal ones. Her reactions, similarly, make sense in the circumstances. These help keep the film grounded, along with dialogue which is all the better for being delivered almost entirely deadpan by everyone involved. [There's something of Carrie-Anne Moss about Jungermann, both in her look and delivery of lines]
It is definitely a movie for a certain taste. If you're not fond of acidic wit, this won't be your cup of herbal tea, and it does occasionally become too wrapped up in itself; I'm sure aspects flew well over our heads. The script also seems to run out of steam, providing an ending that fizzles out into indie indecisiveness. Mind you, given one of the film's subtexts is the fear of commitment, perhaps its ending is another reflection of the same thing. There was still easily enough to keep us interested, and it proves that good characters and solid dialogue are not limited by cinematic boundaries of genre or setting. I trust Chris learned not necessarily to judge a movie by its title!
Dir: Ingrid Jungermann
Star: Ingrid Jungermann, Ann Carr, Sheila Vand, Annette O'Toole