"Stuck in a corner."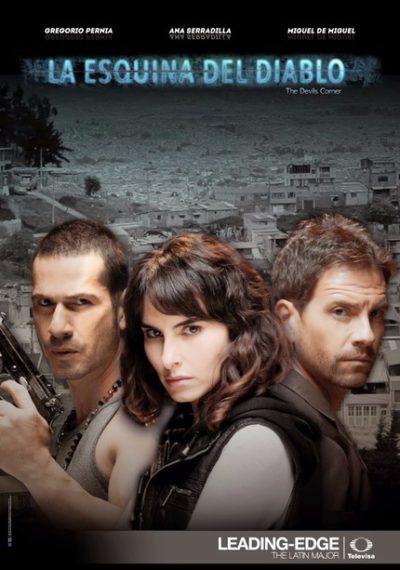 You're in deep in Devil's Corner
And you already realize it's hard to get out.
What would you do if there's no place to run
Sharpen your senses and defend yourself well
In Devil's Corner, walking towards love
Dodging bullets and risking your heart
It's so hard to escape from Devil's Corner
Defying death I came here to fight
And to love
Thus goes the peppy pop ditty which plays over the opening credits of this Colombian telenovela. It stars Ana Serradilla, whom we previously saw as the heroine of La Viuda Negra. Here, she's on the other side of the law, playing cop Ana García. She wants to be assigned to the special operations group. But her temper gets the best of her when she's given a surreptitious test, interviewing a suspect who's actually a policeman, and is deliberately trying to provoke her.
Fortunately, she gets a second chance to make a first impression, and is inserted in an undercover role to the aptly-named "La esquina del diablo" – the Devil's corner. It's a no-go zone for police, a ghetto perched high up on the hills overlooking the city. The area is controlled with an iron hand by the Velasco family, led by patriarch Angel (Tappan); they run drugs and other criminal activities, and have been a thorn in the side of the local authorities for years. Local cop Eder Martin (de Miguel) sends Ana into the area as a social worker, to gather information, after a helicopter crash supposedly kills Angel. However, it quickly turns out this was merely a ruse by the boss, to get the cops off his back. Can Ana embed herself deeply into the local community to complete her mission?
That's just one – possibly not even the main one – of a number of plot threads which are woven into the fabric of the 70 episodes. Additional elements include:
Angel's second-in-command, Yago (Pernia), who was a childhood friend of Eder
Angel's son, Angelito, who is an ambitious loose cannon with psychopathic tendencies
Eder's relationship with the mayor's daughter, and its conflict with the growing attraction to Ana
Meanwhile, Ana's gradual realization that Yago may not be as bad an apple as he seems
The mayor's political aspirations and presidential campaign
Yago's son is a promising football player, but is also on the verge of being recruited by Angelito
The other undercover cop, who befriends Angelito in jail and helps him escape
The mysterious "He", a rival crime boss who inhabits the upper echelon of the city's elite
The serial killer who is leaving a trail of women's corpses, tattooed with numbers on their shoulders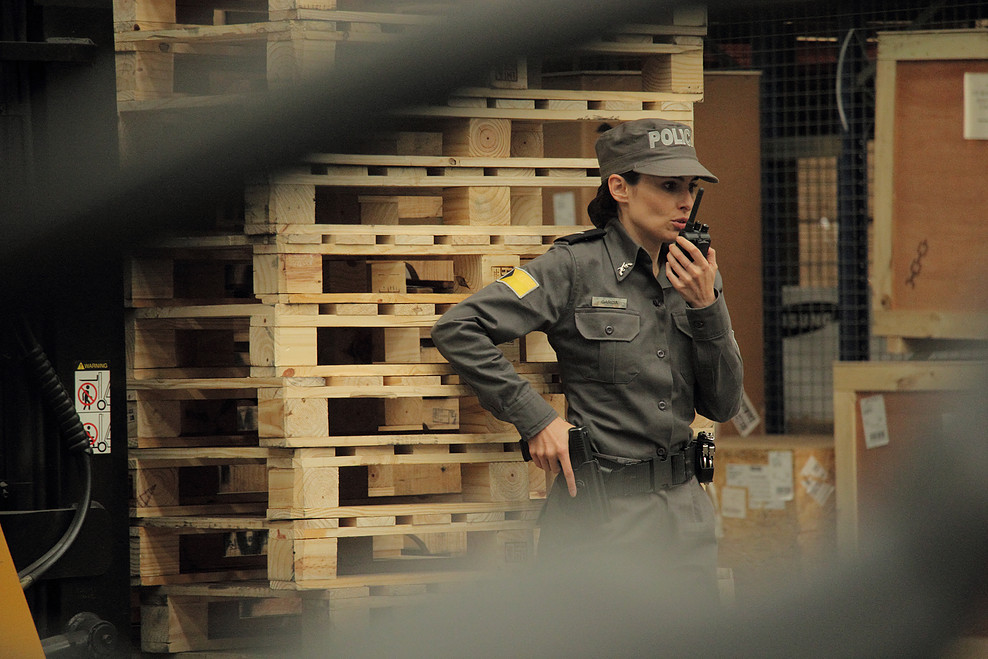 Phew. This cornucopia of plot-lines likely both the series's biggest strength and its greatest weakness. There's no doubt it's actually very well-handled by the writers and cast: even the relatively minor characters are given an impressive amount of depth, and the script never gets jumbled or confused. This is a sharp contrast to Camelia la Texana, the show I'm currently watching: you don't so much follow the plot, as desperately cling to it, as various groups of sideburn-wearing people scheme against each other. It's also a contrast, in another way, to Viuda Negra, which was unashamedly about Griselda Blanco. In this case, the breadth of focus inevitably leads to a dilution of why we're here, with poor Ana often sidelined.
This is a shame, since the heroine here is shown in the first episode, as fully capable of single-handedly taking out and/or down multiple villains with her skills. The mission here is much less direct: it's very much undercover intelligence-gathering. She can't kick ass, because that is not what social workers do: if she did, anyone who saw it would have cause to suspect Ana's real identity and mission, immediately becoming part of the problem. So instead, there's a lot more skulking around, trying to earn the trust of Eder, and narrow escapes from being caught by Velasco's gang. After what we saw at the beginning, this passive approach seems like a sad waste of her law-enforcement talents.
This is the main reason for the relatively low score above. For in some ways, it's the best of the shows I've seen, in terms of combining characters and plots in an engaging way. I'm impressed with the non-specific nature of the location, mentioning no particular country or city. The sharp divide between rich and poor, with the latter living in ghettos run by a largely criminal element, reminded me of the Rio favelas – I highly recommend you watch the amazing Elite Squad if you want a glimpse of the hellish life there. But I would imagine it's equally likely to be Colombia, since that's where the series was actually shot. The series does well too, in portraying the moral grey-scale: between Ana at one end and Angelito at the other, most making choices based on pragmatism rather than idealism.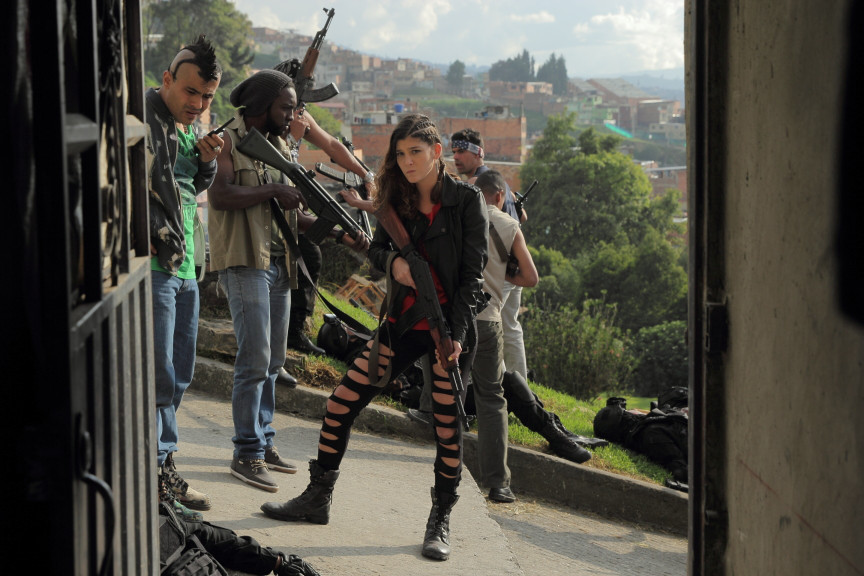 There are a lot of interesting supporting characters: not so much Eder and Yago, who are fairly cookie-cutter in terms of being opposing romantic heroes, with dark, troubled (and somewhat shared) pasts. It's mostly on the fringes of Velasco's gang that all the fun is to be found. Cachalote (Julián Caicedo) is a burly thug with a surprisingly soft heart – he has an unrequited crush on the mayor's daughter, formed during her kidnapping. Meteoro (Erick Leonardo Cuellar) is the gang's drug chemist, though he looks and acts like a methed-up version of Giorgio Tsoukalos, from the Ancient Aliens show. Most notable of all is Michelle (Estefania Piñeres, right), a hard-nosed barrio brat who is more than capable of holding her own in the tough environment, and is ferociously loyal to her boss. She would have enough stories to tell for her own, lengthy series, I've no doubt about that.
However, as an action heroine series, it's undeniably a disappointment: I was expecting much more focus on the central character, based both on Negra and the first episode. And, indeed, much more action. As a regular TV show, it would deserve a higher rating, likely a full star better, since I genuinely did enjoy it. It just isn't quite the fit for the site which I was hoping to see.
Star: Ana Serradilla, Miguel de Miguel, Gregorio Pernía, Christian Tappan