"Jolly rogered."
This is a strange cross-breed between a blaxploitation flick, a pirate movie and a women-in-prison film. Then again, a lot of the seventies films coming out of the Philippines tended to be at least somewhat bizarre, and this is likely no exception. The titular gang are pirates, led by Kelly (Bell) and Anggie (Katon), who roam what appears to be the Caribbean, going by the mention of Santo Domingo, but is actually in the Eastern hemisphere, boarding and robbing unsuspecting vessels, and fighting with a rival band of brigands using their kung-fu skills. However, Kelly's sister goes missing, and is tracked down to a coffee farm belonging to the evil Monteiro (Carreon), which he runs in the manner of a pre-Civil War Southern plantation. Our heroines go undercover, only to discover getting out will be tougher than getting in.
It starts off in fine form, coming over as a modern, urban version of a sixties swashbuckler, and it's a shame it didn't stick to this premise, which would have offered something rather innovative. Instead, from the time Kelly and Anggie – yes, there is apparently an extra "g" in there – show up on the farm, it goes down too well-worn a path, with sadistic guards, fellow inmates who cozy up to their captors, and showers. Lots of showers. After the expected breakout attempts, recaptures and punishments, things eventually end in an equally expected riot, enlivened somewhat by the unexpected return appearance of the rival pirates, as allies of Monteiro,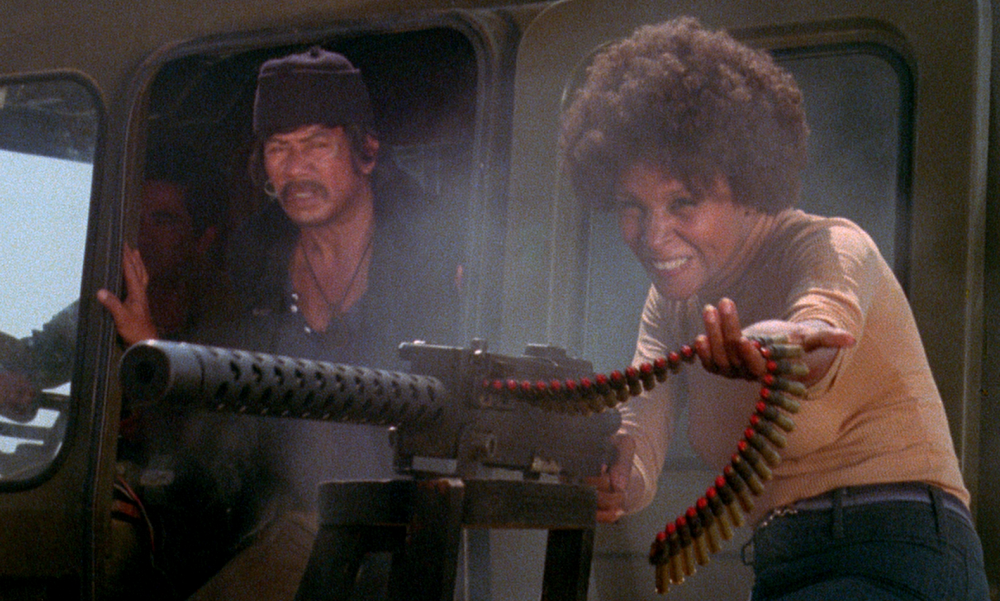 Both Bell and Katon had worked with Santiago before, in T.N.T. Jackson and Ebony, Ivory & Jade respectively, and make a decent impression here. I've read a few other reviews that rip into this for poor-quality action, yet I can't say I hated that aspect too much. Sure, there are times, particularly for any acrobatic moments, where the doubling is not exactly well-concealed. But there are other times where they're putting in their fair share of effort, and should be appreciated for that. It is, if not quite tame, rather less sleazy than some on Santiago's offerings. At first, I thought this was because I was watching it on Turner Classic Movies (yes, a refreshingly broad definition of "classic"!), but turns out to be fairly mild. Mind you, Bell's ultra skin-tight top doesn't exactly leave much to the imagination there!
On the whole though, I'd have preferred if it had stuck with the pirate theme present at the beginning, which was a good deal fresher than the rote WiP fodder served up in the middle. Maybe I'm just grumpy because I did lose a bet with the wife: on seeing a guard tower overlooking the workers' huts, I predicted it would later explode in a giant fireball, as a guard falls from it. I am disappointed to report that this simple pleasure was with-held from me. Sheesh, what is the world coming to, when a film from the golden age of Phillsploitation can't even deliver on this expectation?
Dir: Cirio H. Santiago
Star: Jeannie Bell, Rosanne Katon, Trina Parks, Jayne Kennedy