"Who takes the child by the hand takes the mother by the heart."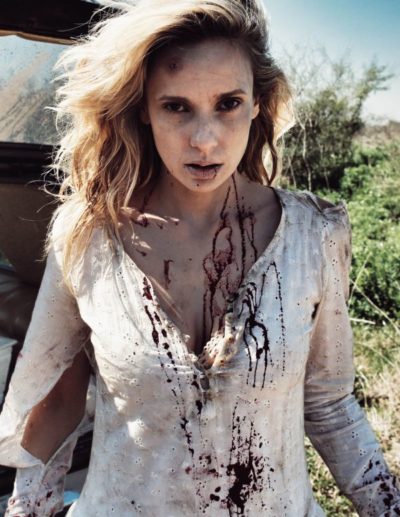 This crisp little Argentinian film clocks in at 70 minutes – not even enough to be considered a feature by the Screen Actors Guild. You'll understand, therefore, there isn't much fat on its bones. Virginia (Cardinali) has left her husband, taking daughter, Rebecca (Duranda), with her. But a moment's inattention at a gas-station proves fatal, as Rebecca is abducted, and Virginia's car driven off the road during the subsequent pursuit. Brought back (from the dead?) by a mysterious stranger (Ferro), she is told Rebecca has been chosen by a religious cult as a sacrifice. It's up to Virginia to stop them, and she can let no-one get in her way. Which becomes an issue, for we quickly find out, she is not the only mother looking to recover a child from the cult – and, it appears, only one can succeed.
It's a blowdart of a movie, picking nastily away at the scab of "How far would a mother go to save her own child?" – and keeping at it. "No, really. How far?" It does require a certain suspension of disbelief, not least in Virginia's inexplicable failure even to attempt contacting the authorities regarding her missing child, surely the first thing most people would do. If you are able to get past that – and it is likely the plot's biggest weakness – then you've got a steady descent into hell. The unspoken question which informs everything is whether the stranger actually has her best interests at heart, or is simply pulling her strings. Weird sacrificial cults in rural places tend to do that, as anyone who has seen The Wicker Man knows. And if to you, that means only the Nicolas Cage version: my sympathies on your loss.
However, there are elements of another Cage movie here: Drive Angry, in which he played a criminal who came out of the grave, to track down the cult who are preparing to sacrifice his grand-daughter. This is nowhere near as lurid: save for perhaps one sequence involving a chainsaw, this is more about psychological torment than the physical. For example, Virginia's quest involves tracking down and burning the white coffin referred to in the title (the subtitle translates as "A diabolical game"). Yet as the film goes on, it becomes clear that any success in this is going to come at a hellish cost to her own humanity – and, arguably, that of her daughter as well.
The quote at the top is a German proverb (or maybe Danish, depending which Internet site you believe), and it's an appropriate summary, though doesn't capture the thoroughly mean-spirited nature of this, especially in the final reel. That's no criticism in the genre of horror, which should go the extra mile to push the viewer's buttons, yet especially in more mainstream works, tends to bail out at the last minute. It's something of which this isn't guilty; when it ends, it's going further into the same bleak darkness, where the movie has been heading all along.
Dir: Daniel de la Vega
Star: Julieta Cardinali, Rafael Ferro, Eleonora Wexler, Fiorela Duranda
a.k.a. White Coffin