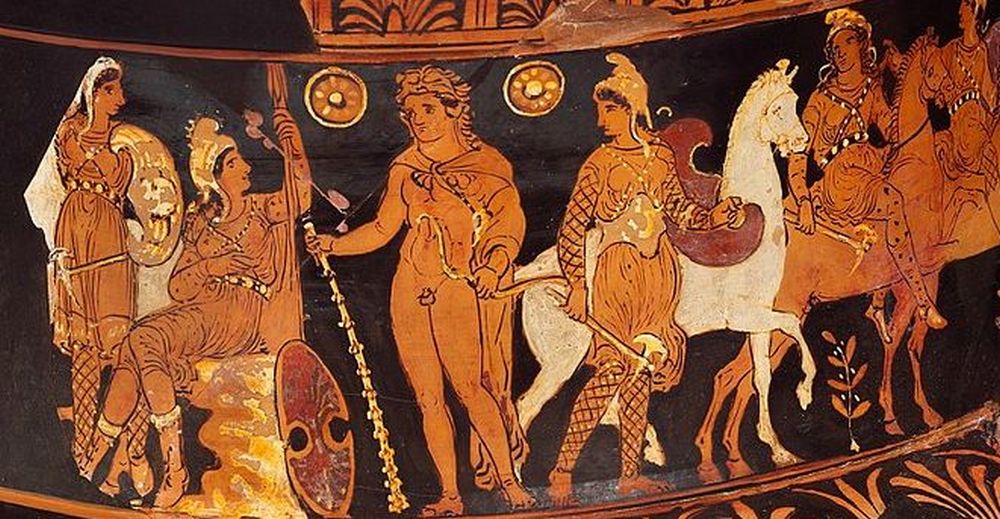 Hippolyte, queen of the Amazons, with Herakles between Amazons. Fragment of a terracotta volute-krater, created: circa 330–310 B.C
Not in strength are we inferior to men; the same our eyes, our limbs the same; one common light we see, one air we breathe; nor different is the food we eat. What then denied to us hath heaven on man bestowed?
— Queen Penthesilea, The Fall of Troy
Wonder Woman has spent this summer closing in on The Hunger Games: Catching Fire, for the title of biggest worldwide box-office by an action heroine (depending on how you view The Force Awakens – personally, I'm with-holding a definitive opinion until I see how the series develops). So it seems an appropriate point to take a look at the legendary Amazons – the women warriors tribe of which Diana Prince is supposedly a part. But how "legendary" were they? Is there evidence to suggest they might, in part, have been based on real women warriors of ancient times?
The Amazons of myth
The first mentions of the Amazons were by 8th-century Greek poet, Homer, in The Iliad, though these were little more than passing references. King Priam of Troy recounts a battle from his youth: "I looked on the Phrygian men with their swarming horses, so many of them, the people of Otreus and godlike Mygdon, whose camp was spread at that time along the banks of the Sangarios: and I myself, a helper in war, was marshalled among them on that day when the Amazon women came, men's equals." Similarly, among the exploits recounted of Bellerophon, who captured and tamed the flying horse, Pegasus, was that "he slaughtered the Amazons, who fight men in battle."
They are more significant in the saga of Heracles (a.k.a Hercules) and his twelve tasks. The ninth was to obtain the belt belonging to Hippolyta, Queen of the Amazons. This had been given to her by Ares, the god of war, and was used to carry her sword and spear. He did convince her to hand it over peacefully, but the goddess Hera was intent on stopping Heracles, and roused Hippolyta's subjects against him. In the ensuing battle, Hippolyta was killed by Heracles. This is the first time we hear of Themiscyra as their home. though rather than an island nation, it was a town near the Black Sea, in what's now Turkey. Another Greek hero, Theseus, also encountered them; some stories have him accompanying Heracles and marrying an Amazon, triggering a long conflict with Athens, known as the Attic War.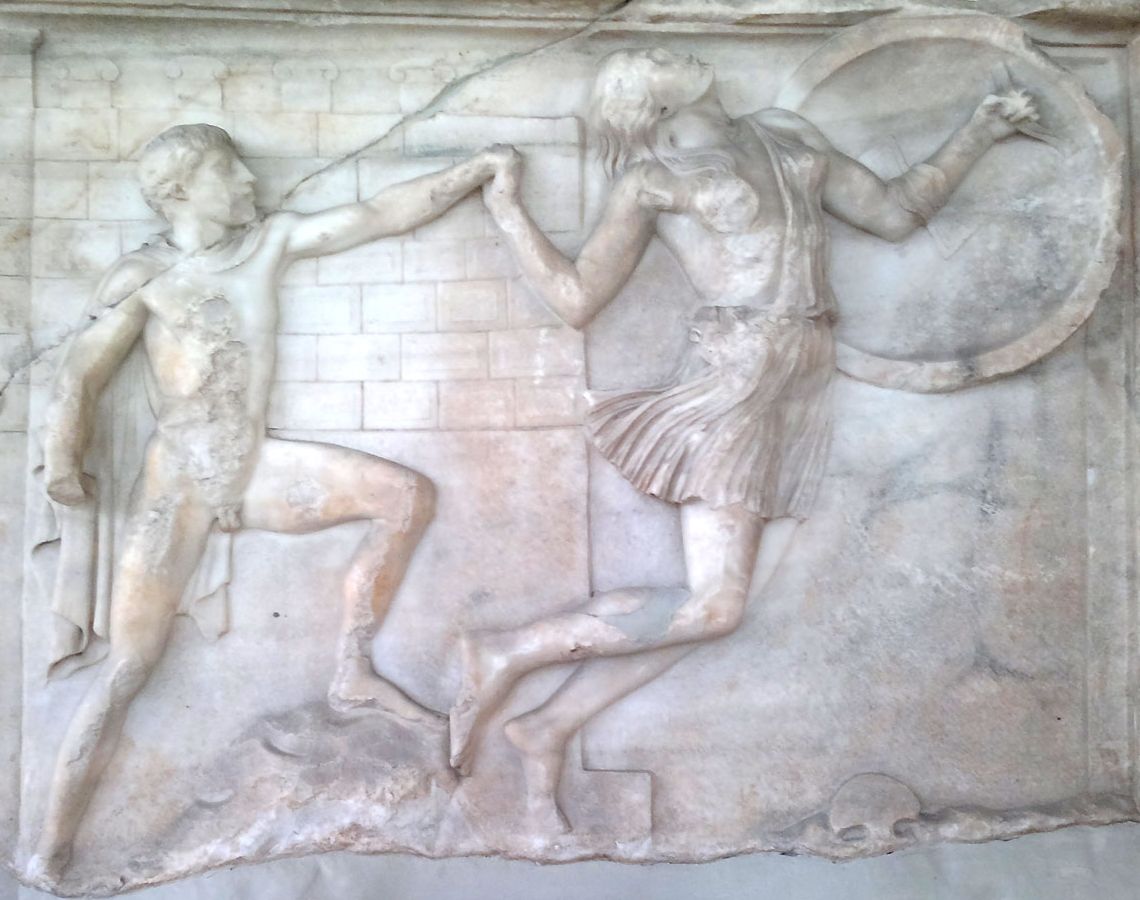 The main source for information is Herodotus, a historian of the fifth century B.C. The story he tells starts with the Greeks defeating the Amazons and taking three shipfuls of them captive, only for the prisoners to overthrow their captors, and land in Scythia, on the north of the Black Sea. "The Amazons had nothing except their arms and their horses, and got their living… by hunting and by taking booty." There, they fought the locals, until the Scythians decided to make love not war, and sent their young men out to befriend the raiders, which they did so successfully, it led eventually to an entire separate tribe, the Sauromatai, about whom he says:
From thenceforward the women of the Sauromatai practise their ancient way of living, going out regularly on horseback to the chase both in company with the men and apart from them, and going regularly to war, and wearing the same dress as the men… As regards marriages their rule is this, that no maiden is married until she has slain a man of their enemies; and some of them even grow old and die before they are married, because they are not able to fulfil the requirement of the law.
This is relatively restrained, and seems plausible compared to some of the other myths which circulated about them. Not least is the whole "cutting off a breast so they could fire their bows better" thing, which appears possibly to stem from a mistranslation of "Amazon". None of the depictions to be found in classical art, for example, show them with a count of breasts below two. There's also the concept that they would get together, once a year, with the men of a nearby tribe, for the purposes of procreation, retaining only the resulting female children. Or the claim by Diodorus Siculus , that the Amazons of Queen Myrina used the skins of gigantic snakes, from Libya, to protect themselves at battle. Cool story, bro'.
Our pal Diodorus is also a primary source for the tale of Queen Thalestris and Alexander the Great, though some other biographers also mention her. He says Thalestris "was remarkable for beauty and for bodily strength, and was admired by her countrywomen for bravery." She showed up in Alexander's camp with 300 Amazons in full armour, and when asked why she had come, replied it was to have him father a child. "He had shown himself the greatest of all men in his achievements, and she was superior to all women in strength and courage, so that presumably the offspring of such outstanding parents would surpass all other mortals in excellence." Thirteens days of, ahem, intense diplomatic negotiations followed – but history does not record whether any offspring did!
While Wikipedia snarkily comments, "Battles between Amazons and Greeks are placed on the same level as – and often associated with – battles of Greeks and centaurs," they were a popular subject for art, to the point where there was a word for its depiction: Amazonomachy. It symbolized the Greeks' struggle against everything uncivilized. Typically, the Amazons were portrayed in the style of Scythian horseman, again echoing the story of Herodotus. It's perhaps interesting to note that on the relief sculpture of two female gladiator found at Halicarnassus, they were identified as Amazonia and Achillea, presumably the "ring names" of the women involved.
The Amazons in reality
All of the above stories were regarded as just that: stories, with no basis in fact. But as the world was gradually explored, there were various encounters with local inhabitants around the globe, which suggested that the legends may not have been without same basis in fact.
Originally, there were various names for the River Amazon: Rio Grande (Great River), Mar Dulce (Sweet Sea) or Rio da Canela. The one we know today, only came about after a 1542 expedition under Spaniard Francisco Orellana. On June 24, he and his men had a skirmish against natives, and "witnessed twelve tall arrow-shooting women, pale and nearly naked, with their hair braided around their heads, apparently acting as captains of the male warriors defending against the incursion. The women clubbed any warrior who tried to retreat." A captive described the empire of Queen Conori, and the similarities in some aspects with the Hellenic Amazons, such as capturing men for breeding purposes, impressed Orellana enough that his expedition called the river they were exploring, the Amazon. That name stuck.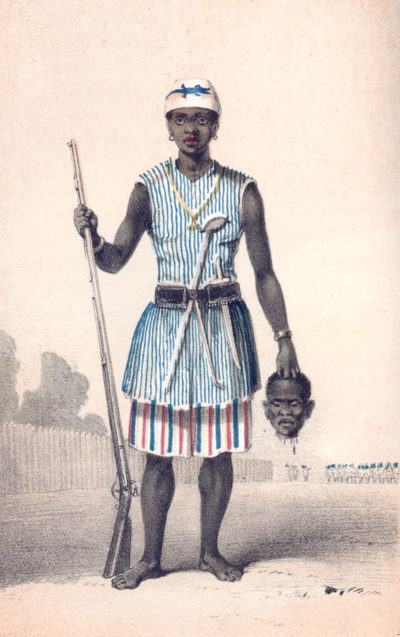 They were, however, still generally regarded as being little more than mythical. Belief in them as a historical entity was limited to the fringe, most notably Swiss scholar Johann Jakob Bachofen. In 1861 Bachofen published Mother Right: an investigation of the religious and juridical character of matriarchy in the Ancient World. This suggested civilization had gone through four phases, including "Das Mutterecht," a matriarchal 'lunar' phase, which was the origin of the Amazon myth. Some suggest he was an influence on Richard Wagner, in particular with regard to the Valkyries.
Elsewhere around the world, various societies and groups have evolved which mirror, in some aspects, those attributed to the Amazons by the ancient Greeks, such as being matriarchal and/or warrior in nature. For example, there were the Dahomey Amazons (right), a book about whom we previously reviewed. They were an all-female military regiment of the central African Kingdom of Dahomey, in what's now Benin, which lasted from the 17th century until relatively recent times – their last surviving veteran reportedly died as recently as 1979. We have also talked about how the legendary Viking raiding parties were not as unisex as often supposed. And in 1857, the Daily True Delta carried this report, detailing at some length the all-women bodyguards recruited by the King of Siam (presumably when he wasn't flirting with English schoolmarms…).
Meanwhile, back in their more traditional territory near the Black Sea, evidence in support of the myth was uncovered in the mid-90's. Archaeologists dug up burial mounds near the town Pokrovka, in what is now Kazakhstan. Based on the content, these belonged to the Sauromatai, the tribe mentioned earlier. But the most relevant finds were multiple skeletons of women who had been interred with weapons. The New York Times reported, "One young woman, bow-legged from riding horseback, wore around her neck an amulet in the form of a leather pouch containing a bronze arrowhead. At her right side was an iron dagger; at her left, a quiver holding more than 40 arrows tipped with bronze."
This makes sense: just as now, a gun offers a great equalizer in terms of countering an opponent's size and strength, so did a horse and a bow in ancient times. There's no reason why a woman would not be able to acquire just as much proficiency as a man in these areas. However, there's nothing to suggest they lived separately from the men, in the way the ancient Greeks described. They would still have presented a startling contrast to Greek women. It's believed they were tattooed, smoked marijuana and drank fermented mare's milk, turning it into an alcoholic beverage known as kumis which is still consumed today, by the peoples of the Central Asian steppes.
Amazons in popular culture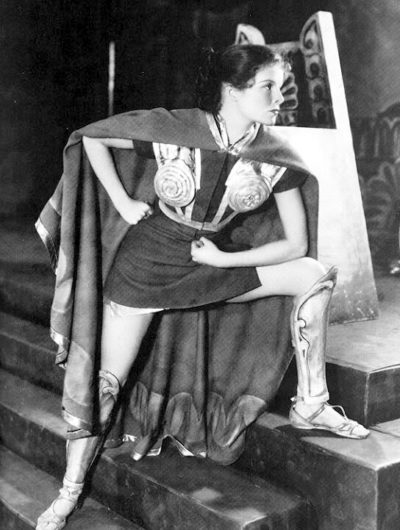 Wonder Woman is just the most recent, and certainly most successful incarnation of the Amazon clan to find its way into the mass media. Virtually since the time of Herodotus, there have been a steady stream of tales, more or less exploiting prurient interest in the concept of a tribe entirely consisting of women. It has been used in ways both derogatory and complimentary: to mock women for losing their femininity, as well as to inspire them in their battle for increased rights. The suffragettes of the early twentieth century, in particular, frequently used the Amazons as a totem in their poems and stories.
One of the earliest films about them was 1933's The Warrior's Husband, which "tells the story of the Amazons, who ruled over men thanks to the sacred girdle of Diana, and Hercules who came to steal it." This comedy was based on a Broadway play, most notable for giving Katherine Hepburn her big break, in the lead role of Antiope (shown right). According to The Telegraph, "The role required her to enter by leaping down a flight of steep steps while carrying a large stag on her shoulders. The RKO talent scout was so impressed by this feat that he offered her a film contract."
We should mention the Amazon film that never made it to production. In early 1939, German film-maker Leni Riefenstahl was working on a feature about Penthesilea, the Amazon queen who fought in the Trojan Wars. She had secured funding from Hitler, locations in Libya, and had even begun training young sportswomen to play the roles of Penthesilea's army, with Riefenstahl (a bit of an Amazon herself – she did her own free climbing for her directorial debut, Das blaue Licht) playing the queen. However, the outbreak of World War II derailed what would certainly have been an interesting take on the myth.
Two years later, in October 1941, Wonder Woman made her debut, appearing in All Star Comics #8. She was the creation of William Moulton Marston, a psychologist who had already become famous as inventor of the polygraph, and there was no doubt on which side of the battle he stood. "Wonder Woman," Marston wrote, "is psychological propaganda for the new type of woman who should, I believe, rule the world." He also called bondage a "respectable and noble practice," which perhaps cast WW's Lasso of Truth + Bracelets of Submission in a rather different light!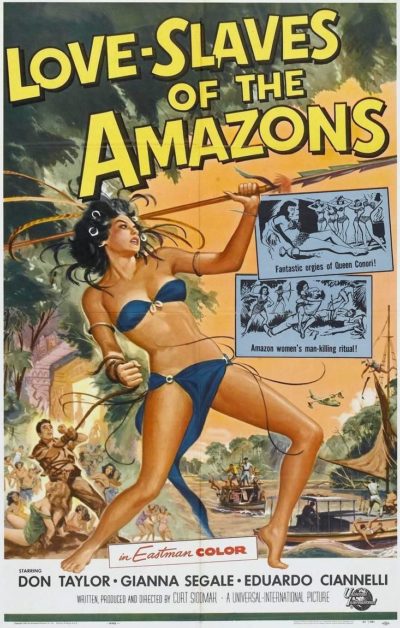 There have been no shortage of subsequent films to take the Amazon theme – though most of these bear about as much resemblance to the myth, as the myth does to the Scythians who inspired it! I'm not even going to attempt a comprehensive listing of these. Instead, I'll pick and choose ten somewhat representative candidates, some of which have been reviewed on this site. They're listed in chronological order.
Queen of the Amazons (1947) – or "Journey to the land of stock footage" as one review put it. The first, and certainly not the last, to relocate the myth to the African jungle.
Love Slaves of the Amazons (1957) – Made in Argentina in 1956, along with a film called Curucu, Beast of the Amazon, and using some of the same cast. Director Curt Siodmak claimed to have made the film because he had 10,000 feet of color film left over from Curucu but could not export the unused film.
Amazons of Rome (1961) – A rather misleading American retitling, of a film originally known as Le vergini di Roma, "The virgins of Rome". But a surprising cast here, which includes Louis Jourdan, Sylvia Syms and Michel Piccoli.
Thor and the Amazon Women (1963) – An Italian/Yugoslavian co-production, filmed largely on location in the Postojna Caves of what is now Slovenia. Lobs some Scandinavian mythology into the mix, for no readily apparent reason, and may be anti-feminist rather than empowering!
Battle of the Amazons (1973) – "Tedesco makes a good impression as the feisty heroine, and it's a nice touch to have women effectively leading both sides. Sadly, the Amazons also step aside when the action kicks off, largely being unconvincingly replaced by male stunt doubles in masks and wigs."
War Goddess (1973) – "Credit is due to both Johnston and Sun, who take on material that often strays to questionable or even laughable, with a straight-faced intensity which is rather more than it deserves."
Hundra (1983) – "The producers purchased some of the left-over costumes and props from Conan, which makes sense since the story here is also largely recycling its plot as well. Admittedly, it does so with a significantly enhanced feminist agenda, although this consists as much of portraying men as nothing but mindless boors as anything uplifting."
Amazons (1986) – "There's certainly plenty going on, with plots, treachery, topless human sacrifice, bad blood and an alternate dimension largely realised with dry ice and strobe lights. The action, unfortunately, sucks, though credit is due to Randolph for struggling with a lethargic snake, making it look like the most ferocious attack in cinematic history."
Amazon Warrior (1998) – "The fight sequences just about pass muster – it helps if you squint at them sideways, rather than giving them your direct attention – and it appears that after civilization has collapsed into anarchy and chaos, what remains will resemble an SCA get-together, albeit with rather more fur bikinis."
Amazons and Gladiators (2001) – "No real surprises in the plot, with everyone getting more or less what they deserve. But despite accents which roam the globe from Australia through England to America, it's well-acted and well thought-out, with very few mis-steps. "
It's to television, however, that we turn for the most well-known incarnation of an Amazon in pop-culture: the TV series Wonder Woman, which aired for three seasons from 1975-79, with Lynda Carter in the title role, playing superheroine (and Amazon refugee) Diana Prince. It followed on from an earlier, rejected pilot movie starring Cathy Lee Crosby, and the second pilot proved a much greater ratings success. After the first season was set in World War II, the following series (retitled The New Adventures of Wonder Woman) took place in the present day, and the result was one of the most iconic action heroines of the decade on television. There was a 2011 attempt to revive the show, with Adrienne Palicki as Diana; despite the presence of David E. Kelley as a writer, the pilot episode was never officially aired, and the project quickly died.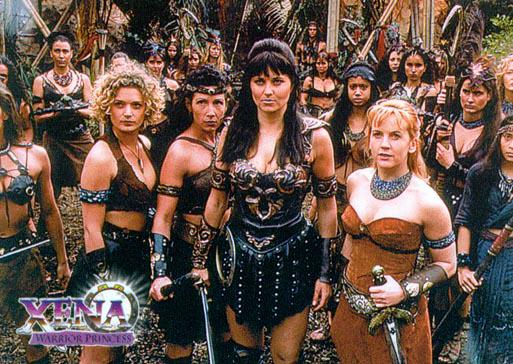 The other television show people will generally associate with Amazons is, of course, Xena: Warrior Princess. This is a bit of a grey area: despite sharing a number of characteristics, Xena herself was never a formal member of the Amazon tribe, despite helping them out on a number of occasions. However, irritating sidekick Gabrielle became their queen (more by chance than intent), and over the six seasons for which the show ran, there were typically between two and four episodes per series, featuring the tribe to some extent.
Amazons have turned up elsewhere, and sometimes in shows where you wouldn't exactly expect to find them. Examples include Series 7 of Supernatural, which had an episode titled 'The Slice Girls' in which Amazons had made a bargain with their mother, the goddess Harmonia, turning them into monsters. Or in 2003, the SF show Stargate SG-1 had "Birthright", in which the Amazonian legend was specifically mentioned, after the crew met the Hak'tyl Resistance, a group of female warriors. More recently, it was announced last year that the producer of NCIS, Charles F. Johnson, was working on Amazons, a live-action TV series about the Dahomey warriors mentioned above, though nothing more has been heard of the project.
It will be interesting to see if the critical and commercial success of the Wonder Woman feature will re-kindle interests in Amazons as a whole. While Diana Prince is a creation of DC Comics, the Amazons themselves are very much in the public domain, and can be used by any artist – be that on TV, film or in literature. The door is thus wide open for such uses: I'm a little surprised The Asylum haven't already given us a mockbuster version of Wonder Woman, especially considering they did put out Sinister Squad… We'll see what 2018 brings.