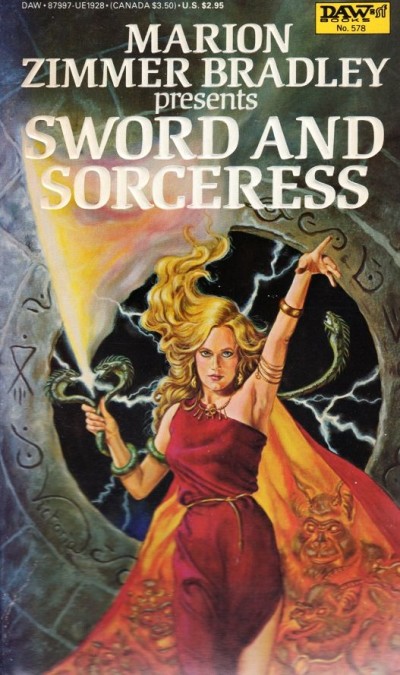 In the series of anthologies of original stories which began with this volume, the late editor Bradley mines similar territory, and deals with similar strong female protagonists, as does Esther Freisner in the later Chicks in Chainmail series. The quality of writing (at least in the initial volumes) is high in both; the main difference being that Bradley's series tends to feature tales that are more serious in tone, with less humor. (Though that doesn't mean that they all necessarily have none of the latter; and a couple would have been at home in the later series as well.) That doesn't reduce their entertainment value, and often makes them more compelling.
The 15 stories in this volume come in great variety, as do the settings, and the heroines. Some of the latter can be rough-edged, and may sometimes do some things I wouldn't do, or recommend; but all of them have good hearts at their core, and earn the reader's goodwill and respect. (Some of them, like Charles de Lint's bounty huntress Aynber, and Charles R. Saunders' alternate-African warrior woman Dossouye, are series characters who appear in a number of stories elsewhere by these authors.) Some of my favorites here are "The Valley of the Troll," "Gimmile's Songs," "Severed Heads" (which isn't as grisly-gory as the title makes it sound), "Child of Orcus," "Daton and the Dead Things" and "Sword of Yraine." But virtually all of these are worth reading; the only one here that I felt was a little weak is "House in the Forest."
Bradley's substantial introduction is an added benefit of the book; she provides a good historical sketch of the role of female characters in sword-and-sorcery fantasy fiction, and some really insightful comments on the appeal and value of strong, three-dimensional heroines in this field. (Her meaty bio-critical notes on each story's author are a very worthwhile feature, as well!) She very rightly outlines an equalitarian perspective that explicitly differentiates her purpose from "feminist propaganda" and Woman-uber alles male-bashing; the female perspective here is rightly seen as an essential part of the human perspective, that includes both genders as important, needed and responsible contributors to the world and the human story.
Even so, I would differ with her on one point. Though she dedicates this volume to C. L. Moore and to "all of us who grew up wanting to be Jirel," she faults Moore here for Jirel's realization in "Black God's Kiss," (which isn't included here) after killing her adversary Guillaume, that she loved him; Bradley thinks this weakens the character, and sends the message that "woman's pride only stood in the way of true happiness –interpreted as surrender to a man." Personally, I didn't take Moore's story that way; I interpreted it as a true-to-life reflection of the fact that sometimes underneath anger and enmity there can be a bond between two people –just as a male, too, might feel attracted to a woman who can fight him tooth-and-nail, and even defeat him. (And it's as much, or more, Guillaume's pride as Jirel's that separates them.) But that's a quibble –and one that has nothing to do with the great stories in this collection!
Editor: Marion Zimmer Bradley
Publisher: DAW Books, available through Amazon, currently only as a printed book.
A version of this review previously appeared on Goodreads.