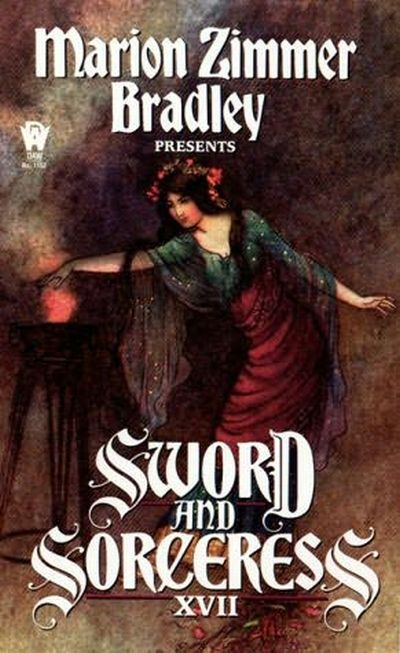 This is another volume of editor Bradley's long-running Sword and Sorceress anthology series. Published in 2000, it collects 21 tales by, as usual, a mix of both newcomers to the series and veteran contributors. I've encountered stories by at least four of the writers here –Vera Nazarian, Deborah Wheeler, Diana L. Paxson, and Patricia Duffy Novak- in earlier volumes.
Of the stories here, Nazarian's "Caelqua's Spring" was far and away the weakest. It has some beautiful passages, but ultimately the world-building is lacking, I couldn't relate to the main characters, and the plot never gelled enough for me to be able to really have a handle on the premise. The whole thing struck me as very much an exercise in vaguely New Age-style mysticism, without a lot of content. (This author's "The Stone Face, the Giant, and the Paradox" also exhibited tendencies that way in some passages; but there, the story was well-told enough to compensate for this. That's not the case here, IMO. All in all, it's a very inferior work to her earlier "Beauty and His Beast.")
To various degrees, though, I liked all of the other stories. Jenn Reese's "Valkyrie" draws nicely on Scandinavian mythology (which I can appreciate, being of Viking stock myself) in a story that assumes that the myths are real. Novak's "Luz" and Cynthia Ward's poignant "The Tears of the Moon" are set in fantasy worlds where pagan goddesses really exist; the former is a particularly thought-provoking tale. "Free Passage" by Mary Catelli features Amazons (but not all Amazons are nice or honest people!) and an herbalist's quest for an herb that will save her people. We have a coming-of-age story of sorts, with a sorceress' apprentice as protagonist, in ElizaBeth (no, that's not a typo!) Gilligan's "Demon Calling." In "Hell Hath No Fury…." Lee Martindale suggests that even demons are entitled to be treated fairly and honestly. (This is one of the few stories in the series with a humorous tone.) Dave Coleman-Reese (Jenn Reese's husband, and one of three male writers represented in this volume) contributes perhaps the deepest story in this book, the outstanding "Memories of the Sea."
Another favorite was "My Sister's Song" by T. Borregaard, a graduate student in archaeology whose writing is flavored by that interest. This is one story that actually has no magical or fantasy element at all, though the setting is exotic, the narrator's cultural environment unfamiliar to most readers, and the denouement really unique and unusual; it's straight historical fiction, a fictionalized re-telling (with invented characters –though there really were warrior women among tribes like the Heptakometes) of a real incident in the resistance of the indigenous tribes around the Black Sea to Rome's attempt to conquer them.
Charles Laing's "Weapons at War" is short and light, a humorous gag involving sentient weapons bickering with each other; but it's meant to be short and light, and that's fine. And Carrie Vaughn's "The Haunting of Princess Elizabeth" is neither fantasy (it's set in Tudor England) nor endowed with a heroine who's either warrior or sorceress, although she's certainly a strong-willed, tough-minded young woman; but it's a good story, probably best calculated to appeal to British history buffs. To be sure, history doesn't record that the ghost of her mother Anne Boleyn (later joined by the shade of Katherine Howard, and eventually of Jane Grey) watched over and counseled the young Elizabeth until her accession to the throne –but the Elizabeth depicted here didn't tell anybody, and nobody but she could see them.
Some of the other ten stories, from the amount of back-story or the complexity of the world-building, read like they could be parts of a story cycle. For instance, sorceress Cynthia in Dorothy J. Heydt's "An Exchange of Favors" (set in an ancient Greek milieu where the Olympian deities are real, and intervene in mortal affairs as selfishly and capriciously as in the legends) could easily be, and maybe is, a series character. A number of these ten are emotionally complex, powerful and evocative stories, on a par with the gems in the previous anthologies I've read in the series; the prevalence of that caliber of story in these volumes is a tribute to Bradley's skill as an editor. Often it's difficult to make comments on these without spoilers. But I can say that after you read Cynthia McQuillen's "Deep as Rivers," you won't view trolls with the race prejudice you did before.
Diana L. Paxson characteristically sets her "Lady of Flame" in Dark Ages Scandinavia (where the demi-deities of mythology are real) and uses her knowledge of actual early northern European cultures to create a rich cross-cultural narrative. Almost all our protagonists in these selections are magically gifted –healers, conjurors, scholars, etc.– but Blaze in Bunnie Bessell's "The Summons" is a fighter, called upon to make a significant moral choice in the deepest tradition of serious fiction. Probably the most poignant story here is "The Price of the Sword" by Kim Fryer –which, in our world of post-traumatic stress disorder and addictive violence, speaks to us symbolically of the psychic costs of warfare, even if it's waged with guns and bombs instead of swords. Lisa Silverthorn's "Soul Dance" also deserves mention here as another standout and favorite. But all of them are good, and none deserve to be slighted, though considerations of space and time force me to.
If you're a fan of swords and sorcery, strong heroines, fantasy in general, or just well-written traditional short fiction with a plot, you won't go wrong with this series, IMO!
Editor: Marion Zimmer Bradley
Publisher: DAW, available through Amazon, currently only as a printed book.
A version of this review previously appeared on Goodreads.