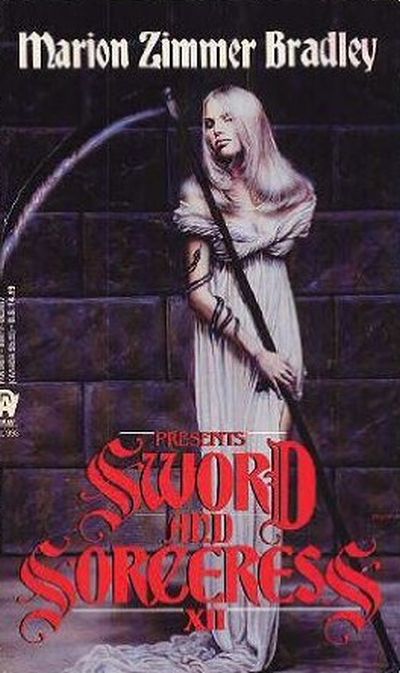 Another reliable winner from Bradley's long-running anthology series, with a good mix of genre stalwarts and talented newcomers. For once, I read this volume without interspersing it between other books, and read the stories almost entirely in order. In this case, the really outstanding stories tend to be clustered closer to the back; but most of the earlier ones are also solid, competently-told tales of their type.
The one worthless clunker in the collection, IMO, is Carolyn J. Bahr's "Does the Shoe Fit You Now?" a cynical and predictable re-imagining of the supposed situation some time after the part of the story of Cinderella that we know, from an anti-male, anti-marriage standpoint. It preaches to the choir of women who've married self-centered drunks and given up on the male gender as a result; but like most tracts in the form of "fiction," it doesn't succeed well as either, unless the aim was solely to resonate with that audience. (And news flash: physical work is going to a part of ANY lifestyle, married or single, that involves earning one's keep and contributing to the world.) Nor does it really fit the collection theme: it has no fantasy element apart from the nominal "fairy-tale" connection, Cinderella is neither warrior woman nor sorceress, and stealthily running away from a bad situation without trying to change it (especially when that involves reneging on a commitment) is not a strong or "empowering" action.
However, the other selections more than make up for that one. 17-year-old (at the time this was published, in 1995) Karen Luk and L. S. Silverthorne contribute good exercises in humorous fantasy with "A Lynx and a Bastard" and "Dragonskin Boots," respectively. Luk's title characters would make series protagonists that I'd enjoy seeing more of. (I can say the same thing for Kaitlyn and Alvyn in Patricia Duffy Novak's "The Lost Path" –and Novak was, at publication time, working on a novel featuring them!) "Though the World Is Darkness" by Lisa Deason pits her protagonist against a challenge more intimidating than fire-breathing dragons or pillaging hordes, and one far more obviously relevant to the real world –loss of eyesight. Heather Rose Jones' "Skins" is a new twist on the shape-shifter theme, and very well done. One of two male authors represented here, John P. Buentello, makes use of the craft of glassblowing in "Demon in Glass" to tell a satisfying tale, though exactly how the magic system works there was a bit murky to me. Mercedes Lackey collaborates with Elisabeth Waters here to produce, in "Dragon in Distress," another well-crafted yarn featuring Tarma and Kethry, whom I first encountered in an earlier volume of this series. (That's also a story with a humorous touch.)
As usual in these volumes, a number of the stories struck me as truly outstanding, with a seriousness of tone and an evocative power that went straight to my heart. Several of these were by other veteran writers whose work I've also enjoyed in one or both of the earlier volumes in this series that I've read: Diana Paxson, Jennifer Roberson, Deborah Wheeler, Vera Nazarian. Like her earlier "Beauty and His Beast," Nazarian's "The Stone Face, the Giant, and the Paradox" explores the difference between physical appearance and moral worth. (The story here also pushes the limits of language to try to convey mystical experience that doesn't translate well to language, but manages to do it without alienating the reader.) Paxon sets her "Stone Spirit" in a still-pagan Dark Ages Norway, where things like trolls and draugs are real, and people think their lives are ruled by Wyrd (Fate); being of Scandinavian descent myself, that background strikes a chord with me. (Patricia Sayre McCoy, on the other hand, draws as successfully on ancient Chinese culture to create the world of her "Winter Roses.")
Wheeler's "Silverblade," besides being a gripping story on its face, makes particularly striking use of symbol and metaphor to say things about challenges, obsessions, and parent-child relationships. One of my favorite stories here, "Garden of Glories" by Roberson, has very little fantasy element at all. The cultural-historical background is one we can't identify in the real world, and one of the two sisters depicted here has a talent for mending things that's more than figuratively magical, as one minor incident shows; but basically this is "just" a story about human relationships (sisterly, filial, romantic, marital), about choices, about being true to our nature, about growing and changing; above all, about caring and love. It could easily have been written as descriptive fiction –very, very good descriptive fiction!
Two of our protagonists here (the title characters of "Chance" and "Amber", by Tom Gallier and Syne Mitchell, respectively), are assassins by trade, trained to be good at a morally dark and lethal profession, and whose lives haven't offered them much in the way of other options; but that doesn't mean that either of them are sadistic, nor lacking in a sense of honor or capacity for love. Chance in particular is one lady you won't soon forget, and her story is another of my very favorite ones here –but be warned, it's not a sweet and warm-fuzzy tale, and her path in life isn't an easy one.
My comments haven't touched on all the 22 stories, but hopefully I've touched on enough to convey the flavor of the collection. In many of these selections, the quality of the world-building and character development cries out for expansion into a novel or story cycle. If swords-and-sorcery, or just good storytelling in the short format, is to your taste, then this is a collection well worth your time!
Editor: Marion Zimmer Bradley
Publisher: DAW, available through Amazon, currently only as a printed book.
A version of this review previously appeared on Goodreads.