"Hogar, dulce hogar…"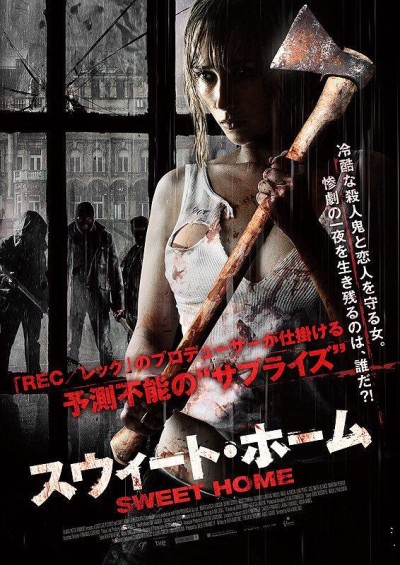 A straightforward yet effective cross between a slasher film and Die Hard, sees Alicia (Garcia-Jonsson) plan a birthday dinner for her boyfriend, Simon (Sevilla) in an almost deserted apartment building. However, she stumbles into a plot to evict the last remaining tenant… in a body-bag. Trapped inside the locked tenement, the young couple become the target, first for the evictors, and then their boss, the Liquidator (Tarrida), as they seek to cover the tracks of their murderous work.
Three sentences, and that's basically the entirety of the plot covered, since most of the film is an extended stalk 'n' slash, with Alicia, in particular, seeking a way out. It's absolutely her story, because Simon is wounded relatively early in proceedings, and ends up close to a non-factor in proceedings – for one reason or another. Even though there's a sense of Garcia-Jonsson acting mostly in her third language (she was born in Sweden, most of her career has been in Spain, yet her dialogue here is mainly English), it doesn't harm the film, because Martinez is a firm believer in showing, rather than telling. That's just what something like this needs, with gratifyingly few pauses for exposition after things kick-off. In particular, things are ramped up with the arrival of the Liquidator, who disposes of bodies with the aid of liquid nitrogen and a hammer. This is about as wince-inducing as it sounds.
As well as a fairly monstrous villain, who is quite prepared to dispatch his supposed allies if they prove more trouble than they are worth, the main appeal is seeing Alicia use her wits to survive, clambering in, around and through the maze of corridors and service passages in the building, as she tries to stay one step ahead of those hunting her down. The claustrophobic setting, enhanced by a thunderous deluge coming down outside, which has cleared the streets of everyone else, generally work for the movie too. Reading other reviews, seems I'm not the only person to detect notes of John Carpenter, with this in particular evoking feelings of Assault on Precinct 13 crossed with Halloween. Though it has been a very long while since Carpenter has directed anything as shallowly entertaining as Sweet Home.
On the other hand. the floor-plan of the house, an important factor in proceedings, seems more than a little inconsistent. This may be less an apartment building, and more a Klein bottle, for there were times when I was thought Alicia was on an upper level, only for her to open a door and suddenly be back at ground level. However, if you're prepared to let that aspect slide, along with the occasional moments of less-than-sensible behaviour (almost inevitable, given the genre), this is an energetic and enthusiastic romp, which will likely have you quoting various John McClane-isms over the course of proceedings. But it's safe to say that Die Hard did not end in a climax which had Bruce Willis in the basement, unconscious, dotted lines drawn on his limbs, in preparation for easy separation by Alan Rickman and his hacksaw. More's the pity, perhaps.
Dir: Rafa Martínez
Star: Ingrid Garcia-Jonsson, Bruno Sevilla, Oriol Tarrida, Jose Maria Blanco