"The post-apocalyptic horse whisperer."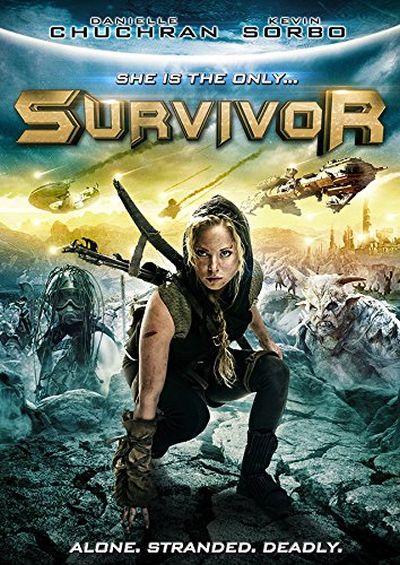 Arrowstorm Entertainment appear to have quietly become a minor creator of action heroine flicks. We've previously written about several entries in their Mythica series, and also Cyborg X, but seem to have missed this one. As in Mythica, the "name" star here is Hercules himself, Sorbo, who plays Captain Hunter. He's in charge of one of seven interstellar ships, dispatched from Earth after the conditions for life here became increasingly precarious. Having spent four decades in space, they pick up a message, but when attempting to reach its source, go through a wormhole and their shuttle craft disintegrates. Hunter and his crew are scattered across the surface; with the captain having a broken leg, it's up to his most highly-trained recruit, Kate Mitra (Chuchran) to rescue him.
Which would be fine, if that's what it was. The first half of the film, in particular the section which has Mitra battling her way across the unforgiving landscape, and against the creatures (both humanoid and… not so much) who inhabit the planet, is actually pretty good. Chuchran looks thoroughly convincing, possessing actual muscle tone; the production makes good use of the Utah landscapes; and the lack of dialogue here may well work to the movie's benefit. It's undeniably a distraction how evolution on this alien solar system managed to produce something looking exactly like a horse. This is explained… but I have to say, the reason is something I had strongly suspected before it was delivered, and had been hoping I was wide of the mark.
Sadly, I wasn't, and the film's second half is considerably weaker. This stops focusing on its main strength – the heroine – and doesn't live up to the poster tag-lines which use both the worlds "only survivor" and "alone". She turns out to be neither, and the plot disintegrates into some kind of squabble between the tribes of local inhabitants, along with a couple of (somewhat convincing) monsters. Combine this with the explanation mentioned above, and my interest evaporated – in the same way the oceans back on Earth apparently had, according to Kate's opening voice-over. Rather than going in an original direction, as had been the case earlier on, the influences become painfully obvious, and this film does not benefit in any such comparison.
From the technical point of view, this isn't too bad, especially considering the budget was so low, a significant fraction came through Kickstarter. It mixes CGI and practical effects to generally decent effect; the odd shot looks ropey, and some of the "mutants" are a little Halloween-esque, but I'm gradually learning that comes with the Arrowstorm territory. There is just a strong sense of unfulfilled potential; in Chuchran, they had someone who could have been capable of carrying the entire film on her own. To see her character largely shuffled off to the side during the latter stages was a bit of a disappointment, and I hope future projects will offer her the opportunity she appears to deserve, based on a solid showing here.
Dir: John Lyde
Star: Danielle Chuchran, Kevin Sorbo, Rocky Myers, Ruby Jones