"Less a review, more of a warning."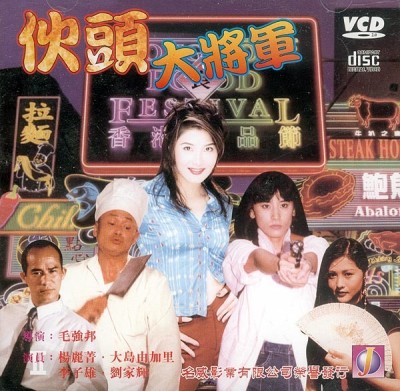 Not, in any way, to be confused with Jackie Chan/Michelle Yeoh vehicle Super Cop, this one barely has enough action heroine content to qualify here, despite the presence of both Khan and Oshima, who must have been in Taiwan for the weekend or something, and agreed to take on roles of a local cop and a Japanese Interpol agent respectively. Despite a feisty misunderstanding when they first meet, Khan mistaking Oshima for a thief, this is much more about brother and sister Siu-Tong and Chee-Loy, who head to the big city in search of their uncle. They end up getting work in a restaurant, except this brings them into conflict with the local gangsters – fortunately, the brother is kinda good at kicking ass, and this leads to ever-increasing waves of thugs descending on the eating establishment. Really, you wonder why anyone goes there to eat, since it seems barely five minutes goes by without the need to order replacement glass-topped tables.
Meanwhile, Khan and Oshima are seeking to trap heroine dealer Billy Chow, and the two plot strands, which have been so disparate I was seriously thinking this was a pair of films edited together on Godfrey Ho's day off, finally converge. This happens at an open-air banquet celebrating Chow's birthday, to which all the characters are somehow invited. Hey, look! More tables through, over and into which people can be hurled! The action is okay in quality – there's some scampering around a train at the opening which looks genuinely dangerous – yet severely deficient in quantity. Instead, a lot of the running time consists of more or less blatant padding, such as the brother dressing up in drag to ensnare his boss at the restaurant. It'll have you yearning for the subtle comedic stylings of Benny Hill.
There's not much point in saying more: I wasted enough time watching this, and don't feel you should have to waste time too, as I struggle toward the usual word count. Just know that this one is for Khan and Oshima completists only, and even they will find little here worthy of their attention. There's certainly absolutely nothing super about it.
Dir: Chiang-Bang Mao
Star: Chia-Hui Liu, Ka-Kui Ho, Cynthia Khan, Yukari Ôshima
a.k.a. Huo tou da jiang jun