"Su'mo money, su'mo problems."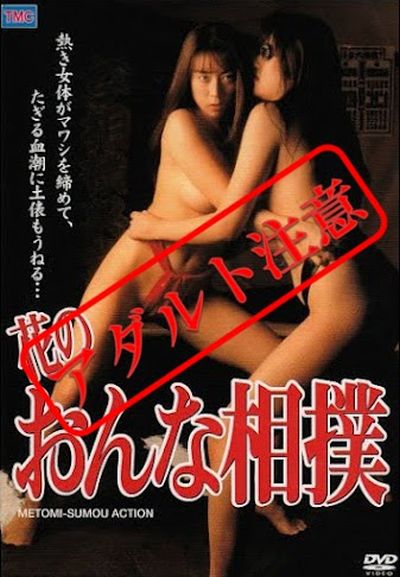 Yes, it's a thinly-disguised excuse to see topless women grappling with each other. It's from the director of Big Tits Zombie and the charmingly-titled Sexual Parasite: Killer Pussy. The budget appears to have been several thousand yen, at least. But, you know what? I didn't mind this. There's a sense of self-awareness here that helps defuse (though certainly not eliminate) the creepier elements. When the heroine proclaims, "People have dirty thoughts about women's sumo, but I believe there's something more than that," you want to believe her. Well, at least until the lesbian canoodling starts, anyway, and you realize
Said heroine is Ruriko Sakura (Eba), whose aunt used to be a woman's sumo champion in her day, which gives Ruriko the idea of reviving the sport. To this end, she recruits former master Szenjirou Arakami (Arase), who has just been relesed from jail for pushing a car loaded with Yakuza into a river. The women they recruit are a motley bunch at best, but Komasa (Mizutani) appears to have strayed in from a pinky violence film, so has promise. However, the Domino Group, a Yakuza-run "agency" has their eye on Ruriko and owns loans held by Arakami. A challenge match is arranged against the Domino girls, and if they win, the loans will be forgiven. If they lose, Ruriko must become their exclusive talent.
It's the little things that keep this memorable, like the quirky characters, such as the tattooed, green-haired and pierced sumo who spends literally the entire film huffing paint thinner from a plastic bag – even for her bout, she's like "Here, hold this" to the referee. Or Komasa's one-eyed nemesis and former partner in a lesbian strip show, Oryu (Kudou), who I'm fairly sure is another pulp cinema tribute. Nakano also slyly subverts some of the obvious sports movie cliches. I trust I'm not spoiling this for anyone, when I tell you plucky underdog Ruriko loses her climactic match in about 0.3 seconds. I think he also takes pot-shots at cable TV – the final match is broadcast there – and its fondness for staged reaction shots.
The action is, as you'd expect, entirely woeful and the camera angles are particularly predatory, tending to focus on specific body parts to the exclusion of, say, the women's faces. Yet the makers are clearly aware of the idiocy on view, and certainly cannot be accused of taking themselves too seriously. Ruriko somehow manages to keep her clothes on, when all about her are losing theirs, and though she has a boyfriend, he doesn't turn up until literally the final scene. She's goal-oriented, committed and you could make the case she's actually a better role-model of independent womanhood than many depictions in more mainstream works. At heart, though, this could only be fully appreciated by the 16-year-old male audience, for whom it was apparently made.
Dir: Takao Nakano
Star: Eba, Arase, Kei Mizutani, Shouku Kudou