"Suckers for punishment?"

Before getting to the film, what's perhaps even more interesting is the critical reaction: it has been a long time since I've seen a film provoke such savagery, e.g. the Chicago Tribune's Michael Phillips, who wrote: "The film abdicates so many basic responsibilities of coherent storytelling, even coherent stupid-action-movie storytelling, director/co-writer/co-producer Zack Snyder must have known in preproduction that his greasy collection of near-rape fantasies and violent revenge scenarios disguised as a female-empowerment fairy tale wasn't going to satisfy anyone but himself." Ouch. That's far from the only example, and covers the common planks used to whack Snyder: incoherence, faux-feminism and dubious sexual politics.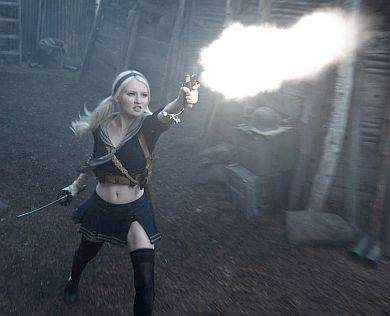 There's not even any genre love lost. Joe Wright, director of the somewhat similarly-themed Hanna, which came out two weeks after Sucker, tore into it: "I probably shouldn't say this but the posters for recent films with girls kicking arse – there's one out at the moment – there's girls in the poster in bikinis and crop-tops, and they've got pigtails and they're dressed up as schoolgirls. They're being sexualised, this is supposedly 'Girl Power' female empowerment and that's bullshit. Female empowerment is not about sex, that is the point of female empowerment. It's about brains and not objectifying women."
It's worth pointing out Wright hadn't seen the film, but I can't say I support his position of laying down canon law on what does or does not constitute "the point of female empowerment", or accept that sex is incompatible with it, as he states. There's multiple routes to the goal, just as the Camille Paglia approach to feminism differs from the Andrea Dworkin one. It's not a Spandex leotard – one size fits all – and to denigrate another piece of entertainment (which is, after all, what both Hanna and Sucker Punch are) for an alternative approach seems petty and mean-spirited. There's room in the playground for both. Of course, I'm not someone who relies upon Hollywood to provide any kind of moral compass: if you do, I'd say you have far bigger problems than Sucker Punch.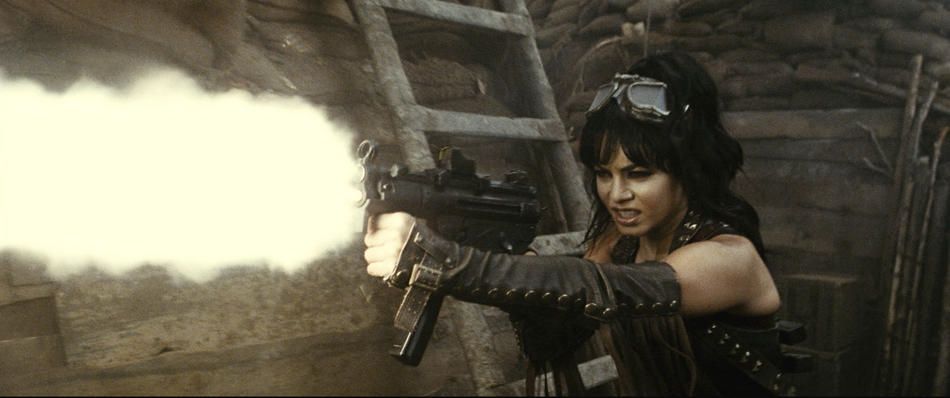 But those who like it, really like it. It's rated at 6.6 on the IMDB, from over 25,000 votes, so it's not just studio shills. Compare other critically-savaged and commercial genre "failures": Barb Wire (3.1), Catwoman (3.2), Ultraviolet (4.0). Sucker is more in line with something like Underworld (6.8), and the reaction on Twitter is also far more positive. Star Cornish may have a point when she said, "It's so stylised, so specific; there's no other film like it at all. When you have something totally new, it's going to be judged to the 10th degree… When you've got a totally new concept, it's a love or hate relationship."
That's not necessarily a bad thing. Even if it fails, I'd rather have a film with ambitions, that tries something different, rather than another Judd Apatow/Seth Rogen "comedy". There's some parallel to be drawn between Snyder and Dutch maverick Paul Verhoeven. You could link Snyder's Dawn of the Dead remake to Robocop, while 300 and Starship Troopers are both pseudo-fascistic tributes to the glory of war – and Sucker Punch would be Snyder's Showgirls, a critically-reviled flop, damaged by its rating. Except here, it's the PG-13 which hurts, but we'll get more into that a little later.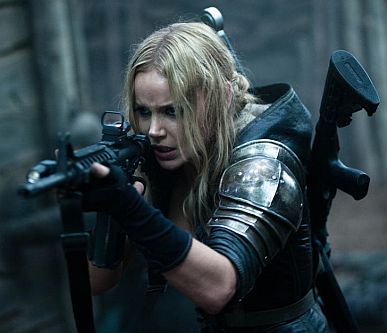 The movie itself is imperfect; by some measures perhaps not even the "best" GWG film I've seen at the cinema this month. However, it is thoroughly cinematic and can only be admired as such – I'm far more likely to pick up the Blu-Ray DVD of this than Hanna. An un-named 20-year old (Browning) is sent to a lunatic asylum by her stepfather, after rejecting his attentions and being made the scapegoat for the death of her younger sister; her lobotomy is scheduled for five days time. Turns out the asylum is a high-end brothel where our heroine – nick-named "Baby Doll" – and the other girls are kept to perform for the pleasure of various high-rollers. Baby Doll plots an escape, the tools necessary lifted by her accomplices while she entrances the staff and customers with her dancing. During these, Baby Doll retreats even further, to fantasy worlds to do battle against dragons, robots, samurai warriors, etc. But which "reality" is real?
There's more doubt over that, than which reality Snyder likes: hands-down, it's the one filled with carnage, and his love for it shows. It's only April, you could nominate these as the best four action sequences of the year, and I wouldn't argue. My personal favourite sees the five girls storm the trenches in World War I, taking on steampunk-powered German zombies, with the aid of a rocket-powered walking tank. Remarkably, as cool as that sounds on the page, seeing it on screen is even better. Yes, all bear more than a passing resemblance to video games: they still work, possessing an elegant flow to them. And while none of the heroines will make Zhang Ziyi lose sleep, nor are they left looking horribly out of their depth, a major fear on hearing a High School Musical star was involved.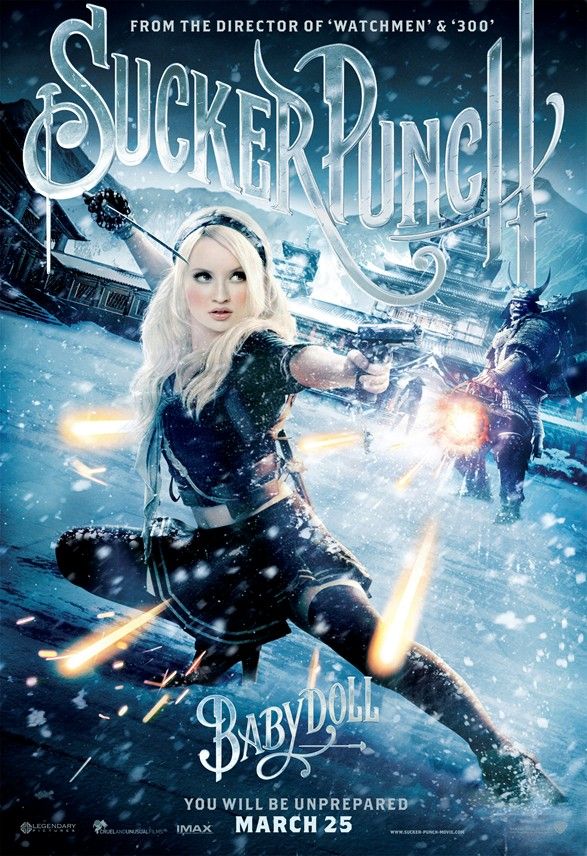 Since Baby Doll is explicitly stated to be 20, this doesn't strictly fall into the category of "teenage action heroines," but her hair, clothes, make-up, etc. all are designed to evoke the spirit of what Chris disparagingly called, "schoolgirl porn" – but the PG-13 rating means it can get absolutely no closer, so really, what's the point? At least Showgirls delivered the goods: Baby Doll's fantasy world might as well have been an office, college dorm or, frankly, convent, instead of the world's most demure brothel. Reports indicate it took seven submissions and the removal of 18 minutes to get past the MPAA, so I have to ask. Should a film that, on one level, is about an abused girl forced into prostitution by her step-father, share a rating with Harry Potter And The Goblet Of Fire?
However, I do like a little more plot and better characterization with my action sequences. I think Baby Doll probably sings more than she speaks in the film. Browning is responsible for the cover of Sweet Dreams, which backs the immensely creepy opening that paints, in swift efficient brush strokes, the lead-up to her arrival at the asylum. It's almost as if Snyder says, "Well, that's that out of the way," and there's nothing anywhere near as effective the rest of the way. The rest of Baby's posse don't even get the benefit of that, and remain little more than lingerie-clad chess pieces, to be moved around the board of Snyder's (undeniably impressive) imagination. Same goes for the plot, which has the action sequences more grafted on, than flowing naturally from the plot.
Overall, however, for all its undeniable flaws, this is a rare beast: an action film where women [rather than a singular woman] take center-stage. I'm hard pushed to think of anything like it out of Hollywood since, perhaps, The Descent, and this is clearly on a much bigger scale. Unfortunately, the luke-warm box-office probably makes it unlikely anyone else will follow suit, though I get the feeling it will do very nicely on DVD. It's certainly close to a unique movie, for its content of style, content and execution, and I tend to think/hope that the passage of time will be kinder to it, than most contemporary critics.
Dir: Zack Snyder
Stars: Emily Browning, Abbie Cornish, Jena Malone, Vanessa Hudgens