"On Her Mao-jesty's Secret Service"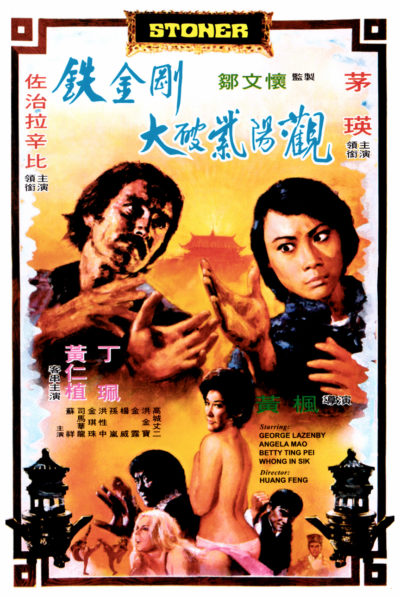 This production had a long, convoluted and quite interesting path to the screen. While Lazenby was always on board, the original plan was for him to be a Western bad guy, going up against Bruce Lee and Sonny Chiba. But Lee's death – oddly, he was supposed to have had dinner with Lazenby that night – resulted in Chiba quitting, and Warner Bros then also backed out of their worldwide distribution deal. It was reworked as a much smaller film, at less than one-tenth the original budget (although at around $850,000, was still very expensive for the time, location and genre), with Lazenby now teaming up with Angela Mao.
He plays rough, tough Australian cop, Joseph Stoner, who heads for Hong Kong after his sister gets hooked on the new, super-powerful aphrodisiac "happy pills" created in the laboratory of evil drug kingpin, Mr Big (Hwang). She's Taiwanese cop Angela Li, sent undercover to bring him down. Eventually, they join forces, but this isn't until well over an hour into the film. To that point, they are each investigating in their own way Mr Big's activities. Stoner's approach appears to involve doing an impression of a bull in a china shop, while Li uses a smarter approach, to infiltrate the temple which is the distribution hub, posing as an innocent vendor of soft drinks. Both eventually end up in the same place – a cage in Mr Big's lair – leading to a creepy scene where she has to fend off a happy pill-crazed Stoner.
It's interesting that, in both the dubbed and subbed versions, Mao gets top billing ahead of Lazenby, despite the latter's fame for having played 007 a few years previously. It is very much a two-hander, with each getting their own share of screen time. Lazenby does a surprisingly impressive job with the more physical aspects, and apparently put in a great deal of training. The problem is – as with his portrayal of James Bond – the actor's inability to convey any emotions with the slightest degree of conviction. Even when talking about his sister, he might as well be reciting sports scores. Still, there's plenty of funky seventies style to appreciate, such as the rotating desk apparently bought by Mr. Big from a yard sale at a local TV news-room.
Mao is, for our purposes, the true star, and I'd be hard pushed to say this would have been improved by the presence of Sonny Chiba. You have to wait quite a while for any significant action from her though, coming when she sneaks into Mr. Big's headquarters. This unfolds in a way which suggests Bruce Lee's foray from Enter the Dragon, and you wonder if this was part of the original script, intended for him before his untimely demise. On the whole though, I'd rather have dispensed entirely with Lazenby, and given the entire film to Mao, for this demonstrates that brains is often more interesting to watch than brawn.
Dir: Huang Feng
Star: Angela Mao, George Lazenby, Betty Ting, Hwang In-shik
a.k.a. The Shrine of Ultimate Bliss