"Stalk is cheap."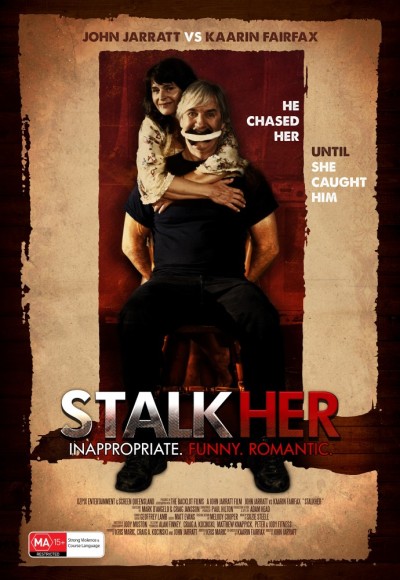 As high concepts go, this one is impressive. Serial killer Jack (Jarratt) breaks into the house of his latest intended victim, Emily (Fairfax), a middle-aged nurxe in the hospital where he works as a pharmacist, whom he has been quietly stalking. Expecting no problems, Jack is in for a surprise; Emily is waiting with a tazer. Jack regains consciousness to find himself tied to the chair, and facing someone who may well be his superior in terms of well-concealed psychotic intentions – not to mention, previous body-count.
This is the kind of story that's more interesting in where it's going than in how it gets there. The way it ends, opens up a broad swathe of possibilities, most of which would likely be more fun than watching the two foul-mouthed leads interacting. [It's certainly undeniably Australian in its harsh and copious bad language!] For, truth be told, neither Jack nor Emily are particularly likeable, and you're are left watching their verbal sparring without any genuine emotional investment. There is some resonance, due to Jarratt having also played a serial killer in the two Wolf Creek films, but some of the plot developments here seem artificial and forced for the sake of the ending, rather than flowing naturally out of the characters.
The concept of a middle-aged, almost matronly female serial killer is intriguing, and could have become an amusingly sharp contrast to the lurid excess of Nurse 3D. Alternatively, Jarratt could perhaps have followed in the footsteps of John Waters' Serial Mom, in which Kathleen Turner played an insane housewife, whose victims were chosen on the slightest of pretexts, e.g. failing to separate properly their recyclable garbage. Instead, while the poster proclaims the film to be "inappropriate, funny, romantic," I can't honestly say it made the slightest ripple as far as the second and third categories are concerned. Even the first comes up short, not least because it includes inserts of sequences that are only taking place in the characters' minds – on more than one occasion, I was disappointed by that realization.
It's Jarratt's first time as a director, and although he has plenty of experience in front of the camera, it's a remarkably "safe" project, especially given the subject matter, and comes over almost entirely as a stage-play unfolding in front of the camera. The script is also by a first-time writer, Kristijana Maric, and I can't help suspecting the whole project would likely have been better served with longer track records in both departments.
Dir: John Jarratt
Star: Kaarin Fairfax, John Jarratt