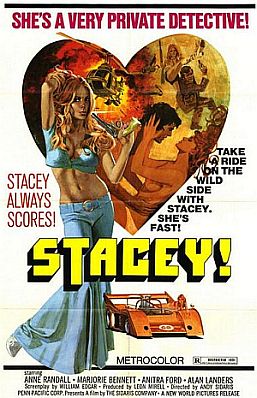 While this wasn't Sidaris's first feature – he'd done The Racing Scene, with James Garner in 1967 – this was likely the prototype of the BB&B (Blood, Bullets & Babes) flicks that would become his trademark. If all the elements do not quite mesh in the way they eventually would, they are all present, mostly in the shape of Anne Randall, a former Playboy playmate who plays private investigator Stacey, and looks a bit like Heather Graham.
The story bears more than a slight resemblance to Malibu Express (below), except with the sexes swapped out. Here, the PI is a she, called in by a rich invalid to investigate the shenanigans surrounding her extended family, and soon discovers an employee is banging one relative and blackmailing her gay husband, among other unpleasantness. He soon turns up dead, and there's no shortage of suspects. Stacey finds the camera set-up he used to get the blackmail material, and retrieves a couple of rolls of undeveloped film [Yeah…that pretty much dates the film, right there!]. However, when the bullets start to fly in her direction, she realizes that someone wants to prevent the prints from being seen, and is prepared to stop at nothing towards this end.
Stacey is actually pretty cool: perhaps more so than some of Sidaris's later heroines, the script makes it clear that she's both smart abd capable of taking care of herself, with or without a gun. She also drives, very fast, something showcased in the final chase, pitting a race-car against a helicopter – it's undoubtedly contrived, but the speeds on view are undeniably impressive. If they'd done a movie version of Honey West, this might have been kinda like it, though Stacey does take her top off with rather more frequency than Ann Francis would ever do.
That's perhaps the result of this being a co-production between Sidaris's production company and Roger Corman's New World Pictures, each putting up half of the $75,000 cost. The production values are good, and there's some surprisingly enthusiastic blood-squibbing going on. If some elements appear to have strayed in from Agatha Christie, and the supporting cast are entirely forgettable, there should be enough going on to keep the viewer interested, and I've seen an awful lot worse come out of the 70's drive-in market.
Dir: Andy Sidaris
Star: Anne Randall, Alan Landers, James Westmoreland, Anitra Ford