"Xinia, Burglar Princess, learns that crime does pay."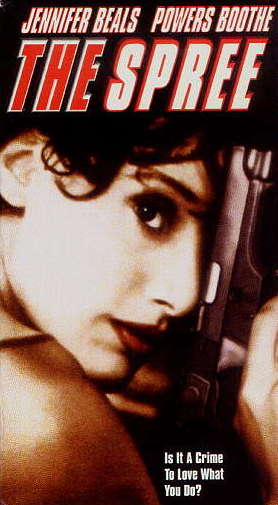 Good films about women burglars are hard to come by, for some reason. Mind you, good films about male burglars are also kinda thin on the ground; need I say any more than Hudson Hawk. This isn't quite as bad (at least they don't burst into song at any point), but falls well short of something like License to Steal, and comes closer to The Real McCoy territory. Xinia (Beals) is a burglar, who falls in love with snake rancher, Bram Hatcher. Bad news: he turns out to be an undercover cop. Good news: he wants a new career…as her accomplice.
This simple tale of infatuation, inevitably, turns out to be not so simple. The problem is, it's still pretty simple-minded, with only one real twist, which is so unsurprising, it probably fails to count as a twist. Tommy Lee Wallace (Halloween III) handles the burglary scenes nicely, in particular an opening which has the heroine progressively more cornered in a house. She ends stuck in a bathroom, behind a shower curtain, with the owner in the room and about to have a shower; her escape is audacious, but it's all downhill from there.
Could have done without the frequent sex scenes too; the use of a double for Beals is laughably obvious (breasts and face never seen together), while Boothe was 47 when this was made, and really should know better than to flash his ass. Rita Moreno, who won an Oscar for West Side Story, also turns up as Xinia's mother – should probably have given Beals some dialogue coaching, as her accent wavers between doubtful and AWOL. Your interest will likely do the same.
Dir: Tommy Lee Wallace
Star: Jennifer Beals, Powers Boothe, Garry Chalk, John Cassini