"…and, yet, so far."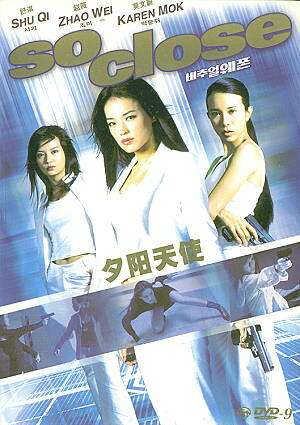 For action alone, this is certainly worth a look, with some stunning and imaginative set-pieces. But the bits between are so badly-handled, I actually dozed off – twice – which is barely permissible in a drama, never mind an action movie. It's a tale of two sisters, who form a team of assassins: big sis Lynn (Shu Qi, from The Transporter) does the deed, little sis Sue (Zhao) is hi-tech backup, using gadgetry handed down from their father. But the police, led by eccentric forensics expert Hung (Mok), are on the trail, so a client opts to tidy the loose ends by targeting all three women, forcing a partnership between cop and killers.
Unfortunately, as well as a bit of lesbian subtext between Hung and Sue, there's a very poorly executed romance between Lynn and an old flame. Viewers should also know a cover of Carpenters' 'classic' Close to You appears – repeatedly (once is amusing irony, twice is pushing it, and more than that…). These aspects suck the life from the film like a leech, though the fights remain sturdy enough, despite the presence of too much CGI glass [most obviously when Yuen repeats a stunt from Yes, Madam, which Michelle Yeoh did with real glass!] Overall, an ideal movie to watch on fast-forward, or with some other distraction to hand.
Dir: Corey Yuen
Star: Shu Qi, Zhao Wei, Karen Mok, Song Seoung-Heon