"Life's a bitch, then you die…then life's a bitch again."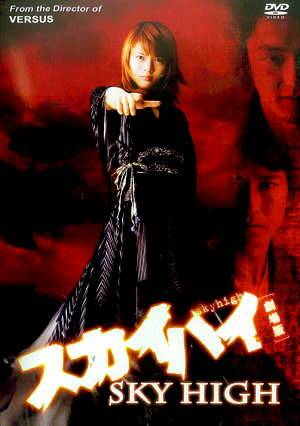 Combining elements from Dead Like Me and Ghost, this still manages to come up with something unique, especially given its origins as a prequel to a popular TV series. It is designed to explain how Mina (Shaku) got the job as Keeper of the Gate, where murder victims must decide whether to forgo revenge and pass on, return to Earth as a ghost, or seek vengeance at the price of eternal torment. She ends up there after having her heart torn out on her wedding day by insane billionaire serial killer Kudo (Osawa) who will stop at nothing to save his one true love, currently lying in a coma. Trust me – it all makes perfect sense, and it's a particularly nice touch that Mina's fiance, Detective Kohei (Shosuke) is equally driven in his actions by love.
What's of particular note is the continuous parade of strong female characters. As well as Mina, who starts off cowed and shy, but ends up wielding a sword with enthusiasm in her new role, there's the existing Keeper (Eihi Shiina, the piano-wire wielder in Audition); Kudo's secretary-come-hit woman (Uotani Kanae), who kills for him so that his soul remains pure; and medium Shuho Kamiina (Yumi Kikuchi), Keeper in a former life, who remembered her previous existence and retained the fighting skills. Any one of these would make the film worth watching; put them all together, and it's a shame the film is only two hours long.
The resulting swordfights are longer on style than substance, with much posing before and during the battles, while the plot does rely too much on convenient coincidence, such as the photographer who just happens to be able to take ghost snapshots. It also seems that every other person has been a Keeper in a previous life. However, the longer the film goes on, the more engrossed you get in the characters, and the ending is genuinely quite touching. I really doubt the TV series could live up to this, but I'd certainly be prepared to give it a shot.
Dir: Ryuhei Kitamura + Norio Tsuruta
Star: Yumiko Shaku, Shoshuke Tanihara, Takao Osawa, Toda Naho