"A Gun for Jennifer, UK edition"
"I saw my dad beat the fuck out of that woman, day in and day out. She was pathetic. Not once did she swing back, not once. The only way you'll survive is to become like them. Otherwise you'll end up like our mothers."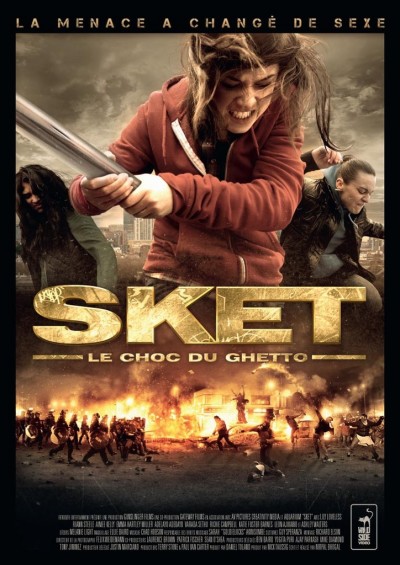 Purely coincidental that I viewed this not long after A Gun For Jennifer. The films share some common themes, despite 15 years and a couple of thousand of miles between them (not to mention the French poster on the right, which is a lot more riot-y than the movie itself). In both, a "new girl in town" finds herself harassed by a couple of sleazeballs, only to be rescued by a gang of women. While initially reluctant to join them, they give the heroine a sense of belonging, sadly lacking in the rest of her life, and she's drawn in to their illicit lifestyle. However, there's always someone tougher out there, meaning tragedy and the death of someone close to you, is never far away when you're on the mean streets of the big city.
Okay, it's a little bit of a stretch to call them identical, but I felt definite resonances, despite the hell which is North London, standing in for New York [I lived in London for over a decade, albeit in Sarf London – which as everyone there knows, if far superior to the Norf]. As for differences? The women here are also younger, heroine Kayla (Foster-Barnes) maybe 15 or so, when she arrives with her elder sister Tanya from Newcastle. After being harassed on a bus, she falls in with Danielle (Hartley-Miller) and her gang, who look out for each other, since no-one else will. But Tanya has the misfortune to cross paths with violent drug dealer Trey (Walters), paying the price for interfering in his business. With Kayla capable of turning him in to the police, Trey tries to tidy up the loose end, forcing the young girl on the run, as she vows revenge. Kayla finds a willing accomplice in Danielle – and, perhaps, a surprising one in Trey's girlfriend, Shaks (Steele), who has her own agenda.
There are some elements here which do stretch disbelief somewhat (where are the authorities? Or even her father, who barely shows up, even after the loss of a daughter) , but the performances help overcome this weakness. Hartley-Miller, in particular, is entirely convincing, creating a character you'd cross the street to avoid, yet still with the sense she's a victim as much as a perpetrator. Steele is also very good, perpetually giving the sense that she's analyzing the situation like a chess-master: the scenes where Danielle and Shaks face off are wonderfully intense, and I'd have liked to see more of them. Foster-Barnes isn't quite there, apparently suffering from a bad case of Resting Bitchface, although her character has been through enough, it's kinda understandable.
A little heavy on the grime soundtrack, the plot also wanders off occasionally in directions like vengeance on an ex-boyfriend, that turn out to be nothing but a needless diversion. But it's still a solid enough attempt at exploring an under-explored area of female culture, particularly in the UK.  Oh, yeah: in case you're wondering, the title is an epithet for a sexually promiscuous woman. It was originally "Sketel," and is Jamaican in origin. Never say this site isn't educational.
Dir: Nirpal Bhogal
Star: Katie Foster-Barnes, Emma Hartley-Miller, Riann Steele, Ashley Walters