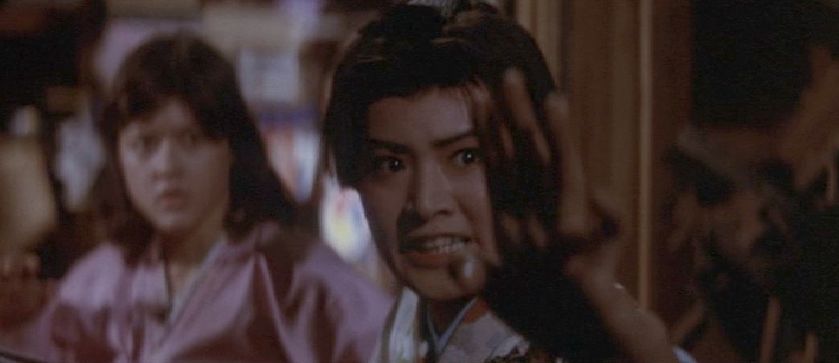 Sister Street Fighter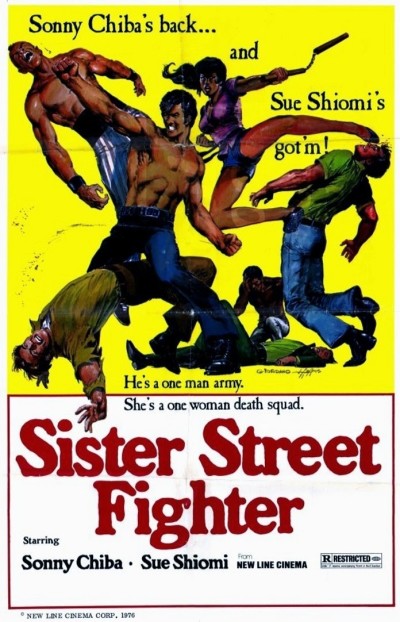 I have reviewed this previously, way back at the birth of the site, as part of the Women Who Kick Butt box-set, where it was easily the best film present. However, that was in a dubbed version, and having recently got hold of a copy in the original Japanese, I thought it deserved a re-watch. I'm pleased to report it remains a supremely loopy bit of fun, fully meriting the seal of approval and deserving of its own page, However could it be otherwise, with dialogue such as the title caption above, or the unforgettable line, "I killed fifty bulls with my bare hands in South America, you know." It's 70's martial arts plot #26: central character goes to look for missing relative. In this case, it's Tina (Shihomi), whose brother, an undercover cop, vanished while looking into a Japanese drug cartel. She agrees to follow in his footsteps, and soon finds the gang, under boss Hayashi (Yamamoto), handle snoopers with extreme prejudice. As that caption suggests, they bring the merchandise in using heroin-infused wigs(!), and the eccentric boss is now keeping Tina's brother as a plaything in his basement – presumably alongside the "men who know where they are and care, but don't drink."
Oh, and Hayashi also collects martial artists: "Some rich men buy race horses or keep an expensive dog as a pet. But I keep unusual humans instead of animals. It amuses me." This includes everything from an expert in the Okinawan Kobudo, a chained sickle, through to a pack of Thai kickboxers called the "Amazon Seven." There's also a guy with a mohawk who shoots poisoned darts from his blowgun, and bunch of fairly ineffective minions, who walk around wearing what look kinda like ski-masks made of straw. Wisely, they remove these before going into battle, although this does make me wonder what the point is. These and more will all, at some point or other, be faced down by Tina and/or her own allies, including colleagues of her brother, Sonny Hibachi (Chiba) and Emmy Kawasaki (Hayakawa), as well as a ballet-school teacher, because everyone in Japan knows some version of karate, it appears. [I should also mention the unfortunate logo of the karate school is a swastika!] Though Tina's most startling skill is her ability to fall hundreds of feet from a high bridge, then re-appear without the slightest explanation as to how she survived.
Yamaguchi's directorial style appears to consist of tilting the camera semi-randomly, leading to some sequences being Everyday Etsuko Shiomis, seen from unusual angles. But he also is smart enough to stand back when appropriate, letting her and everyone else do their thing, and this is when the film earns its keep. Watching Shiomi duel with nunchakus is worth the cost of admission alone, with the rest of the fights, and the general lunatic approach, merely a bonus. Released almost exactly a year after Enter the Dragon, the debt owed to that classic is certainly clear, not least in the tiger claws wielded by Hayashi. If some performances may be on the functional side (watch the drug withdrawal scene for truly epic over-acting), it still does a better of job of repaying its debts than many other imitators of the time, being an enjoyable slab of excessive kung-fu action in its own right.
Dir: Kazuhiko Yamaguchi
Star: Etsuko Shihomi, Shohei Yamamoto, May Hayakawa, Sonny Chiba
Sister Street Fighter: Hanging by a Thread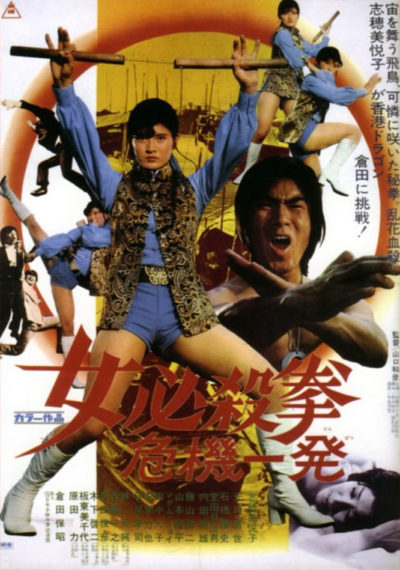 Even before the original film was released, the studio was spurred into making a swift follow-up, and the rush into production shows itself in a plot more than somewhat similar to its predecessor. Koryu Lee (Shiomi) looks for Birei, a friend from high-school, at the request of Birei's father, after she vanishes from Hong Kong. She tracks Birei down in Japan where the girl is being used as a mule by a diamond-smuggling gang, operating under the front of a company owned by Kazunari Osone (Murota). They don't take kindly to Koryu's investigation, and send a range of thugs to stop her, which only encourages Koryu, naturally. However, turns out there's a more personal connection, since her sister Bykuran (Mitsukawa) is working for Osone – both on her feet and her back, if you know what I mean…
Sure, it's smuggling diamonds not drugs, and Koryu's sister instead of her brother who is in bed with the criminals. But if you watch this back to back with the original, it's almost going to seem like a mockbuster rather than a sequel, albeit made by much the same people. One semi-significant difference is that replacing Sonny Chiba, you have Kurata, playing a martial-arts master who joins the Osone gang with his own agenda. The opponents for our heroine are still the same selection of fighters with different talents, each introduced with a caption describing their origin. But these seem significantly more restrained than first time round, outside of the transsexual killer with her lethal fingernails.
The main problem is Yamaguchi's direction, apparently considerably less stable than previously. It was a while ago I watched the first film, so perhaps I just didn't notice it there, but for this entry he seems to have developed a terrible habit of moving the camera enthusiastically during Shihomi's fight sequences. Which might have worked better, if the SteadiCam had arrived in Japanese cinema at the time of shooting. Instead, the results more closely resemble handing the camera to a amphetamine-crazed chimp, and are an unpleasant distraction, rather than providing any kind of enhancement to proceedings. It's a blessed relief, whenever things calm long enough for viewers to appreciate the actual skill possessed by Shihomi, with her use of the nunchakus remaining a particular highlight.
The film does seem to have jacked up the exploitation aspects, with surprisingly disturbing (for the mid-seventies time) gore, in particular some eyeball violence, with what feels like more nudity as well. These are occasionally combined, such as the removal without anaesthetic of the smuggled diamonds, from the buttocks of the woman smuggling them. That'll leave a mark. Not sure that's necessarily a plus, since Shihomi's wholesome and earnest intensity was one of the pleasures in the first film, making it stand out from the more common and salacious "pinky violence" cousins, that this sequel appears to be aping.
Dir: Kazuhiko Yamaguchi
Star: Etsuko Shihomi, Hideo Murota, Yasuaki Kurata, Tamayo Mitsukawa
The Return of the Sister Street Fighter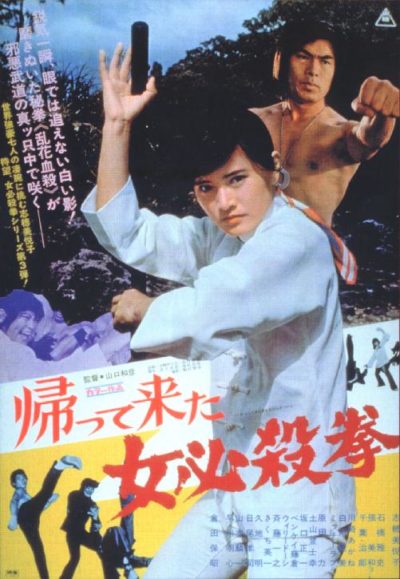 The third in the series is something of a return to form, not least because Yamaguchi goes back to holding the damn camera steady. But, really: another friend/relative has vanished into the clutches of a yakuza smuggling ring? At this point, it's going beyond the realms of coincidence and, as Oscar Wilde (somewhat) said, now looks like carelessness. In this case, it's cousin Shurei, though it's not entirely clear if she is the cousin of Koryu (Shihomi) or the detective who gives our heroine her mission. The details are largely irrelevant, however. For what matters is that Koryu has not yet touched dry land after her arrival in Yokohama, accompanied by Shurei's adorable little daughter Rika, when she is ambushed on the pier.
Having survived that, she links up with Shurei's sister, Reika, then goes to meet "Suzy Wong", who supposedly knows Shurei's whereabouts. Koryu learns Shurei has become the mistress of Oh Ryu Mei (Yamamoto), "the shadow ruler of Yokohama's Chinatown," before Suzy becomes another in what turns out to be quite a lengthy string of dead bodies. For Mr Oh's approach to henchmen employment is to have the potential candidates fight each other in death matches to determine who gets the four open spots as his enforcers. One of these ends up being Takeshi Kurosaki (Kurata), though if you've seen the second film, you will not be at all surprised to learn that he has his own agenda once more. Really, it's like they're not even making a token effort in terms of the script at this point.
That said, I enjoyed this one significantly more: as noted, the cinematography is less flailing, there's no shortage of action, and there are some surreal touches (both deliberate and, I suspect, accidental) that enliven proceedings. For example, [mild spoiler] Mr Oh is wheelchair-bound, though this certainly doesn't stop him from being wheeled around to slap under-performing minions silly. Except, at the end, he suddenly leaps from his wheelchair into battle. I guess he was just being a lazy bastard the rest of the time. In the "accidental" category, there's the saxophone rendition of Danny Boy, which accompanies the Very Serious conversation between Koryu and Suzy, in a spectacular display of inappropriateness.
I wondered why chunks of this felt so familiar, and eventually discovered I had reviewed this previously, back in September 2008. I wasn't as impressed at that point, awarding it only two stars at that point (though I appear to have been equally amused then by the whole Danny Boy thing). Either my tastes have changed over the intervening years, or perhaps I was influenced by watching this in close proximity to the inferior second film? But, if I ever become an evil overlord, and have a mortal enemy in my grasp, I will not stop a henchman about to kill them, with a quip such as, "The crows will feed on her by morning anyway." That never ends well for the evil overlord…
Dir: Kazuhiko Yamaguchi
Star: Etsuko Shihomi, Yasuaki Kurata, Rinichi Yamamoto, Akane Kawasaki
Sister Street Fighter: Fifth-level Fist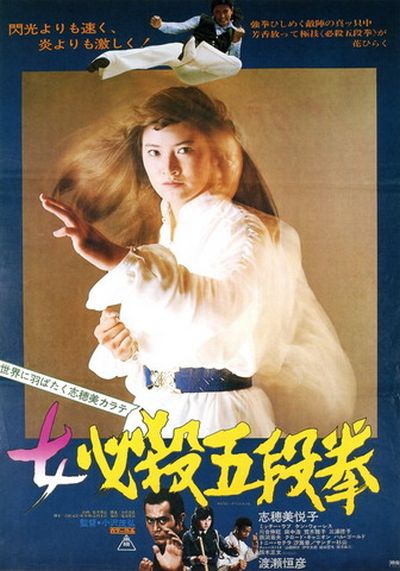 The fourth entry marked several changes, although given it was also the final one, that suggests these were not considered too successful. A new director was brought in; Ozawa is best known for The Streetfighter, starring Sonny Chiba, which inspired the spin-off series here, though this was the last of the 30-odd films in his career. Shihomi also plays a different character from the earlier movies: Kiku Nakagawa, the daughter of an upwardly-mobile kimono designer who is trying to marry her off to a salaryman. Kiku is having none of it, not when her Okinawan friend, Michi (Love), needs help. For Michi's half-black stepbrother, Jim (Wallace), has been targeted by the drug-smugglers he has fallen in with, who are using a movie studio as a front for their activities, under its owner Fujiyama (Kawai).
This takes a long while to get going, with Kiku having precious little to do in terms of action until the final 20 minutes or so. When it does, have to say, she and Michi deliver one of the best fights of the entire series, in an extended brawl around the film lot. Until then, it's as much social commentary as anything, with the siblings the target of prejudice for their mixed-race nature [something which also formed a significant aspect of Rika the Mixed-Blood Girl and its sequels]. This is also more explicitly feminist than its predecessors, and not only in the arranged marriage Kiku wants to avoid. When that falls through, her father tries to set her up with Detective Suji Takagi, but he's an unrepentant chauvinist and tells Riku: "Men are attracted to a woman's gentleness. Cooking good food for your husband and raising your children well – isn't that what makes a woman happy?" Showing remarkable restraint, she somehow managed to avoid punching his lights out as a counter-argument.
There seems to be a bit more comedy in this one, and additionally, it seems somewhat brave of Ozawa to make a film linking a movie studio to the Yakuza, given the long-standing whispers linking Toei, the company behind this series, to organized crime in the seventies. [According to Federico Varese, "Bosses not only took a keen interest in their portrayal and demanded to pre-approve the content of movies but also encouraged the production of hagiographies about themselves and their gangs."] Maybe that explains why it was the last movie he ever directed… While this was also the last entry in the Sister Street Fighter series, Shihomi continued acting for another decade, before marrying fellow-actor Tsuyoshi Nagabuchi, marrying him and retiring from acting at the ripe old age of thirty-one. However, these four features likely remain the definitive works in her filmography, showcasing her skills, and putting them front and centre, where they belong.
Dir: Shigehiro Ozawa
Star: Etsuko Shihomi, Mitchi Love, Ken Wallace, Nobuo Kawai