"She's back! Except, thankfully, she's not – it's someone different."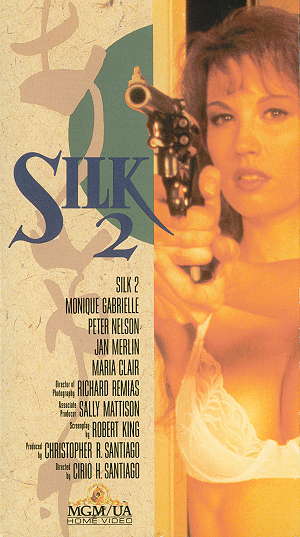 Was the world really crying out for a sequel? I guess Silk proved profitable enough for Gabrielle to replace Verrell as the titular cop, three years later and without any explanation. I've liked Gabrielle since her barnstorming double role in Deathstalker II, but even I have to admit she's not really well-cast here, with her voice inappropriate for a supposedly tough crimefighter. Mind you, anyone would have problems with cliched aphorisms of the "Crime doesn't pay" kind demanded by the dialogue.
After an opening third which is pretty dull and pointless, things do liven up – you get the impression someone actually thought about the script, rather than just spending an hour in Blockbuster, cribbing it off the back of other movies. The goods at the centre of things here are a set of Japanese scrolls which were guarded by a sect of warrior monks; on loan to a "Hawaiian" art-gallery (looks like the Philippines once more), they are switched for a set of fakes. The shenanigans that follow are not perhaps a surprise, yet they are carried out with sufficient energy to keep an uncritical viewer content.
I should point out that, as in the first film, the picture at right does not actually occur anywhere in the movie. Gabrielle does get one surprisingly decent fight sequence however [and I'm not saying that because of her loose-fitting robe, or the wildly gratuitous shower scene which precedes it]. More of such action would have helped – instead, this ends up as a passable, if not exactly memorable, waste of time.
Dir: Cirio Santiago
Star: Monique Gabrielle, Peter Nelson, Jan Merlin, Maria Clair