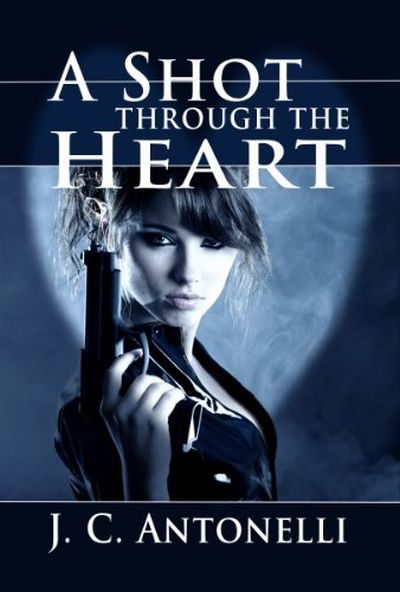 This book wasn't on my radar until a friend recommended it. But it proved to be well worth the read –and further demonstrates that there are independent authors out there producing quality work, and who aren't getting the notice they ought to. J. C. Antonelli is one of these! Hopefully, this review will give you an idea of whether or not the book would be up your alley. If so, the novel has the added advantage of being a stand-alone; reading it won't suck you into a long series.
This is, unabashedly, modern pulp action-adventure, with a kick-butt female protagonist. That doesn't mean it's without serious moral reflection or psychological depth; it has some of both to offer. (Although it has a 17-18 year old protagonist, its significant bad language, sexual content, and violence mark it as an adult read, not a YA –though there are certainly teens of both genders who'd read it avidly.) It doesn't stint on the physical action (with a high body count) though, nor on the gripping suspense. The snappy prose style and short chapters, and the storyline itself, compel the reader to keep turning pages; if I'd been able to, I'd have read it at one sitting. (And I did finish it in about a week, which is a pretty quick read for me!) It's too bad fiction by independent authors is ignored by Hollywood as fodder for adaptations, because this would make a stem-winder of an action flick, which would probably be a box office smash.
We open with our heroine/narrator Samantha ("Sam") wounded and bleeding in a fleabag Bucharest hotel room, waiting for shadowy killers to close in and try to finish her off. (But she's got two pistols, and she's not going down without a fight.) From there, she goes back a year to tell the story of how she got here, to the summer before her senior year of high school. Not having a driver's license yet, to get out of the house and fight boredom, she got her dad to take her for an outing at a shooting range, using a coupon that came in the mail. That experience revealed that she has a natural talent for handling firearms: quick reflexes, a keen eye, and an instinctive ability to aim accurately, that would place her probably in the 99th percentile for naturally-gifted shooters. This evokes a LOT of attention, because this range happens to be a clandestine screening tool used for recruitment by a super-secret quasi-government agency. Its mission is the targeted assassination of large-scale evil-doers whose power and position makes them untouchable by legal channels –and they have a job in hand for which a pretty 17-year-old girl might actually be what the operation's profile needs.
"Laid-back California girl" Sam's a wonderfully drawn, complex, round and dynamic character, as real as any girl her age you might meet at your local mall. Yes, she's flawed. She's the product of her culture in some ways, with its prejudices and blind spots; she has a potty-mouthed speaking style, and has the issues that come from losing her mom at a very young age and growing up raised by an inept and emotionally distant dad (whom she truly loves, but whose faults she realizes). But she emphatically isn't the borderline "sociopath" the organization's psychiatrist considers her. True, when she thinks it's justified, she's quite capable of killing without any emotional distress.
However, she has genuine feelings and a conscience, a respect for innocent life, and people she cares about; and she approaches what she's asked to do from within a serious moral framework. And while, like most of us, she can't help taking pride in doing something she's good at (which, in her case, is lethal combat), she doesn't revel in hurting people as such –she's compassionate even towards enemies' pain. Having had to take a lot of responsibility from a young age, and natively smart (she scored 2200 on her SATS), she's also more mature and grounded than many teens are. But she's a believable teen, and a believable teen girl (I raised three, so I know something about the demographic) –not, as some critics snidely say about action-oriented female characters, especially those created by male writers, an essentially male figure disguised as female.
While Sam's the only character whose head we get inside, Antonelli is able to make the rest of the cast (especially Tico) vivid and life-like as well. His plotting is taut, driving, well-constructed and twisty –complications, both logistical and emotional, are going to ensue. Though the book most definitely isn't a comedy, he understands the uses of comic relief, and Sam's wry narrative voice and quirky (sometimes off-color) humor provides it at times, as do the inherent incongruities of the situations. Being a keen and accurate observer both of herself and others enhances Sam's effectiveness as a narrator. We have a variety of physical settings here, all brought to life pretty well, but the description is never intrusive.
The author clearly knows his weaponry (though he calls magazines "clips" –but that's a common mistake), and writes clear, exciting action scenes; he doesn't over-stress the gore of violent death –it is what it has to be, but he doesn't rub our noses in it. Moral reflection about the ethics of extra-legal, vigilante killing in particular cases is serious, and adds depth to the book. (Though it's not true that all or most religions have a blanket prohibition against killing.) Finally, the book puts Sam through a wringer of tough moral choices and emotional stresses that really challenge both her and the reader –I consider that a hallmark of superior fiction.
The idea of "insta-love" can be a problematic issue for readers, and there's a romantic component here that develops in a quick time-frame. Honest love between two people has to have a basis, and that takes some time to develop and build. But the amount of time can vary with the people and circumstances. For the two principals here, their prior experience with the opposite sex has been largely fallow and unsatisfactory, and there's a mutual perception that they want something different than what they've been offered in the past; the attraction is based on personal qualities rather than just physical appearance, and the circumstances are of the sort that would stimulate quick bonding. I don't automatically believe in relatively "insta-love" just because an author wants to throw it into the plot; but I didn't have a problem believing in it for this couple.
Notes: (Although there's no explicit sex in the book, some non-explicit unmarried sex does take place; but it came across to me as being loving rather than exploitative and lewd. Bad language is pervasive; I lost count of the f-words, though there's no religious profanity. Devout Catholic readers will be apt to be very offended by a passing thought of Sam's about the Mass, evoked by a stressful mental comparison between the sight of red wine and of blood (though to a girl ignorant of theology, the whole idea of deliberately drinking blood would appear "crazy").
Prolifers will strongly disagree with her advice to a pregnant friend to abort the baby; but it was well-intended advice –and the fact that her friend has the baby anyway makes a statement of a different sort, as well. Also, Sam makes a passing comment near the beginning that it would be wrong to assassinate Mother Teresa, but okay to do Rush Limbaugh (and by implication, anyone with right-of-center views); that will sit poorly with those readers whose views are right of center.
Author: J. C. Antonelli
Publisher: Self-published, available through Amazon, both for Kindle and as a printed book.
A version of this review previously appeared on Goodreads.