"Lethal weapons."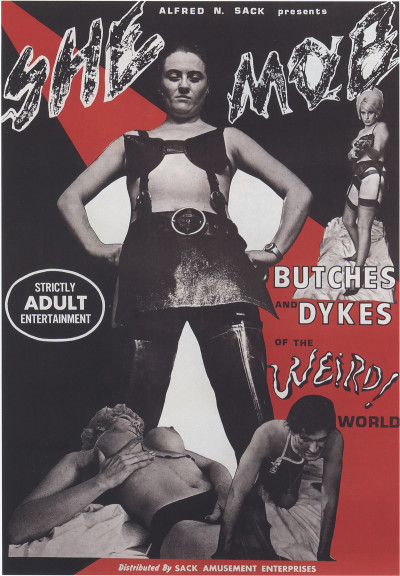 Really, from the poster, I was expecting something utterly unwatchable, so on that basis, this rating should be considered something of a triumph. Oh, make no mistake, there are aspects of this that are truly dreadful. But it's rare to find a film which so obviously does not give a damn about what the audience might want, and goes so relentlessly on its own way. After a rough week for your humble ewviewer – I'll get to Super Gun Lady and, worse still, Guns & Lipstick, over the next few days – I'm inclined to look upon this with more favour. It does at least alternate elements of some interest with its mediocrity; for instance, there can't be many thrillers of the era, even soft-core ones like this, which have only a single male speaking role.
The focus is a group of four women, apparently recently escaped from prison, under the leadership of Big Shim (Castle), whose picture can be found in the dictionary beside "diesel dyke." When two of the group become hungry for male company, Shim dials out to gigolo Tony (Clyde), but when he arrives and tells them he is now the toy-boy of rich businesswoman Brenda McClain (Castle), Shim decides to "kidnap" him for ransom. Because of their 'delicate' relationship, McClain won't go the police, so turns instead to private detective Sweetie East (Duval). She plays the part of her employer when it's time to drop off the ransom, but hides a transmitter in along with the cash, and follows its signal back to the gang's lair. This being 1968, the whole transmitter concept has to be explained in detail, I guess in case any of the audience hasn't seen Goldfinger.
There's a fair bit here of note, albeit not always in a good way. Firstly, having the same actress play both Shim and McClain is a striking choice, especially since this was apparently Castle's one and only movie [though I suspect assumed names were heavily used here; there isn't even a formal director's credit!]. Admittedly, neither of her performances are exactly subtle, though that's in line with the incredibly-pointed bra she wears, which would be rejected by mid-90's Madonna as excessive, and with which she stabs Tony at one stage in proceedings. Then there's "Sweetie," an obvious knock-off of Honey West, though the budget here doesn't stretch to an ocelot. And the rest of Shim's gang are little less memorable, from Twig, the simple-minded go-go dancer, to Baby, Shim's lover, whose main purpose is to remind us how far breast implants have come over the past 45 years.
The main downside here are the lengthy, frequent interludes where nothing much is happening. Mostly, these are what could best be called "scenes of a sexual nature," though they are so completely unerotic they begin to feel like Dadaist sketch comedy. For instance, the film opens with Brenda taking a bath, yelling shrilly and repeatedly for Tony to join her. When he eventually does, they slosh around in the tub for a few minutes while the single camera watches with a complete lack of passion. Still, it's a film that you will certainly remember, and is a pleasure to write about, offering no shortage of aspects worthy of comment. Though that may partly be my subconscious trying to put off having to write a review of Super Gun Lady.
Dir: Harry Wuest
Star: Marni Castle, Adam Clyde, Monique Duval, Twig