"The good, the bad and the pretty."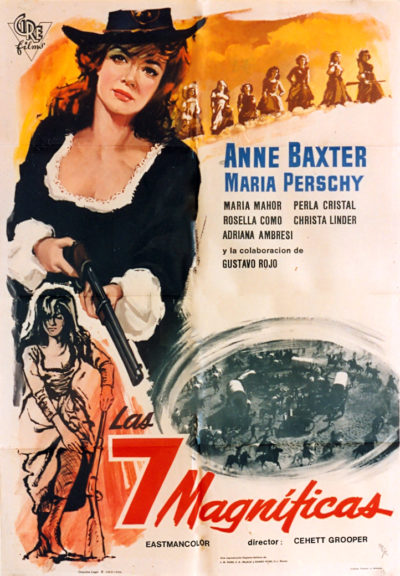 A wagon train on its way West to California is besieged by multiple waves of Apaches. Between attacks, the seven women among the settlers are hidden in a nearby cave, but the next assault proves terminal, and the women are left, alone and deep in enemy territory. The only hope for this band of largely unprepared women, is to strike out across a hostile landscape. They'll need to cross 100 miles between them and the nearest settlement, Fort Lafayette, while fending off further native attacks.
This 1966 film is an early example of a "Europudding," being a co-production between Spain, Italy, Austria and Liechtenstein(!). There are three directors credited, though Parolini's name appears to have been simply to get Italian funding, and Pink was apparently the main man behind the camera. The results are only sporadically effective, being hampered by characters and actions which are often little more than clichés, on all sides. They actually use the line, "Never turn your back on an Indian," and I literally LOL'd when the settlers formed their wagons into a circle, since I don't think I've ever seen that done in a film, except as a parody.
The star is former Oscar-winner Baxter, who plays Mary-Anne, the de facto leader of the group, and delivers a solid performance. Though as action-heroines, I was probably more impressed with the Grimaldi Sisters, a circus act (played by Como and Adriana Ambesi) whose skills help save the group on multiple occasions – there's a running joke about these abilities inevitably being obtained from previous sideshow boyfriends. Most of the rest don't make much impression, and while trying to avoid spoilers, the mortality rate is so low that the Apaches don't present much of a threat. While there are some dark hints about the women being wanted alive, this was the mid-sixties, so hints are all you'll get, and the whole thing is rather too gentle for its own good.
That said, the women develop a harder edge over the course of proceedings. The first time they repel an Indian attack, the victim they capture is kept alive, at least until he escapes. By the end, they're ruthlessly clubbing natives to death with their rifles, in the closest the film goes to a genuinely disturbing sequence [Look, I saw Bone Tomahawk recently. My "genuinely disturbing" scale got entirely re-calibrated, as far as the Western genre goes] Second spot likely goes to the Apache victim whose body is found, mostly for Mary-Anne's stern instruction that nobody should look under her clothes.
But this is the kind of film where the heroines start off their hundred-mile trek in long skirts. Even for the time, that seems a stretch, and is an unfortunate precursor to the rest of the movie. It's not a bad idea, and the leads are fine too; the problem here is a script which hasn't aged well
Dir: Gianfranco Parolini, Rudolf Zehetgruber, Sidney W. Pink
Star: Anne Baxter, Maria Perschy, Gustavo Rojo, Rossella Como
a.k.a. The Tall Women