"Even-handed blaxploitation, mixes brawn and emotions to good effect"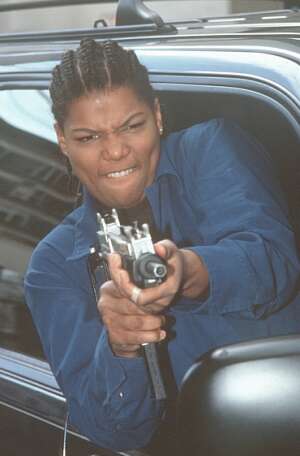 After a couple of less-than-perfect entries in the 'robbery girls' subgenre, this came as a refreshing blast, with decent characterisation and a storyline that goes past the painfully obvious. Mind you, the moral remains the same – crime doesn't pay – but at least the road taken to get there is interesting and complex. These women all have their own reasons for wanting to rob banks: getting back at society for perceived injustice, supporting a child, or simply for kicks. Interestingly, you can see both their point of view and society's, the latter most clearly in a surprisingly sympathetic cop, Strode (John C. McGinley). The results are more a product of tragic circumstance than anything else.
We've seen elsewhere this can easily slip into cliche; for the most part it doesn't, despite a lack of character development. Only Stony (Pinkett) and her relationship with a bank executive really counts – and if you can't see where that's going, you're not paying attention. Still, there's plenty to admire, not least a delightful homage to The Godfather. One way or another, we care about everyone, from extremely out lesbian Cleo (Latifah) to the brains of the gang, Frankie (Fox). The action isn't ignored either, most notably the whirlwind event that is their first robbery; at the end, I discoved I'd been holding my breath. Despite dialogue which sounds occasionally as if it was in a foreign language, this definitely goes beyond a black audience.
Dir: F. Gary Gray
Star: Jada Pinkett, Queen Latifah, Vivica A. Fox, Kimberly Elise