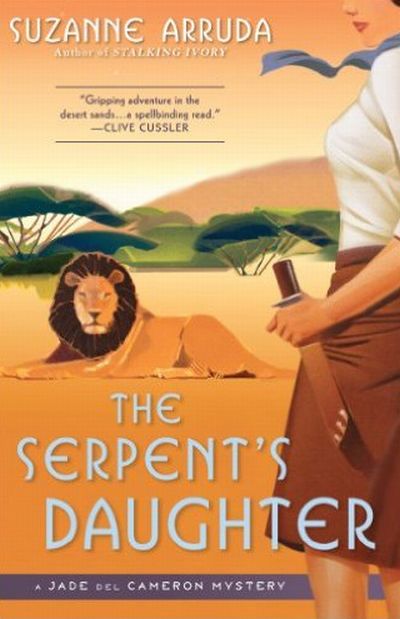 Many of the strengths of the first two novels in the Jade del Cameron series (which I've also read, and reviewed) are present in this third installment as well. However, at the end of the previous book, Stalking Ivory, Jade got a letter from her mother, inviting Jade to meet her in Tangier for a trip to Spain (to buy a stallion for the family's New Mexico ranch). That's the springboard for this book, which allows Arruda to introduce some new and fresh elements into the mix as well. This time, Jade is all the way across the African continent from her usual British East Africa milieu, and into a vividly-realized 1920 Morocco. Most of our usual supporting characters are left behind, and replaced by well-drawn new ones. For the first time, we get to meet Jade's Andalusian-born mom, Dona Inez Maria Isabella de Vincente del Cameron, a strong woman in her own right and a fascinating dynamic character, and learn more about Jade's background. This novel is as much concerned with exploring a complex, loving but fraught relationship between mother and daughter, as well as themes about being true to yourself and the possibilities of second chances and new beginnings, as it is about solving a mystery; and it gains in psychological depth as a result.
Nonetheless, there are very definitely mysteries to solve: a kidnapping, a murdered dead body that seems to be disconcertingly mobile for a corpse, the theft of an ancient amulet, and a sinister drug-smuggling operation. (Drug trafficking between Morocco and southern Europe didn't begin in recent times, though it's increased greatly today.) Having read the cover copy –which I don't recommend because, IMO, it gives away too much that the readers might wish to discover on their own– I was sure I'd identified the villains in the first chapter; but I was still in the dark about some significant things, and Arruda managed to throw me a genuinely surprising curve ball I totally did not expect. I like that! Not having expected to need it in the urban setting of Tangier, Jade didn't bring her Winchester on this trip. But she still carries a knife in her boot sheath, and her resourcefulness and skill at fisticuffs haven't deserted her… and that's just as well, because they'll be sorely needed. (And where resourcefulness is concerned, the apple didn't fall far from the tree!). Jade's deductive abilities, as in the first book, can be a little on the slow side; but she doesn't have to do much deduction here, and she figured out one key thing before I did.
A unique aspect of this book that I found fascinating was the detailed look at the traditional Amazigh culture of the people usually called by the appellation the ancient Greeks gave them, Berbers (from "barbarian," the Greeks' general term for non-Greeks –though, as one Imazighen man points out here, "It is an insult. We are not barbarians."). There's a rich cross-cultural flavor here, and a sense of place that's particularly strong. All in all, this is an excellent continuation of a series that's become a favorite of both my wife's and mine, which does more than just run in place; it provides significant developments in the overall story arc. Now, we're eager to continue Jade's adventures with the fourth series installment, The Leopard's Prey!
Author: Suzanne Arruda
Publisher: New American Library, available through Amazon, both for Kindle and as a printed book.
A version of this review previously appeared on Goodreads.