"The mother of unintended consequences."
It's supposed to be the happiest day of her life for Sara Aguilar (Soto). She's marrying respected police commander Vicente Acero, legitimizing a relationship that has already given them a son, Salvador. But masked hitmen attack the party, killing her father – by the end of the day, Sara has also become a widow, the cartel having taken revenge on Vicente, for the three million dollars he apparently stole. To Sara's horror, it turns out her husband-to-be was no less corrupt than anyone else. When Salvador then falls desperately ill, and in need of highly expensive health-care, there's only one way Sara is going to be able to fund his treatment.
It's a decision which brings her into conflict with a whole slew of people. Her main enemy in the first series is Indio Amaro (Zárate), a local gangster responsible for killing Vicente. He has vowed to make Sara's life a living hell – not least because following that murder, she chopped off two of his fingers in a frenzied attack. There's also Enriqueta Sabido, the owner of a local beauty salon where Sara gets a job after being thrown on her own resources; she also does (bad) plastic surgery in the back. And even her own sister, Berta, is jealous of Sara for marrying Vicente, and who blames her – with some justification, it has to be said – for everything bad that happens subsequently.
She does have allies, though I wouldn't be selling any of them life insurance, if you get my drift. They include honest cop Elio Tarso; Colombian dreamboat Manuel Caicedo; and even an affable cartel boss, Miguel Quintanilla, who possesses a quite fascinating collection of suits. [The white ones make a terrible background for subtitles, producers please note.] However, it's mostly Sara's motherly inclinations that lead to problems, whether financing a transplant for Salvador by any means necessary, or demanding her cartel employer close down the tunnels through which drug-carrying kids are employed to cross the border, because… Well, Sara doesn't like it, that's why.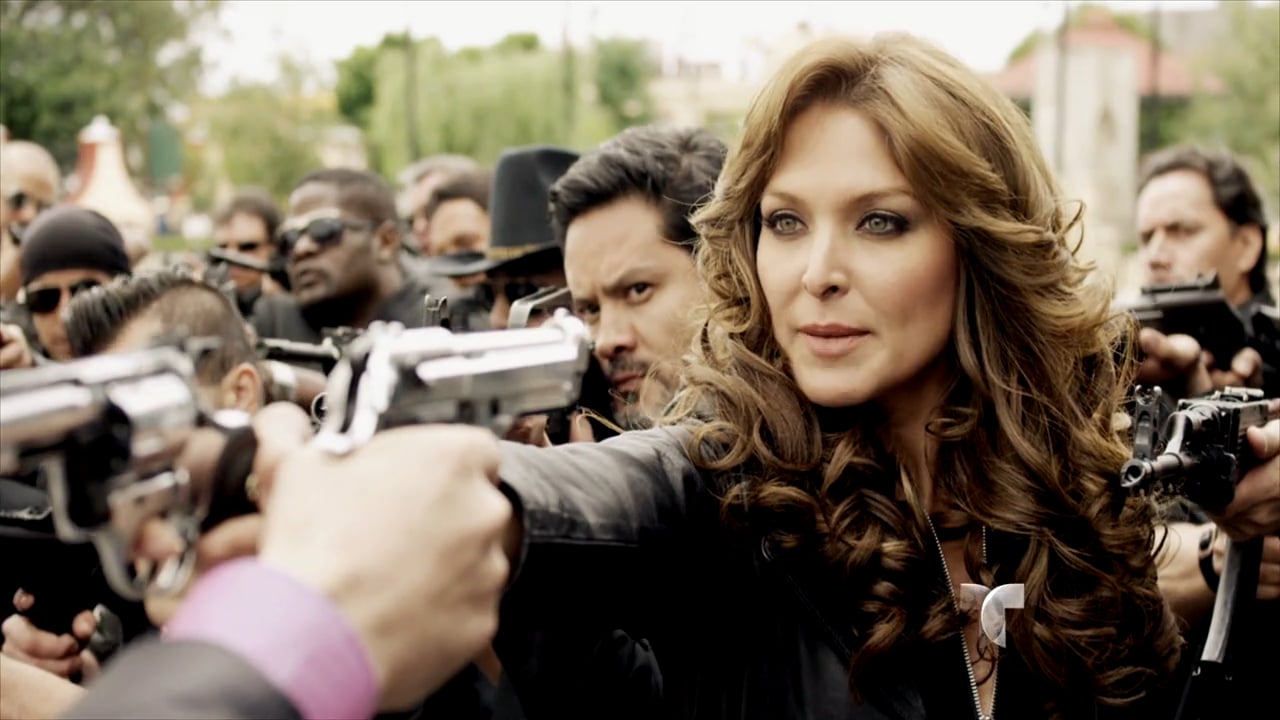 But it is actually fairly rough on occasions: for instance, the removal of Indio's fingers is well-staged, and revisited frequently [this show loves its flashbacks, more than any other I've seen to date – sometimes even revisiting scenes from earlier the same episode]. There's another scene where Indio is torturing someone for information. He has them stand on a bed of spikes, then breaks their ankles to ensure they can no longer support their own weight. While mild in terms of cartel acts – some of the stories I've read would make your hair curl – the show is relatively brutal by the standards of the telenovela, and contains more bloodshed than most.
The obvious influence is another Telemundo production, La Reina Del Sur, with which it shares a number of crew, in particular writer Roberto Stopello – its heroine is even name-checked explicitly here, in one episode toward the end. Both share protagonists who are dumped into trouble after the demise of their other halves, and find the only way out is to get their hands dirty and become part of the criminal underworld. Despite this, the leading ladies share a strong sense of morality, with lines they won't cross, and despise the exploitation of others – in Reina, it's trafficking in women, while here it's the use of children that provokes the central character's ire.
Notwithstanding the double-meaning of her married name in the show's title – Senora Acero can be translated as "Woman of Steel" – I find there's a certain hypocrisy to Sara, compared to Teresa Mendoza. She's strident about only wanting to be involved in money laundering rather than the drug trade, which seems a perilously thin moral distinction to me. Where the heck does she think the money she's taking across the border comes from? It's an almost privileged attitude, which seems to permeate her character from the start. For me, this left her less appealing, in comparison to her telenovela sisters, and this central weakness may be the show's biggest flaw.
It's a bit of a shame, as the supporting cast are fun to watch, on both sides of the coin. The villains are led by Acasio "Don Teca" Martínez (Reséndez), a cartel boss who has longed after Sara from afar, since he was a geek in the local barrio. Now, he has a shrine to her at the back of his office, and wields his power in a creepy stalking campaign, designed to drive her into his arms at any cost. Meanwhile, on Sara's side is Aracely Paniagua (Litzy), a good-hearted former hooker and drug addict, who just can't seem to escape her past, which keeps dragging her back in. She offers a more traditional telenovela heroine, almost harking back to Victorian melodrama.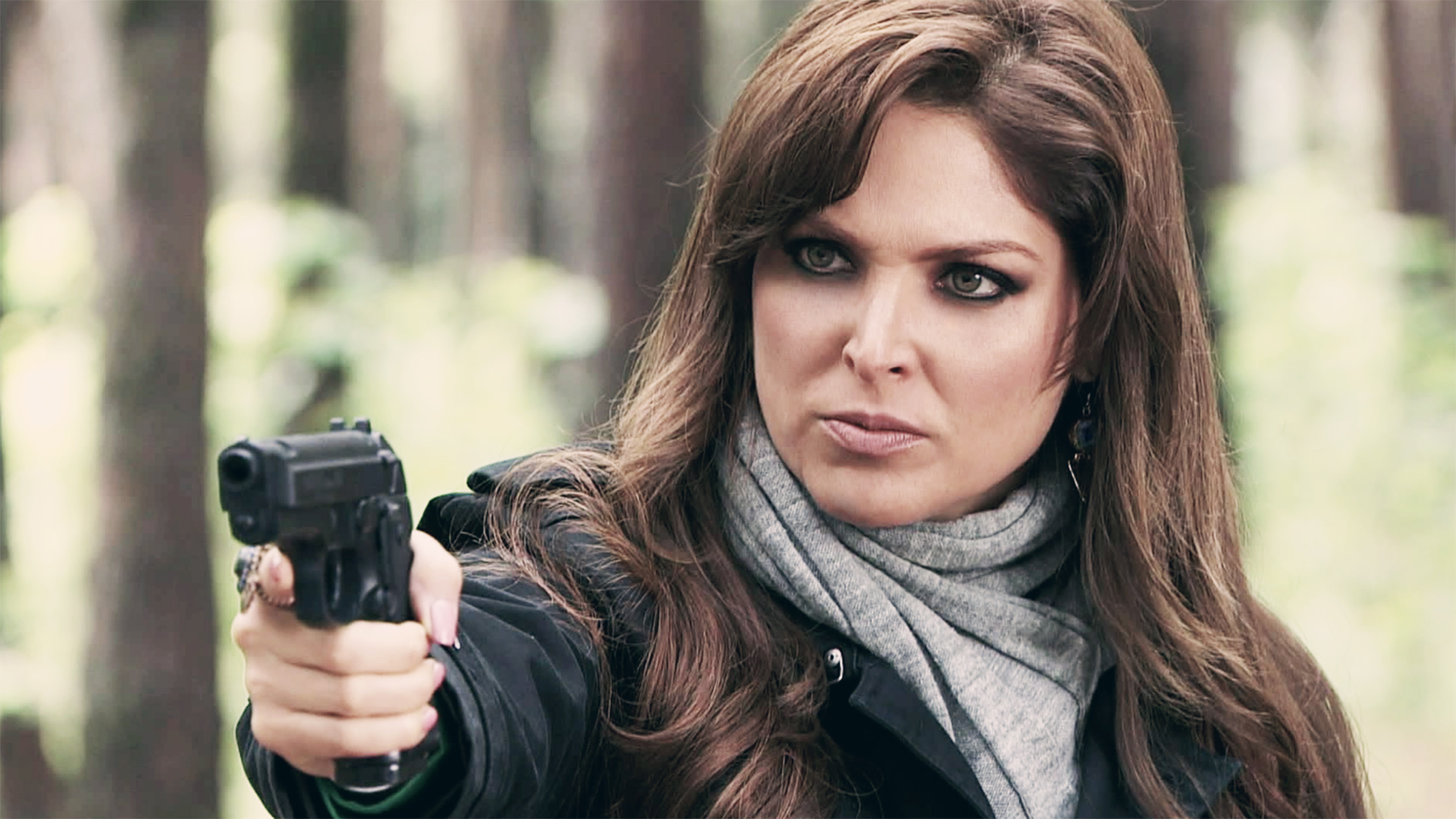 The music in the show is interesting… Norteña band Los Tucanes de Tijuana produced and performed a song for it, titled "La Señora de Acero", which the series incorporates, as having being commissioned by one of Sara's drug-cartel bosses in her honour. It's the usual oompah laden nonsense (I don't like country & western either!), and far more fun is the bombastic score that accompanies the tensest moments. I've not been able to pin down the creator – it may be Rodrigo Maurovich, credited for "musicalization", or it may be stock composer Xiaotian Shi. But it's so wildly over-dramatic, swelling ominously to a crescendo, even when no-one is doing anything more than staring at a door, I can't help but love it.
Back before the show had even begun to air, in mid-2014, there was an option apparently granted to USA Network to produce an English-language version of Senora Acero. Nothing appears to have come of this, and it was only a couple of months later that the station ordered a pilot for Queen of the South instead. Having seen both Mexican series now, as well as the USA Network remake of Reina, the choice was probably a smart one. The darker storyline of Reina likely renders it more easily adaptable. I'd be hard-pushed to imagine this, really a story of maternal instincts gone wrong, being able to make an effective transition to the gritty series which USA apparently wanted.
Despite this diss by the American market, unlike Reina, the show wasn't one and done. Senora Acero almost doubled its US audience over the four-month run, its finale winning its time-slot in a number of key demographics, regardless of language. And, so, a year, later season two began, with another 75 episodes, and a third season, with a monstrous 93 episodes, started last summer. [The most recent installments appear not to involve Blanca Soto, for reasons which would require major spoilage to discuss…] All three are currently on Netflix, and I'll confess some of the pics used here are from them – but at somewhere north of 50 hours of viewing per series, I wouldn't hold your breath waiting for in-depth reviews of the later seasons!
Star: Blanca Soto, Jorge Zárate, Litzy, José Luis Reséndez