"Two helpings of trash for the price of one; but you get what you pay for…"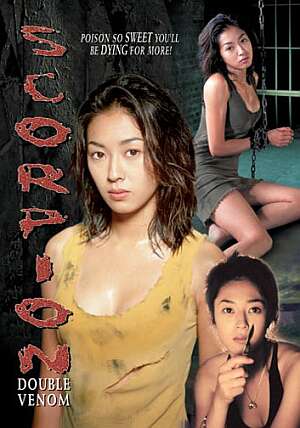 The DVD holds two films, Sasori: Joshuu 701-gô and Sasori: Korosu tenshi, only tangentially connected to Shunya Ito's Sasori series (the best-known is Female Convict Scorpion: Jailhouse 41) – it also has a heroine who breaks out of jail, and that's about it. Here, nurse Nami Matsushima (Komatsu) gets ten years for killing the guy who kidnapped and murdered her sister, though just before he dies, he reveals he had an accomplice. In jail, she faces the usual perils (thuggish cellmate, bisexual warden) and meets a girl on death row, framed for a murder committed by a politician – though she killed a prison guard too, so may deserve to die! As execution looms, Nami plans to save her friend. In part two, after her escape, she gets involved with a hitman, and goes back into the prison, in order to rescue his girlfriend.
While not avoiding nudity (it seems like a made-for-Japanese-cable film, complete with pauses for ads), these lack much of the sadism often seen in the WiP genre. Komatsu brings a fine earnestness to the role, but the films are barred from greatness by startlingly idiotic plotting. For example, judicial hanging causes death by a broken neck, not asphyxiation and, in any case, Nami's resuscitation technique is bizarre beyond belief (the credits list a medical advisor – I plan to stay out of Japanese hospitals). While undeniably dumb, the opener is at least entertaining; the second film is largely just dull, save a final twist that really has to be seen to be beli…no, actually, you still won't believe it. *** for the first part, ** for the second.
Dir: Ryouji Niimura
Star: Chiharu Komatsu, Tomoro Taguchi, Daisuke Ryuu, Aya Sasaki