"The 19th cut is the deepest."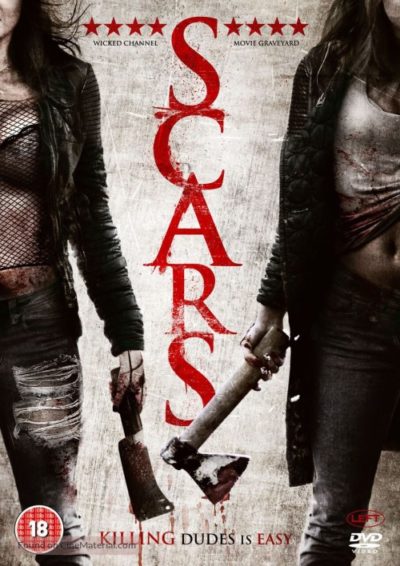 Scar (Cole) has anger issues, which we see in the opening scene, where she stabs her boyfriend to death. Scarlett (Kimmel) makes her living by having affairs with married men, then blackmailing them. The two women team up after Scar rescues Scarlett, when one of her extortion targets is beating her up in an alley. The pair subsequently begin an odd relationship, peppered with bursts of brutal violence against men. The police investigation, led by Detective Mike (Wells) passes over them, but Mike begins a relationship with Scarlett, until he begins to suspect that her friend is involved in the string of killings.
There's an off-kilter style here, in a variety of ways. Scar and Scarlett spend a lot of time sitting around the latter's apartment watching news broadcasts. These mostly appear to be about the conflict in the Middle East. While unclear, I guess the film is making a comment about male violence on a global scale by juxtaposing it with more up close and personal violence by women? Robb's visual approach, in his directorial debut, is also a bit different, shall we say. He often seems content to park the camera in a fixed position,. and let events unfold in front of it (or, in certain cases, somewhat in front of it) as they may. He's a big fan of about half a second of black screen between scenes too, and the use of deliberately inappropriate classical music. Not sure how effective any of this is; for instance, the static shots give a distancing feel, almost as if you were watching on CCTV. Hey, at least it's making an effort.
That last sentence could be an accurate summary of the film as a whole. It's clearly trying, and given the limited resources, it isn't a disaster. But neither was this very successful at holding my interest for the entire duration. There isn't much in the way of a character arc for either Scar or Scarlett. Right from the start, Scar is the obviously more psychotic one, and Scarlett is better able to conceal and control her impulses. That's how it is for the rest of the film, although there was a while where I thought we were going down the Fight Club route, with Scar being a manifestation of Scarlett's darker side.
On the positive side, the two leads deliver decent performances, and the violence – mostly in the form of repeated stabbings with the traditional weapon of movie psychos, the carving knife – is unflinching and credibly brutal. Part of the problem is, we're not really given much reason to empathize with Scar or Scarlett. While there's an implied suggestion Scar's boyfriend is abusive, there's nothing to suggest the punishment she unilaterally imposes is anything close to fitting the crime. Meanwhile, Scarlett is a manipulator, also depicted without much in the way of redeeming features. The results are watchable enough, yet left me feeling little or no impact, emotionally or intellectually.
Dir: Sean K. Robb
Star: Danielle Cole, Neale Kimmel, Matt Wells, Eric Regimbald