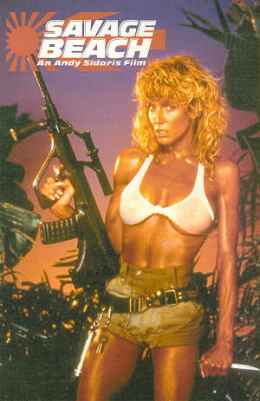 This one doesn't really get going until the second half, when the search for a lost hoard of Japanese wartime gold, looted from the Philippines, leads to a remote island. There are CIA agents, revolutionaries, a left-behind Japanese soldier and, of course, our lovely heroines Dona and Taryn (Speir and Carlton) who end up there after their plane crashes in a storm. Or rather, "storm" – you can get a cheap laugh by seeing the bright blue skies as they land in the middle of a clearly hose-supplied downpour. Sidaris probably felt the need to justify their otherwise implausible strip-tease shortly after departure. Or do FAA regulation stipulate pilots must remove their tops in emergencies? Two take-offs for the price of one…
Such clunky exploitation is disappointing, but the back and forth round the island is fun, though note how our heroines' carefully-applied camouflage paint mysteriously vanishes minutes later. Not that it impairs their concealment abilities, given the brilliant white shirts they wear. Kudos to Teri Weigel as the rebel who spouts rhetoric before, during and after undressing, giving the lie to the myth that Playboy centerfolds can't talk and walk simultaneously. The rest of the cast, however, seem to have problems in this department, though Speir acquits herself creditably.
There does seem to be rather more blood here than usual, with some enthusiastic squibbing. However, the characters show a low level of intelligence that is, unfortunately, necessary to the plot. While I'm happy to forgive economies of scale – and, really, the film looks pretty good for the budget – it's harder to accept flaws in the script that would have cost Sidaris nothing to fix.
Dir: Andy Sidaris
Star: Dona Speir, Hope Marie Carlton, Rodrigo Obregon, Michael Mikasa