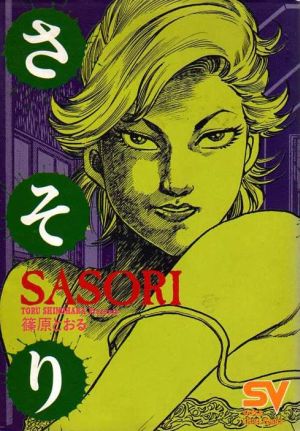 In the first half of the 1970's, Meiko Kaji was to the slightly-disreputable end of Japanese cinema, much what Pam Grier was to the same end of Hollywood movies. Both made a career out of playing strong female characters, often operating on or beyond the boundaries of the law, and with no compunction about using violence to achieve their ends – which often involved taking revenge on those (almost alwayx men) who had wronged them. The Sasori [Japanese for "scorpion"] was not Kaji's first foray into the genre, having cut her teeth on the Noraneko Rokku [Straycat or Alleycat Rock] films, a couple of years previously.
And it's probably not even her most well-known work in the West: that would be Lady Snowblood, which deposited her in an earlier era, as a female swordswoman, and whose theme was "borrowed" by Quentin Tarantino for Kill Bill, Volume 1. But in terms of enduring appeal, the character Sasori has them both beat, with sequels, remakes and spin-offs continuing for more than 35 years after the original, through the 2008 Hong Kong remake. Even now, it's an iconic character that has rarely been matched for sheer bad-assery.
The credit for this is not entirely Kaji's, though obviously her portrayal is indispensable. Often forgotten is that the character of Sasori did not originate on the silver screen, but in a manga, by Toru Shinohara (shown, left). He has something of a track record in the genre, having also created the comic on which the Zero Woman series was based, and written the story for Metropolitan Police Branch 82. Perhaps even more important to the saga's lasting suggest was director Shunya Ito, who took the potentially-tawdry premise, and elevated it above and beyond the level you'd expect, with a visual style that goes far past any other mere "women in prison" flick. It's such a fully-formed approach, right from the get-go, that it feels like the work of a far more experienced director.
Truly, it was one of those moments in movie history where things come together in such a way as to produce results which manage to be more than the sum of their parts. While the quality of the six films which came out during a five-year span from 1972-77 is undeniably variable. they all have their merits and remain worth your attention, even four decades later. Let's take a look at each entry from the seventies incarnation in turn.
The series theme, Urami-Bushi, written by director Shunya Ito and sung by Meiko Kaji.


"You're a beautiful fiower", his words flatter you today.
But once you're in full bloom, he'll just toss you away.
Foolish, foolish, foolish woman's song…
Her song of vengeance


"Sorrow is my fate", so you've given up on men.
Show him your tears and he'll bring you grief again.
Tearful, tearful, tearful woman's song…
Her song of vengeance.


"You cling to your dreams," they scorn your world of lies.
So you try to wake up, but you can't open your eyes.
A woman, a woman, a woman's heart is her song…
Her song of vengeance.
See also
Lady Snowblood 1 + 2
Sasori
Scorpion Double Venom
Scorpion's Revenge
The Zero Woman series