"Into every generation, a slayer is born…even in 18th-century Japan."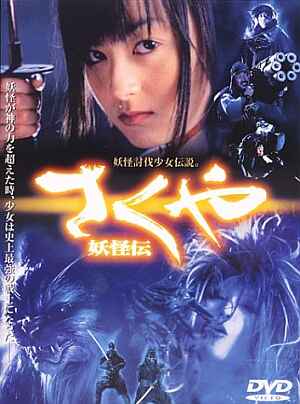 Any similarities to Buffy are purely coincidental – despite the fact that our heroine Sakuya (Ando), like the blond one, has a soft spot for what she's supposed to be slaying. Here, she saves the child of her first demon victim, and raises him as her kid brother Taro, despite unnervingly rapid growth and green lump on his head. She takes him on the ultimate mission, travelling to the recently-erupted Mount Fuji, which is the hellmou…er, source of the demons, to face the Spider Queen.
The special effects here are probably the highlight, both simple (the blue flames enveloping Sakuya's kills) and complex, such as the impressive volcanic eruption and climactic battle with the Spider Queen. En route, she also meets a range of imaginatively-realised creatures – though one set look particularly cheesy, they are, apparently, a nostalgic collection from some classic 60's films, so we'll let Haraguchi off with a slap on the wrist for his self-indulgence. The problem is that when there aren't any demons around, the movie seems lost and is, frankly, pretty dull. The basic premise is established early on, and not much more happens, storywise.
It also doesn't play by its own rules. It is carefully explained that Sakuya's Vortex Sword feeds off her life-force, and only human blood is an acceptable substitute. This just doesn't seem to happen – I was, admittedly, watching a Chinese dub (featuring Anita Mui as the Spider Queen), so maybe something got lost in translation. But between such shaky plotting and the song(!), can't help feeling it was perhaps aimed at a more juvenile, less critical audience. And that's something of a shame.
Dir: Tomoo Haraguchi
Star: Nozomi Ando, Kyusaku Shimoda, Keiichiro Sakagi, Yuki Kuroda