"Lured in by the title, stay for the well-acted drama."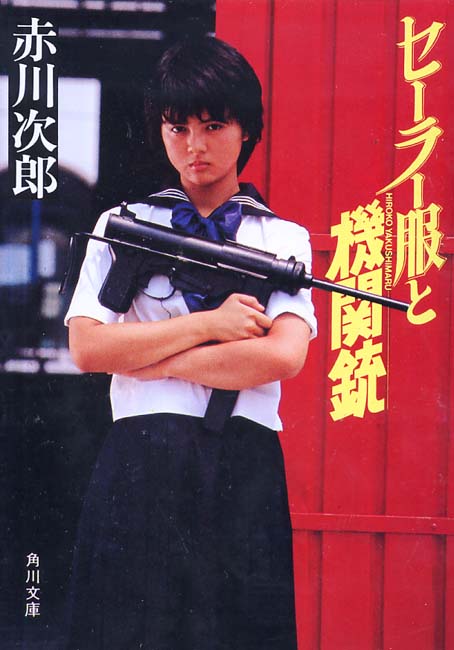 The novel by Jirō Akagawa which spawned this has proved rather popular in Japan. It also inspired two television series, in 1982 and 2006, but this film was the earliest adaptation, coming a year before the first show. Izumi (Yakushimaru) is in a funk because of the death of her father, but gets a shock when dozens of yakuza suddenly show up at her school. Turns out, he had a rather shady past, and had just been named heir to a gang, on its boss's death: his own departure suddenly leaves Izumi next in line. Initially reluctant to take over, she does so, simply to spare the members from a futile death. And it's not as if they're a massive organization anyway: most of those at her school were on loan to them for the day(!), so how much trouble can really ensue…?
Of course, the answer is more than she expects, since it turns out her father may have been holding a large package of drugs, and its owner, Fatso (Mikuni), now believes Izumi and her gang have it. Her place is ransacked while she's out, and there's also the questionable Mayumi (Kazamatsuri) who claims to know Izumi's father, but whose past is even murkier. Let's just say that, by the time the film ends, their numbers will have been reduced from the already fairly feeble count of four, with which they start. It's not exactly a glamourous life at the bottom of the organized crime pyramid, and the movie doesn't portray it that way. There is, however, an odd unevenness of tone and style, which swings from drama to comedy to art-house. Sômai seems to have a fondness for setting his camera up some distance – in one scene at the end, a very great distance – from the characters, and letting things unfold. It's certainly striking on occasion; there's a sequence where a cop wants to interrogate Izumi, but her bodyguard won't let him in, despite being obviously and horribly over-matched, and another achingly long-take that flows effortlessly from pedestrian to motorcycle traffic.
However, if you're looking for action, even at the cheesy level of Sukeban Deka, you're better off elsewhere. Despite the attention-grabbing title and poster, there is only one, brief moment of machine-gun madness. While that may be part of the point – it's almost Izumi's last hurrah, giving her very few options – it is a shame that such a striking concept was not more enthusiastically embraced. We do still have a heroine who is brave, loyal to her friends, and through Yakushimaru's solid portrayal, comes to three-dimensional life. Finally, if Kazamatsuri looks familiar, that's probably because, 20+ years later, she played the proprietress of the House of Blue Leaves in Kill Bill, Volume One…
Dir: Shinji Sômai
Star: Hiroko Yakushimaru, Tsunehiko Watase, Rentarô Mikuni, Yuki Kazamatsuri